Meet the Magnet Forensics' Training Team: Cody Flowers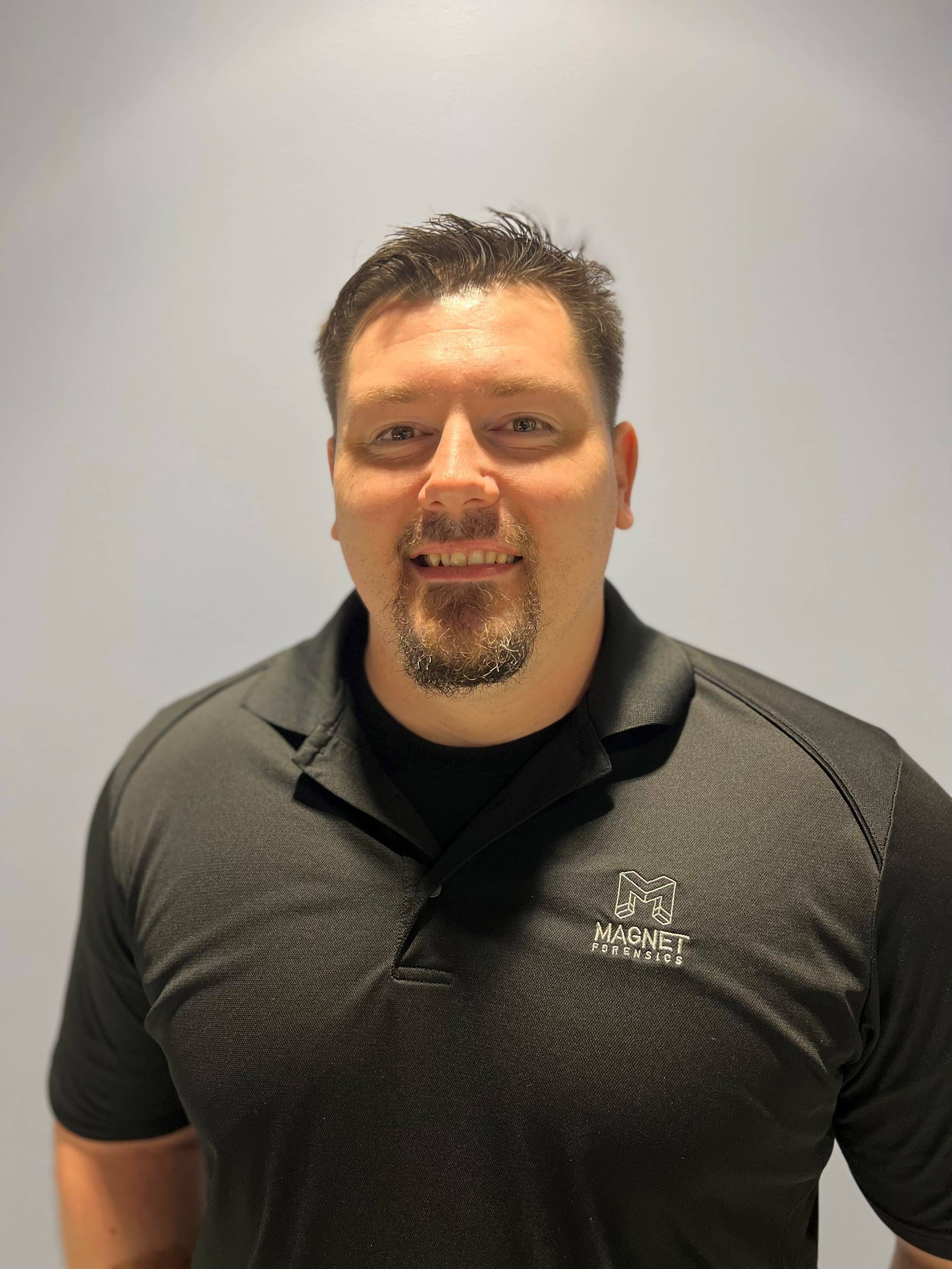 Introducing our newest member of the Training Team, Cody Flowers. Learn more about Cody's varied and interesting background and what he's hoping to bring to his role at Magnet Forensics.
Let's get to know Cody!
Want to learn more about what courses are offered? Visit our Training & Certification page for more information.
MF: Tell us about your life before becoming a Trainer.
CF: In my former life, I come from the veteran and intelligence communities. I served in the United States Army in the Intelligence Corps, where I developed my skills as a digital forensic examiner starting in 2009. Most recently, I served as the Civilian Deputy in the command team of the Joint Special Operations Command's Technical Exploitation Troop, both as a subject matter expert and command team business manager of the troop. All in all, I have eight overseas deployments under my belt to locations such as Iraq, Afghanistan, and Africa, supporting intelligence collection, as well as host nation prosecution when necessary.
MF: What made you want to be a Trainer?
CF: Even in my prior positions, I have always seen the drastic need for qualified personnel to do forensic case work to support discovery and intelligence gathering. While in the military, I started out in training my squad, then company, until myself and one other oversaw training and maintaining our entire battalion's forensic capability. I have seen the many transitions of the forensic community and know it is a struggle to keep pace with the evolution of technology as well as equipping and managing a highly technical workforce.
MF: What type of training have you taken part in personally? What is your favorite part of the role?
CF: I started out taking courses for certification under the Army DOMEX program, as well as the Defense Cyber Investigations Training Academy. Once I got a bit more established in the community, I enjoyed attending many SANS and Guidance Software courses. Eventually, under the TECHEX program, I, and a counterpart of mine, spent time building, maintaining, and delivering unit driven intelligence-based scenario training to support battlefield evidence for our brigade. Additionally, we supported external DOMEX training requests with international partners as well as support to the Interagency Intelligence Community at times.
MF: What excites you the most about a new class?
CF: Honestly, I enjoy getting to know the students, their goals in this field, as well as seeing them transform over the short periods of time in working with them!
MF: Do you ever learn anything from the students?
CF: Absolutely! The forensic community is a collective team, there are very few I have come across that have seen so much in the community. Learning new techniques, new searching capabilities from everyone is the only way to go for sure!
MF: Is there a particular moment that stands out the most to you in your career in the classroom?
CF: I think the thing that stands out the most are the times where I have seen former students become masters and I then become the student to them! I have had that quite a few times!
MF: What do students get out of training in person that they can't get on their own?
CF: Absolutely the environment is the main thing students get. Working in a small class, where it is applauded to make mistakes and break things, as well as make and share contacts and stories that enhance the process. Hearing from peers how they might have attacked a problem is a huge way to put that into your toolkit for when you face a similar problem yourself!
MF: How prepared do you feel students are to use Magnet Forensics products after taking the training course?
CF: I feel that most every student comes through the courses and walk away with a completely different understanding of what AXIOM and the other tools under Magnet can do for them! Speaking only for myself here, having used Magnet products for some time now, seeing it in the classroom formulates ways to save critical time while still being verified accurate information which is critical!
MF: What is most unique about Magnet Forensics' approach to training?
CF: In my view, Magnet tools are the Swiss army knife to add to your toolkit during investigations. It has so much capability, students who may have learned a few things from other training, or that might have used the tool on their own can walk away from Magnet training and know exactly how to use every single part of the tool to their advantage. Additionally, Magnet has brought together a large group of trainers from all over the country with many years of experience who are also passionate about getting the right answers for students!
MF: Why do you think certification is important to examiners?
CF: Certification is huge part of the forensic community, much like many other trades. Having someone you know who has completed training and completed verification of their skill through certification is allows for there to be no doubt as to the standard by which the expert is trained, but also by which they have received the adequate qualification.
MF: How do you manage to keep up on the latest trends in digital forensics?
CF: In honesty, there are so many blogs/forums/servers/email forums out there that stand as a living record for all examiners in their times of need. Additionally, continuing to go through training, while periodically validating my skillset if even by reprocessing cases I have already done before but with different objectives can really help to hone in and keep yourself actively learning and applying new techniques!
MF: What trends do you see coming down the pipeline in digital forensics?
CF: Cross-platform authentication is starting to become more and more accepted, as well as the reliance on the Cloud and everyday devices to do business. I see now more than ever the need to be able to switch between looking at smaller chunks of material through a timeline approach to be more the norm. If you think about how you, yourself might use the technology, you might be on your computer, boot-camped device or in a virtual OS, while also performing tasks on your phone/smart devices, while also in the Cloud. Separating those out as separate puzzles makes it very difficult to see the connections between the devices, which leave critical holes in your case work. Using tools like AXIOM or AUTOMATE really enhance your ability to get to the information you need as quickly as possible so that you can close out your work and prepare to move on to what is next.
Thank you, Cody! Welcome to the Training team and to Magnet Forensics overall – we look forward to seeing your future contributions.
Read our previous interviews with Director of Training Operations Jamey Tubbs, Chris Vance, Patrick Beaver, Doug Estes, Lyn Goh, Larry McClain, Hoyt Harness, Jerry Hewitt, Chris Blight, Erich Schmidt, Justin Almanza, Sean Boero, Katie Bressington, and Nick Bria.
Click here to go to the Magnet Forensics Training and Certification Portal.