Simplify Your Investigations
AXIOM Cyber is a robust digital forensics and incident response solution for organizations that need to remotely acquire & analyze evidence from computers, cloud, IoT, and mobile devices.
DFIR Tools: Key Considerations & Best Practices
The DFIR landscape is constantly shifting and evolving and today's digital forensic professionals are under enormous pressure to conduct fast and thorough investigations. This guide shares real solutions to help you address investigative challenges and the key considerations to keep in mind when choosing DFIR tools.
Advanced Remote Collections
Get the data you need with targeted remote and off-network collections from Mac, Windows, and Linux endpoints. Acquire and analyze artifacts from physical drives and volatile memory to gather a complete picture of what occurred.
KEY TAKEAWAYS
Use targeted locations to acquire only the data that is relevant.
Collections resume automatically if a target goes offline and reconnects.
Collected data is written to an AFF4-L forensically sound container.
Actionable Case Intelligence
AXIOM Cyber's artifacts-first approach immediately presents the data needed to work through your case efficiently. Powerful analytics features like Timeline, Connections, YARA rules, and Magnet.AI create actionable intelligence.
Data visualizations help you to quickly connect the dots between all the artifacts in your case.
KEY TAKEAWAYS
AXIOM Cyber quickly surfaces case relevant artifacts.
Multiple views for data, like Email Explorer, provide the needed context to build a complete picture of an incident.
Establish connections and relationships between evidence from different sources.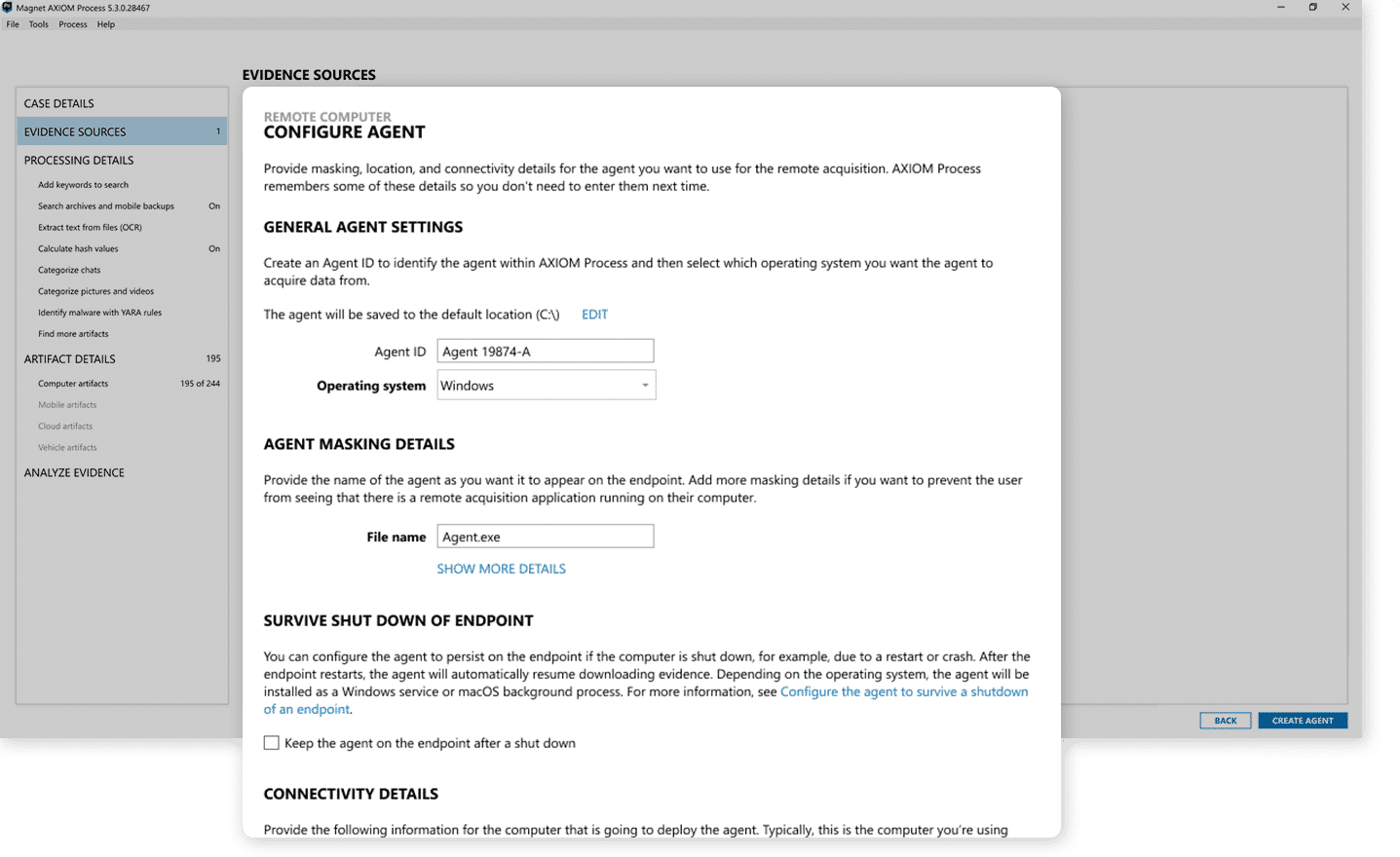 Deploy in the Cloud
Get the flexibility your team needs by hosting AXIOM Cyber on AWS or Azure. Hosting AXIOM Cyber in the cloud reduces the cost and maintenance of your lab and provides the ability to perform collections from off-network endpoints.
KEY TAKEAWAYS
Any workstation can access and connect to available cloud license.
Minimize reliance on lab hardware and maintenance.
Increased speed and availability for critical DFIR tools.
Time Saving Features and Workflows
Your investigations need to move quickly, so AXIOM Cyber has a range of time-saving features, like queued collection and targeted location profiles, to mitigate manual and repetitive tasks.
KEY TAKEAWAYS
Designed and developed to balance robust functionality with ease of use.
Frequent functionality enhancements further refine and enhance workflows and processes.
Time saving features help ensure DFIR teams can focus on the activities that require their specialized skill sets.
Magnet Forensics' Named Leader in Digital Forensics
Operational Practice Lead – Incident Response
Practice Lead – Forensic
Security Monitoring Specialist
Chief Security Officer
Digital Forensics Manager
Products for Enterprise Organizations
REQUEST YOUR FREE TRIAL TODAY
Magnet AXIOM Cyber is a digital forensics solution that will help you find the truth.
Get right to the evidence you need with a solution that keeps you a step ahead.