Accelerate Your Mobile Investigations
Magnet GRAYKEY can provide same-day access to the latest iOS and Android devices – often in under one hour.
Faster Mobile Forensics Can Help Save Lives
GRAYKEY is a state-of-the-art forensic access tool designed to lawfully access and extract encrypted data from mobile devices to help solve more cases faster.
Access
Access is the cornerstone of digital forensics. Use GRAYKEY to consistently unlock leading iOS and Android devices to help you get the evidence you need.
BENEFITS
Most comprehensive iOS and modern Android device access support, with regular updates to the latest versions
Ability to access and extract evidence from mobile devices irrespective of device state
Access credentials stores like Keychain and Keystore to decrypt content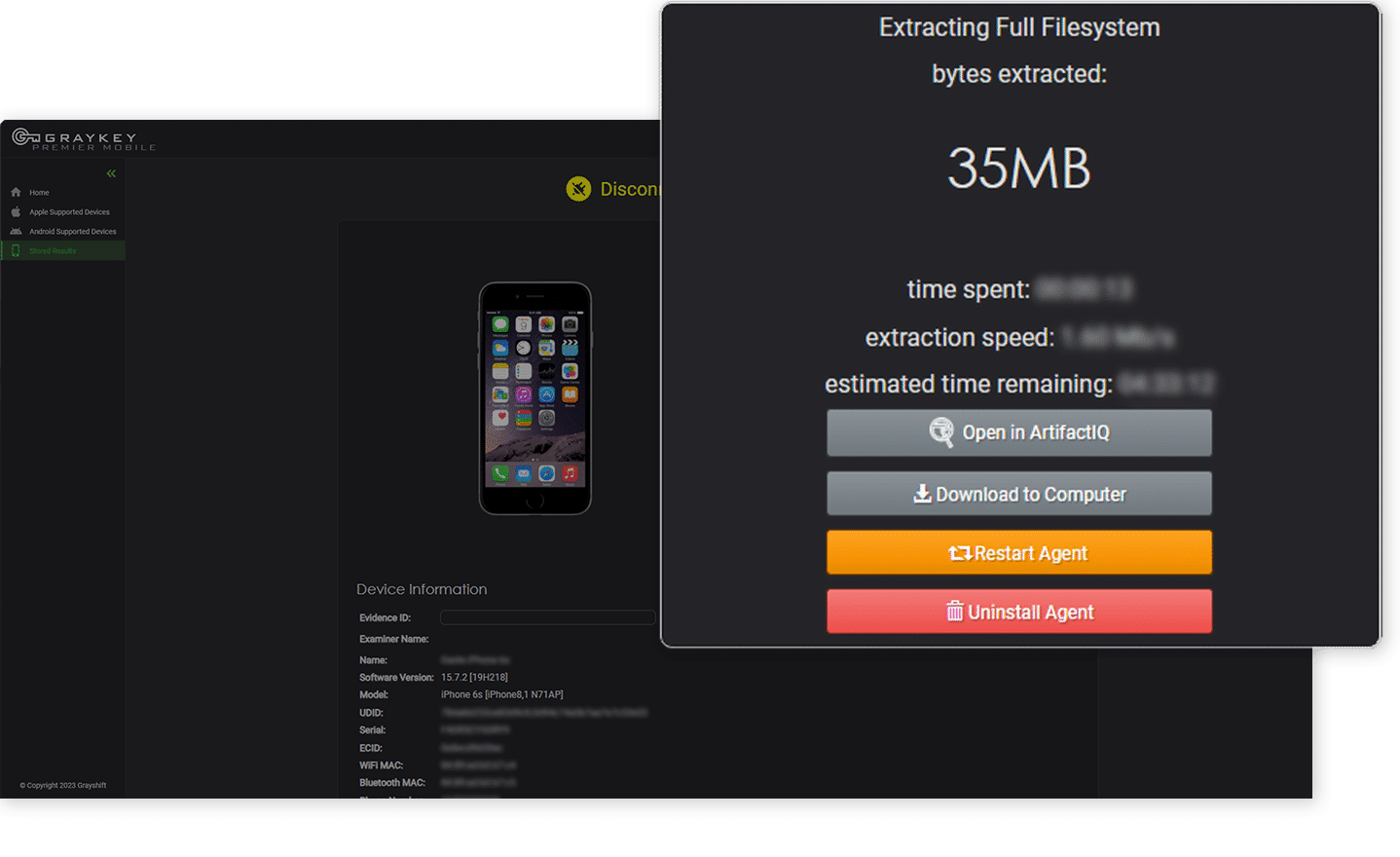 Speed
Save time and kick-start your investigations faster by accessing mobile data in record time. GRAYKEY can provide same-day access for both iOS and leading Android devices – often in less than one hour.
BENEFITS
Same day extractions from locked iOS and modern Android devices
When time is critical or access is restricted, selectively extract specific data you need to kick-start your investigation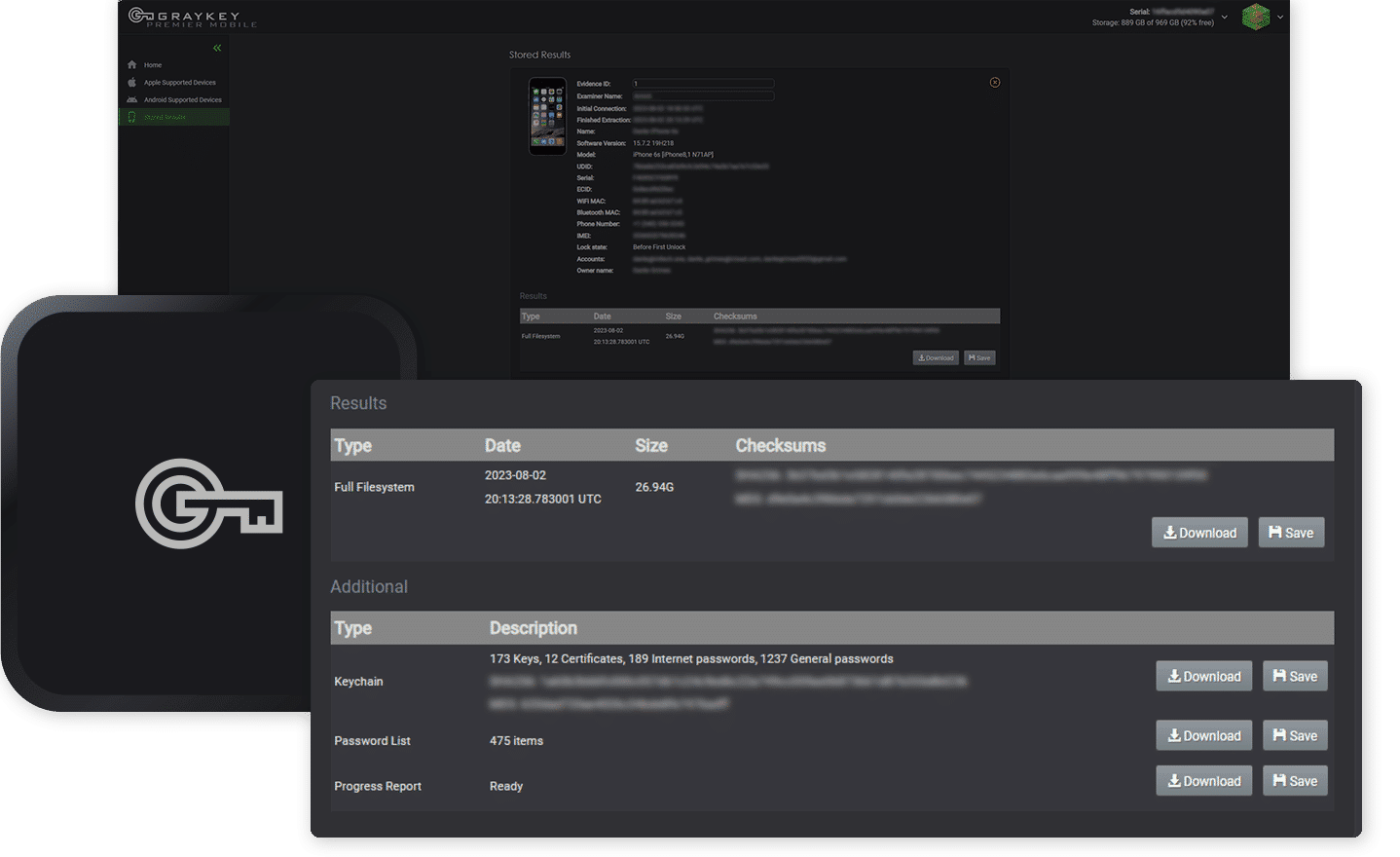 Depth
Obtaining a more comprehensive and detailed data extraction gives you access to the critical evidence you need.​ GRAYKEY accesses more data, including deleted data, than other mobile forensics tool to help you solve more cases.
BENEFITS
Extract the full contents from iOS and modern Android devices
Ensure compliance with search warrant specifications or time restraints with category-based extractions
Uncover more pictures, videos, chat histories, location data, and Internet evidence
Control
Establishing and maintaining device chain of custody is critical in limiting any potential risks associated with your investigation. With GRAYKEY you can maintain complete control of the evidence throughout the entire data extraction process.
BENEFITS
Perform extractions in house to simplify chain of custody
Easy-to-use web interface that requires no special training
Best-in-class team of experts to help you support high-quality mobile forensic practices
Hear What GRAYKEY Customers Are Saying
85% of surveyed GRAYKEY users said that GRAYKEY's performance on data access and extraction is better when compared to Cellebrite Premium.
"GRAYKEY helped in this case because it was able to access the device. It was the only software available that would get the passcode and also extract the data from the device."
Carolina Beach Police Department
Without GRAYKEY, I wouldn't be able to do complete my extractions as rapidly or as completely. Not only does GRAYKEY work fast, but it works WELL! I am able to get more data more quickly than with any other extraction method.
Clayton County Board of Commissioners
"Prior to having GRAYKEY, we would rely on a nearby agency that had it to run our iOS devices. Unless it was a homicide or active child related case, our devices had to wait until theirs were done first. So having GREYKEY in house now, we don't have to ask them, which gives us back the travel time, chain of custody additions and our detectives can get the information in a much more timely manner."
Cape Coral Police Department
"The GRAYKEY solution pays for itself compared to what we used to spend on additional services from other vendors. The biggest benefit is that it remains in our control – devices do not leave our lab and we know exactly what actions have been performed on that device."
84% of surveyed GRAYKEY users said they on average save years per investigation when using GRAYKEY.
"GRAYKEY is an excellent tool which is easy to use for extracting data from iOS and Android devices."
78% of surveyed GREYKEY users said their main reason for selecting GREYKEY was the ability to access and extract data within hours.
"It's an outstanding tool that has saved many investigations due to its ability to obtain data that no other tool can."
"The amount of data the GRAYKEY can provide the investigator is wonderful and extremely helpful in cases. Accessing devices that we normally wouldn't be able to access is also extremely helpful."
CONTACT US
Get started with GRAYKEY's same-day access to the latest iOS and Android devices
GRAYKEY is restricted to select countries. GRAYKEY is not available to the private sector. For GRAYKEY inquiries, please use your agency-issued email to complete the submission. All submissions will be vetted and, once validated, a team member will be in contact with you.