Complete Investigations Over 2x Faster with the New Magnet AUTOMATE 2.0
A new version of Magnet AUTOMATE is now available to help examiners complete investigations faster by reducing downtime by over 90% and by processing evidence items in parallel.
Learn more about what's in Magnet AUTOMATE 2.0, including case merging, maximizing computing resources, and integration with the fastest imaging hardware in the industry: Atola TaskForce!
Review Your Evidence Two Days Earlier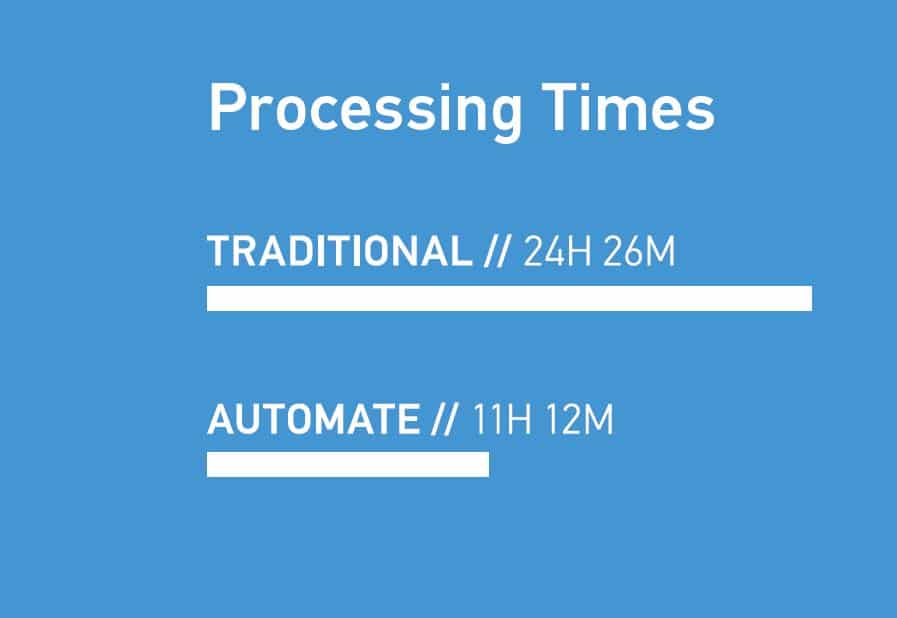 In a sample case that included 4 500GB computers and a 32GB mobile phone, AUTOMATE 2.0 allowed examiners to start reviewing evidence two days faster than a traditional forensics workflow.
The case included 4.25 Million artifact hits and 1.26M media hits. How did AUTOMATE 2.0 help save so much time? This infographic will give you a more detailed breakdown, but here are a few highlights:
Case Merging
AUTOMATE 2.0 processed data over 2x faster due to processing evidence items in parallel. Instead of processing one piece of evidence at a time, like you would with AXIOM or any other forensic tool, AUTOMATE allows you to process all five evidence items at the same time – on five different nodes — and then merge the evidence items into one case.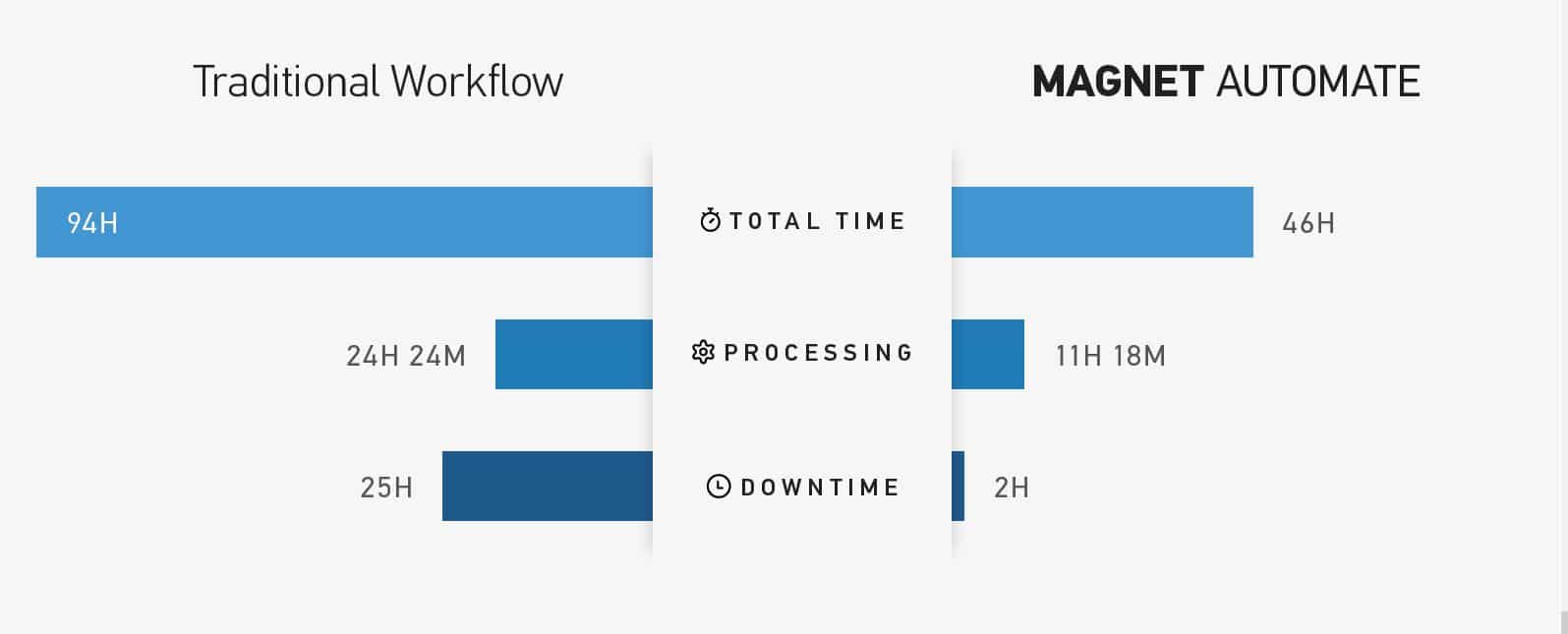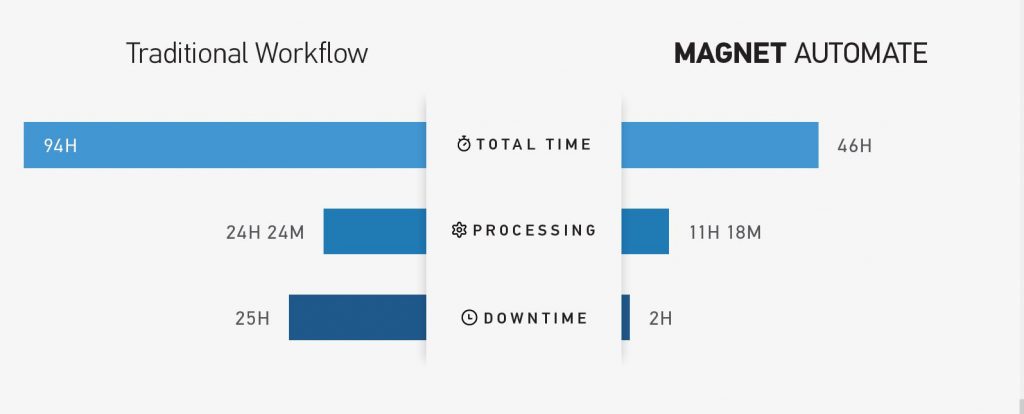 Maximizing Computing Resources
Examiners are doing their best to maximize the tools they have, but you simply can't be in the lab 24 hours a day. As a result, there is a significant amount of downtime between steps in an investigation. So, for example, if imaging finishes at 6:00PM, processing won't start until you get back into the lab at 9:00AM.
With AUTOMATE 2.0, there is no need for you to manually move the investigation to the next phase. Instead, AUTOMATE 2.0 allows digital evidence to move from acquisition to processing to post-processing to exporting seamlessly. And thanks to these improvements, downtime can be reduced by 94% and evidence can be reviewed two days sooner than they could with a typical forensic workflow!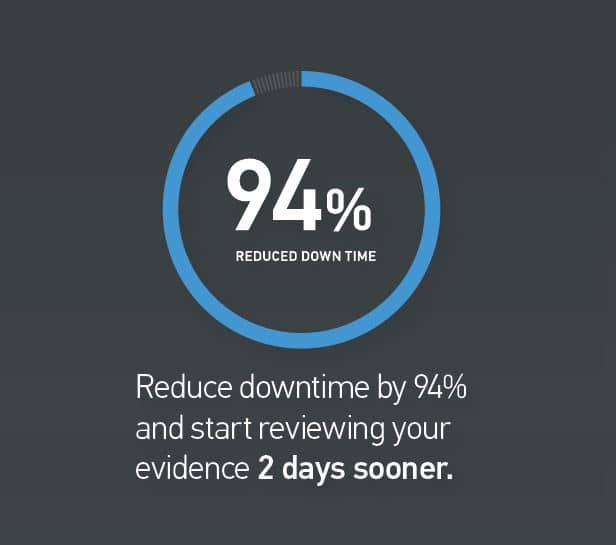 Other Benefits of Magnet AUTOMATE 2.0
Faster Imaging Speeds
AUTOMATE 2.0 integrates Atola TaskForce, the fastest imaging hardware in the industry. You can now leverage the unmatched speed of their TaskForce Imager with AUTOMATE to move from acquisition to processing without requiring an intervention. Learn more about the integration in this video:
Automatically Kick-Off Post-Processing
You can now automatically build Connections and Timelines within your orchestrated workflow. This capability allows you to jump right into data analysis when the case is processed. Additionally, Magnet.AI has also been integrated, enabling the detection of images that may contain CSAM, Nudity, Weapons, Currency and more.
Fine Grain Artifact Selection
Finally, you can further increase the speed of AUTOMATE by finetuning the artifacts that you're looking for in your investigation. With AUTOMATE 2.0, you can now select artifact categories (e.g., Chats) or select the specific artifacts (e.g., WhatsApp) that you want to examine. By only focusing on the artifacts relevant to the case, a significant amount of processing time can be saved.
Learn More about Magnet AUTOMATE
Want to learn more about Magnet AUTOMATE? Visit our website at https://www.magnetforensics.com/products/magnet-automate/ and fill out the form to contact us.
We're also hosting a live webinar on November 20 where you'll be able to more about what's new in Magnet AUTOMATE 2.0 and to find out how these capabilities can help maximize workflow efficiency and eliminate downtime. Register today!