New Free Tool Available: MAGNET Hash Sets Manager
We're proud to offer a new free tool to your toolkit for use within Magnet AXIOM, the MAGNET Hash Sets Manager. Maintaining up-to-date hash sets can be a painful process, especially for those operating in offline labs. This tool lets you easily manage a central database of hash sets that you can distribute to your team's instances of Magnet AXIOM and Magnet AXIOM Cyber, even if they are operating offline.
Download a free copy of the MAGNET Hash Sets Manager here.
Commonly referred to as the DNA or fingerprint of digital files, hash sets are an invaluable tool for DFIR investigations, allowing you to quickly identify case-relevant and non-pertinent evidence related to your investigations.
Hash sets can be used to quickly identify known instances of malicious or illicit files and are also very useful for identifying standard operating system and program files in data that can be removed from cases to help manage the volume of evidence in a case. Hash sets can streamline a wide array of investigations, ranging from intellectual property theft to ICAC.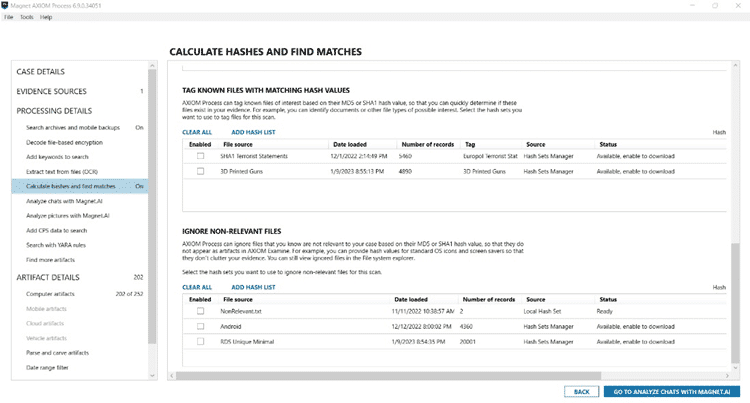 How Hash Sets Manager Can Be Used in Your Investigations
For law enforcement investigations, Hash Sets Manager provides the ability to download and distribute hash sets to devices on your network from Project VIC, Child Abuse Database, and more. As your team works through cases and grades evidence, those findings can be exported as JSON files, and uploaded to a custom hash set file in Hash Sets Manager to be automatically synced with the broader team's AXIOM and AXIOM Cyber instances.
For enterprise users, you can also use Hash Sets Manager to upload custom hash sets. Custom hash sets can be based on your IT department's gold build to help pare down the data for investigations.
Key Features
Manage hash sets from a central server in offline and online labs
Direct integration with Magnet AXIOM and Magnet AUTOMATE
Upload hash sets from organizations such as Project VIC / CAID
Support for MD5, SHA1, and PhotoDNA hashes
Take advantage of the free MAGNET Hash Sets Manager by downloading a copy on our Free Tools resource page today.
If you haven't tried AXIOM or AXIOM Cyber yet, request a free trial here.