Magnet REVIEW 5.0: Find the Evidence You Need, Faster
We're very excited to share some of the great new features in Magnet REVIEW 5.0—helping reviewers and administrators to get to the evidence they need faster and easier by enabling secure agency-wide collaboration, anytime and from anywhere!
As part of the Magnet Digital Investigation Suite, alongside Magnet AUTOMATE, our digital forensic workflow automation platform, Magnet REVIEW was specifically designed to address the needs of both examiners in the lab and non-technical reviewers, helping them to work together to quickly and easily find the evidence they need in their digital investigations.
With the latest version of REVIEW, we've delivered a lot of great innovations to help advance the user experience for both the investigators and other stakeholders reviewing evidence and examiners in the lab. That includes new ways to filter, sort, and navigate artifacts so investigators can get to the evidence they need faster and easier, and tag and comment synching between AXIOM and REVIEW so examiners can better highlight items of interest to reviewers.
REVIEW 5.0 also includes support for deployment in the AWS cloud environment, helping agencies to increase the scalability, security, and ease of their digital investigations.
Bring Focus to the Evidence
The sheer volume of digital data involved in a typical investigation today can be daunting for reviewers—it can take considerable time to comb through it all to find the evidence vital to their case.
REVIEW includes several options to help reviewers considerably reduce their time to evidence, including advanced keyword searching, sorting, and filtering. Now, with REVIEW 5.0 we've introduced an upgraded user interface designed to provide reviewers with powerful new tools to help them get right to the evidence items that matter, along with a more streamlined experience for administrators.
New features include:
Improved searching, with breadcrumbing to help reviewers better understand how evidence items were uncovered
A new filter bar and updates to global filters that now include the ability to apply search filters across multiple evidence sources
Enhanced artifact navigation to help reviewers more easily switch between artifact categories
Improved case management features and accessibility
Bulk actions updates to make it easier to action on multiple evidence items
More convenient access to Administrator Settings
For a walkthrough of the new user experience features in REVIEW 5.0 check out this video from Trey Amick, our Director of Forensic Consultants.
Collaborate to Find What Matters Faster
In addition to streamlining the evidence presented to reviewers, the latest version of REVIEW brings a valuable new feature to help reviewers collaborate even more closely with examiners in the lab: tag synching.
REVIEW is optimized to ingest data from Magnet AXIOM, allowing users to easily customize what evidence fields non-technical REVIEW users are seeing. By utilizing the processing and analytics power of AXIOM, users can easily import computer, mobile, and cloud evidence into REVIEW with just a few clicks. And when combined with Magnet AUTOMATE, these tasks can be automated to accelerate your entire digital forensics workflow from start to finish.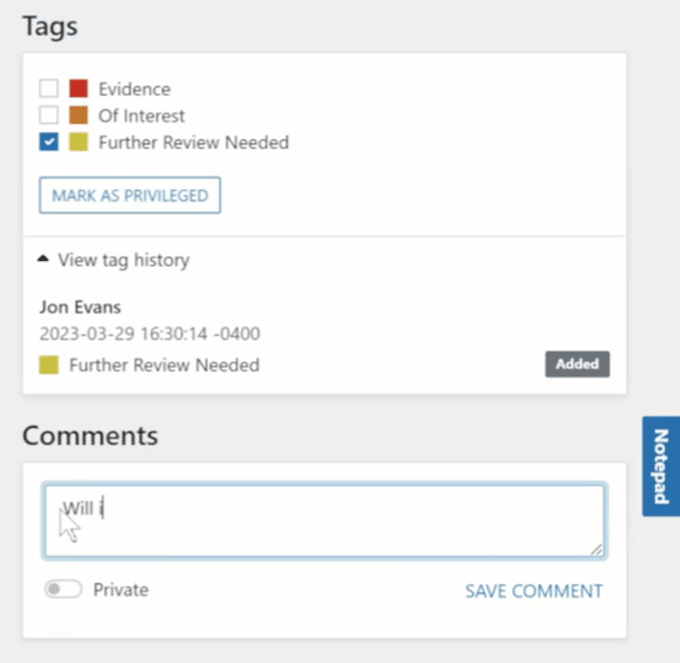 With the launch of REVIEW 5.0 and AXIOM 7.0, we're excited to continue making collaboration easier and more efficient across our products with tag syncing from AXIOM to REVIEW!
Tags automatically added in AXIOM can contain valuable insights that investigators may want to leverage in REVIEW. Now, during the pre-review process in AXIOM, if an examiner wants to manually highlight artifacts with tags or comments, these important insights can be carried over to the investigator in REVIEW.
Upcoming versions of AXIOM and REVIEW will also support synching of tags from REVIEW back to the main case, enabling even more powerful collaboration between reviewers and examiners back in the lab.
New Cloud Deployment Options
REVIEW was designed with a cloud-first approach to help agencies easily provide secure, scalable access using trusted cloud providers.
Now, in addition to support for Microsoft Azure, we're excited to announce that REVIEW now supports deployment in AWS! Deploying REVIEW in AWS can help you to easily scale up resources on demand while maintaining the security and compliance of your data.
Cloud computing has become a key enabling technology for many organizations today. With growing digital data volumes driving the need for more sophisticated software solutions and infrastructure to support digital investigations, leveraging the cloud can help law enforcement agencies to quickly adapt, enabling secure, scalable solution deployments while at the same time helping to maintain data security and regulatory compliance.
Upcoming Webinar on May 3: Collaborate on Digital Evidence Review From Anywhere With Magnet REVIEW.
With Magnet REVIEW, we're helping you streamline the digital evidence review process so your investigators and other stakeholders can quickly get to the evidence that matters. Join Trey Amick, Director of Forensic Consultants, and Jonathan Evans, Senior Product Marketing Manager, to see how Magnet REVIEW can help you accelerate digital evidence review by enabling secure agency-wide collaboration from anywhere, anytime.
Get Started With Magnet REVIEW Today!
Reach out to our experts and let us help you empower your agency to securely collaborate on digital evidence review from anywhere, anytime.