Magnet AXIOM Cyber 6.10: Updated Filters, Artifacts, and More!
We are happy to announce the latest release of Magnet AXIOM Cyber, version 6.10, which introduces new features and tools to help make your DFIR workflow as efficient as possible. This release also includes new and updated artifacts to keep your evidence sources current with the latest apps and services.
You can upgrade to the latest version within AXIOM Cyber or over at the Customer Portal.  
And if you haven't tried AXIOM Cyber yet, request a free trial here.  
New Free Tool for AXIOM Cyber: MAGNET Hash Sets Manager
Maintaining up-to-date hash sets can be a painful process. MAGNET Hash Sets Manager provides a central database so you can automatically manage hash set distribution to all instances of AXIOM Cyber in your lab.
Commonly referred to as the DNA or fingerprint of digital files, hash sets are an invaluable tool for DFIR investigations, allowing you to quickly identify case-relevant and non-pertinent evidence related to your investigations.
Using MAGNET Hash Sets Manager with AXIOM Cyber, you can upload custom hash sets based on your IT department's gold build and add hash sets like the National Software Reference Library (NSRL), to help pare down the data in a case by automatically removing standard operating and program files. Custom hash sets can also be used to identify sensitive corporate documents or IP so that they are automatically tagged in an investigation, quickly and easily bringing them to the forefront of your evidence.
To learn more, check out "New Free Tool Available: MAGNET Hash Sets Manager" or download a free copy of the MAGNET Hash Sets Manager here.
Recent Date/Time Filter History
New in AXIOM Cyber 6.10, we've added in the ability to quickly re-apply the last five date and time filters so that you can alternate between date ranges to help ensure you have captured the information most relevant to your case. This feature can help you to zero in on specific events of interest when examining large volumes of data, such as log files.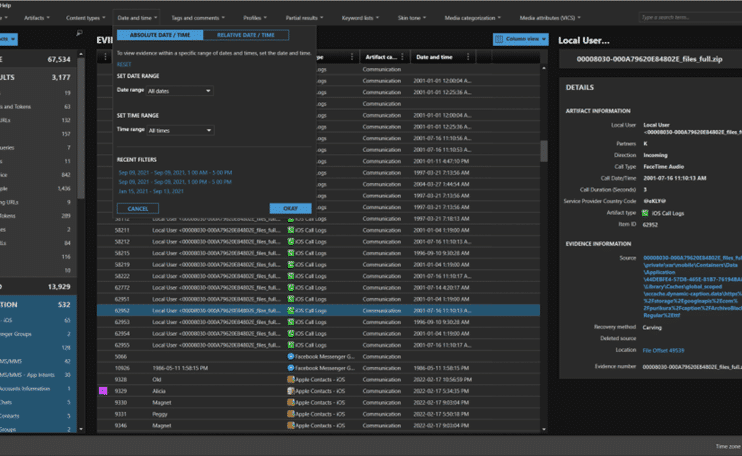 Upcoming AXIOM Cyber Sessions at the Magnet Virtual Summit
The team at Magnet Forensics and our network of DFIR experts have been working diligently to put together another great Magnet Virtual Summit, which will be running from Feb 21 to March 2. Registration is free so be sure to sign up for the AXIOM Cyber session below, as well as many more sessions covering a range of corporate investigations and industry developments:
Magnet AXIOM Cyber – A Year in Review – Feb 22 at 1 pm ET
This year brought about a number of notable developments in AXIOM Cyber, expanding the capabilities of the platform for enterprise DFIR teams with new features and functionality supporting incident response, eDiscovery and internal investigations. Join Magnet Forensics, Chris Cone, Forensic Consultant, as he reviews 2022's milestone developments in AXIOM Cyber and how the functionality can be used together to further simplify your investigations.
New and Updated Artifacts
As with all releases of AXIOM Cyber, there is also support for several new and updated artifacts to help keep your investigations current with the latest corporate apps and services developments, including:
New Artifacts
Google Takeout
Activity Segment
Place Visit
Updated Artifacts
Apple Mail
Facebook Contacts
iMessage/SMS/MMS
Instagram Profiles
Microsoft Teams Topic Messages
Signal Conversations
Signal Messages
Snapchat Chat Messages
TikTok Videos
Tor URLs
USB Devices
Get Magnet AXIOM Cyber 6.10 Today!
If you're already using AXIOM Cyber, download 6.10 over at the Customer Portal. To try AXIOM Cyber for yourself, request a free trial today!