Magnet AXIOM 7.0: Better CSAM Investigation Support, Privileged Material Workflow, Tag & Comment Export, and More!
We're proud to announce the availability of Magnet AXIOM 7.0!
You can upgrade to the latest version within AXIOM or over at the Customer Portal.
With AXIOM 7.0, we've focused on the needs of the DFIR community to deliver new features that can enable more effective collaboration, better support CSAM investigations with AI technology, and help you uncover key evidence even more quickly and easily!
We've optimized the workflow and the ability to examine more artifacts by:
Including new AI technology from Thorn to identify illicit content
Introducing Tag and Comment Export to Magnet REVIEW
Introducing Privileged Material Workflow
Enhancing the multi-artifact view in the Artifact Explorer
And more!
If you haven't tried AXIOM or AXIOM Cyber yet, request a free trial here.
Using Thorn's CSAM Classifier to Identify Illicit Content Faster
Internet Crimes Against Children (ICAC) investigations can often take the biggest toll on law enforcement agencies. As part of our commitment to seek justice and protect the innocent, we've partnered with Thorn—a company that shares our commitment to developing solutions to help investigators bring justice to those who victimize children— and are now leveraging their CSAM Image Classifier to improve the detection of CSAM across picture and video artifacts.
Thorn's CSAM Image Classifier is a machine-learning classification model that will co-exist with Magnet.AI. The addition of this tool offers you another way to quickly and easily identify victims of child sexual abuse by automatically categorizing illicit pictures and videos, minimizing the manual effort required to review images in CSAM cases and reducing exposure to promote officer wellness.
Read more about our partnership here.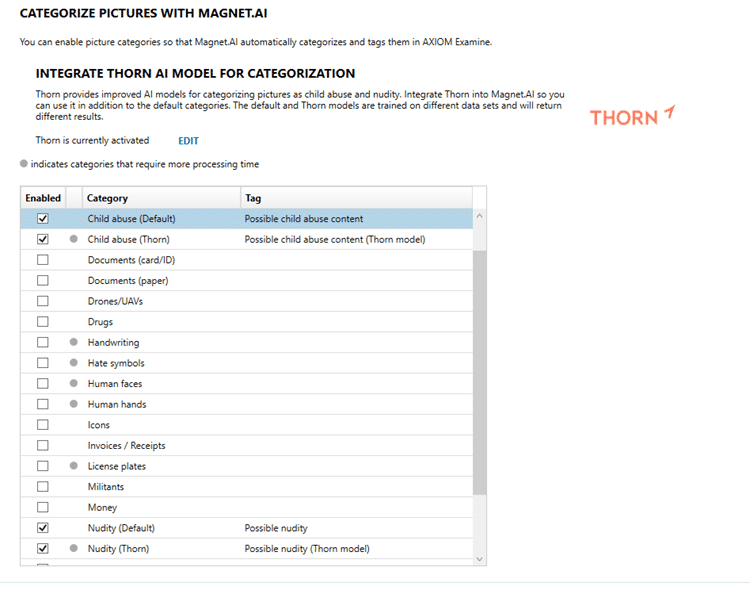 Tag/Comment Export to Review
We believe that a collaborative, centralized approach to evidence review is an essential part of digital investigations. This is one of the reasons we built Magnet REVIEW–a web-based evidence review platform, purpose-built for non-technical users, that allows you to securely share all digital evidence in one central location from anywhere with an internet connection.
As part of AXIOM 7.0, we're excited to further improve collaboration between our products by enabling the ability to export tags from AXIOM Examine to REVIEW as part of the export package.
REVIEW is optimized to ingest data from AXIOM, allowing users to easily customize what evidence fields non-technical REVIEW users are seeing. By utilizing the processing and analytics power of AXIOM, users can easily import computer, mobile, and cloud evidence into REVIEW with just a few clicks. As examiners export the case they've worked on, using this new feature in AXIOM, any tags added by them prior to publishing in REVIEW will now carry over to REVIEW. Tags automatically added in AXIOM, via tag known files with matching hash values or Magnet.AI, can contain valuable insights that investigators may want to leverage in REVIEW.
With the importance of collaboration in mind, we're looking forward to releasing REVIEW to AXIOM tag synching in our future AXIOM and REVIEW launches! (AXIOM 7.1 and REVIEW 5.1)
Read more about how AXIOM and REVIEW can be used to foster greater collaboration in your investigation.
Privileged Material Workflow
The rise in digital devices and volume of digital data has substantially increased the number of cases requiring digital investigation. This leads to an increased probability of law enforcement encountering privileged material⁠—such as an email or text conversation between a lawyer and their client⁠— on a suspect's seized device.
With AXIOM 7.0, we're supporting users who are dealing with Privileged Material challenges in their workflow by giving them an option that will allow users to tag or exclude artifact evidence from case data during processing based on a keyword list.
Using this feature, a case examiner can load the list of keywords and choose to either tag or exclude artifacts containing those keywords. This can be helpful where a manual review process is utilized to remove the content, or in scenarios where it must automatically be excluded.
Read more about Privileged Material in this how-to blog.
Multi-Artifact View Enhancement to Artifact Explorer
In AXIOM 6.5, we introduced a new view to Timeline that highlights valuable data, directly in the table, making it easier to understand what happened during a specific time in your case. We are now introducing this same view to the Artifact Explorer when viewing multiple artifacts at once. This new artifact view will help you uncover the most pertinent information for your case by showing you multiple details deemed most important for each artifact.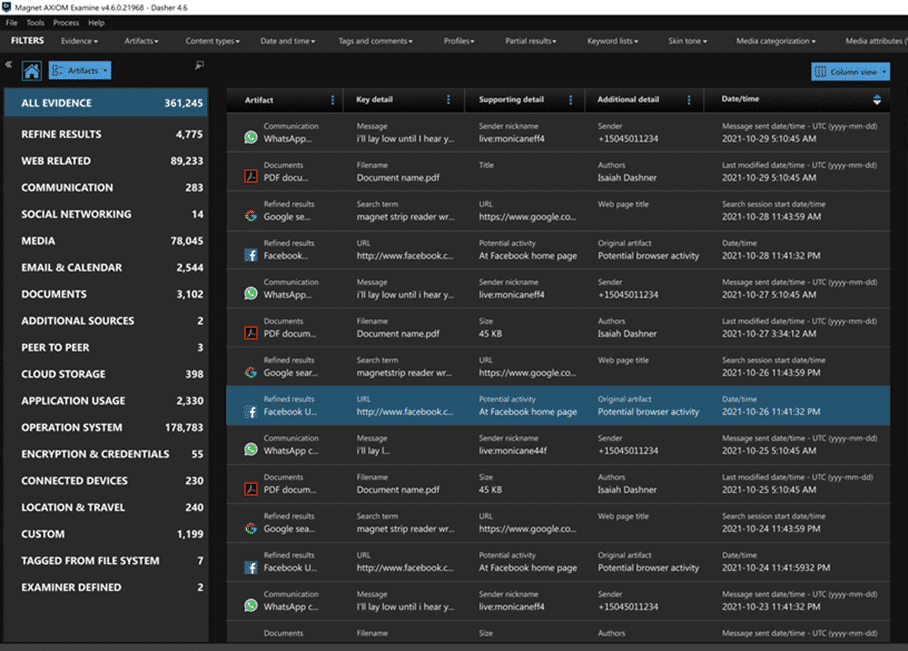 New Artifacts
Biome Application Intents

Instagram Direct Messages

CarPlay Recently Used Apps
Device Screen Backlight States
Safari Last Session
DuckDuckGo Bookmarks
TextMe Conversations
Updated Artifacts
Google Maps
Call Logs
Device Information
Edge Chromium Web History
LINE Messages
Network Usage
Outlook
ProtonMail
Rebuilt Desktops
Safari Downloads
Safari iCloud Tabs
Signal
Slack
Snapchat
Telegram
Textfree
TextMe Calls
TextMe Messages
TextNow
Tinder
Volume Information
Web Chat URLs
WhatsApp
Want to learn more about all the new and updated artifacts in AXIOM 7.0? Check out this blog for more information.
Get Magnet AXIOM 7.0 Today!
If you're already using AXIOM , download 7.0 over at the Customer Portal. If you want to try AXIOM for yourself, request a free trial today!