New Exporting and Reporting Features in Magnet AXIOM 4.0
Magnet AXIOM 4.0 brings to you a ton of new and advanced features to assist you in your investigations! From faster filtering with Lucene, Find Similar Pictures using CBIR, more details in your AXIOM Process scan summary, to new AXIOM Cyber features like Azure VM and remote macOS acquisition, this new release is jam packed with TONS of exciting newness!
Even one MORE feature to add to this list is a totally revamped way to customize and streamline your reports and exports from AXIOM Examine! In AXIOM 4.0, we've totally overhauled the export functionality of our artifacts, allowing you the flexibility to choose exactly which artifacts and columns to report on, as well as giving you the ability to create templates to allow for faster exporting on each case you work.
Using the New Reporting Features
You can access the new reporting features just like before! Either right click in your artifacts view, or go to the File menu at the top of the AXIOM Examine window and select Create Report/Export. You'll notice a completely different look in AXIOM 4.0.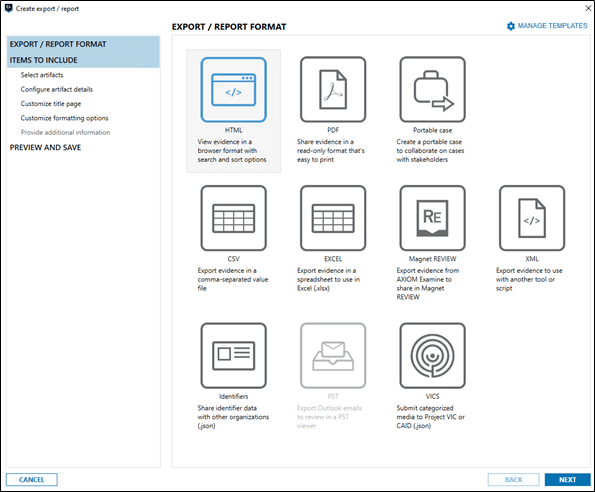 Depending on the type of export you choose, you will have different options available to you. In the first section under "Items to Include," AXIOM users will be familiar with some of these options like Including items in your view, including only tagged items, or including case dashboard cards like case/evidence overview, keyword matches, and media categorization summary. What's new in version 4.0 giving user the ability and flexibility to create templates for specific artifact types, columns and format options. This customization is a useful shortcut for examiners who use the same reporting options from case to case. You can pick your predefined template in the dropdown menu and select Quick Export at the bottom of the windows for an easy way to export your data from AXIOM.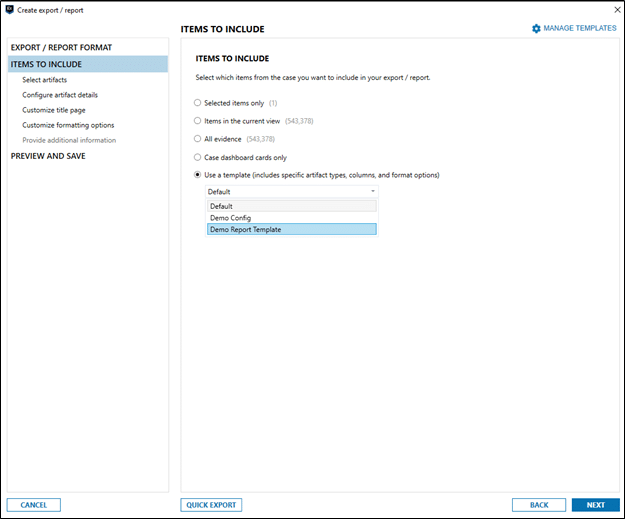 Also new in AXIOM 4.0 is even MORE capability to customize your reports by selecting column information from your artifacts you want to include. You can choose which specific columns you want to include in your report for each artifact, and you can even reposition the columns, and create a template for these configurations as well! Then in later cases you can reuse this template so you will only need to configure it once!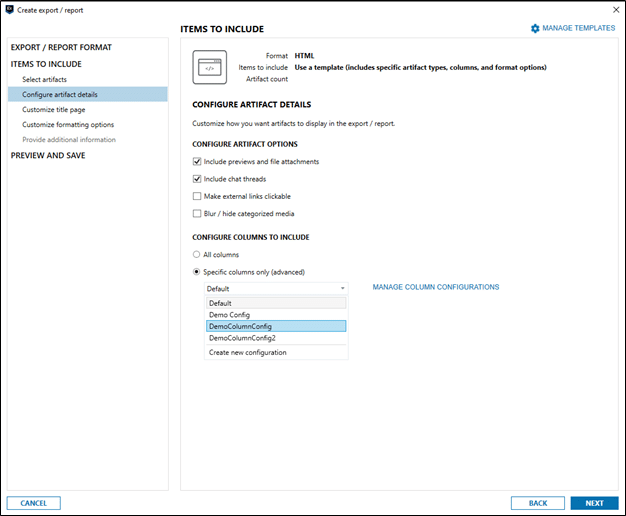 You can easily manage these templates through AXIOM interface too! You can edit, duplicate, or delete them, and you can even import or export them from other instances of AXIOM, allowing for easy sharing and collaboration with others in your lab!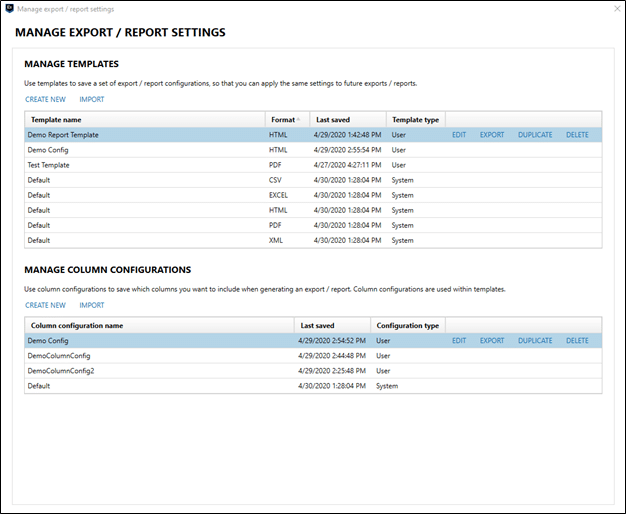 Get Magnet AXIOM 4.0 Today!
If you're already using AXIOM, download AXIOM 4.0 over at the Customer Portal. If you want to see how AXIOM 4.0 can help you find the evidence that matters (and show you when it doesn't), request a free trial today!