Magnet REVIEW 4.2: Find the Data You Need, Faster
We're very excited to share some of the great new features in Magnet REVIEW 4.2—helping reviewers and administrators to get to the data they need faster and easier.
In today's digital investigations, every second counts. As digital data grows in volume and complexity—and across multiple sources like mobile devices, computers, warrant returns, and IoT devices—delivering experiences that can help reviewers and other stakeholders to quickly home in on important evidence and information is crucial.
As part of the Magnet Digital Investigation Suite, REVIEW was designed to make it fast and easy for users to uncover the data they need.
With the latest version of REVIEW, we're helping investigators and other reviewers get to the evidence they need to build their cases even faster with our new Column Filters feature. We're also helping administrators to quickly surface system insights so they can better optimize time and resources.
To learn more about Magnet REVIEW, check out our product page.
Quickly Home In on the Evidence That Matters in REVIEW 4.2
The sheer volume of digital data involved in a typical investigation today can be daunting for reviewers—it can take considerable time to comb through it all to find the evidence vital to their case.
REVIEW includes several powerful options to help reviewers considerably reduce their time to evidence, including advanced keyword searching, sorting, and filtering. Now, with REVIEW 4.2 we've added Column Filters to help reviewers get to the evidence they need even faster.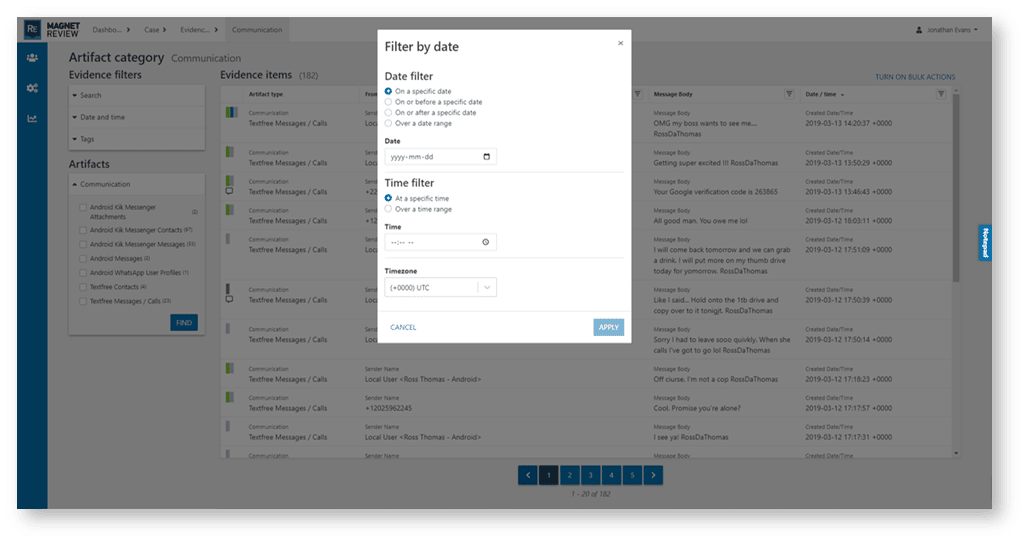 When searching through their case evidence, reviewers can use column filters to apply contextual filters to the results to help them home in on key evidence. Column filter buttons now appear in the column headers when viewing a specific evidence type. When the button is toggled, users are presented with filtering options based on the type of information contained within the column—this could be a keyword search for text-based columns, date and time refinement filters for date/time columns, etc. When a column filter is applied, returned results are now refined to include only those evidence items that meet its criteria, so reviewers can easily see the specific evidence that matters to their case.
Column filters can be even more useful when you refine the results further by applying multiple column filters together. For example, if you are reviewing several different communication types in the Communication artifact category, you could show results having a specific date and/or time in the date/time column while also having a particular user listed in another column, such as "To".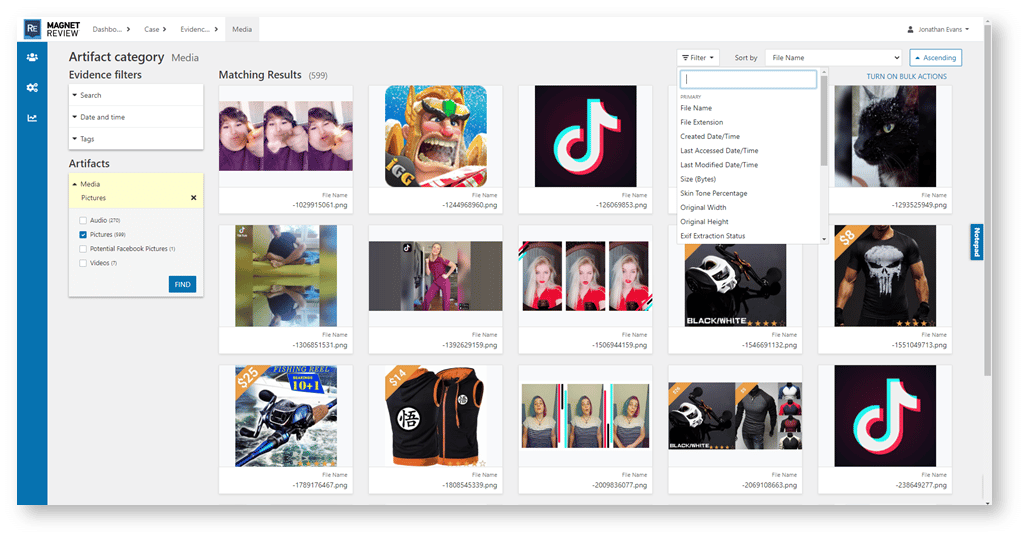 Column filters also extend to REVIEW's media gallery view, where users can now apply advanced filters for pictures, audio, and video in a variety of contextual categories. For example, picture results can now be refined by specific details—like the photo's file type, size, or even the make and model of the device that took it. Users can also stack these filters for even more targeted searches.
For more on Column Filters, watch our how-to video below.
Easily View Important System Information
In addition to new filtering options, the latest version of REVIEW also helps administrators to quickly see important information on their cases. This information can provide valuable insights on system usage and user activity that can be leveraged to better optimize resourcing and track how REVIEW is being used by helping them to quickly answer questions like:
What is the status of our cases?
What types of evidence are most frequently involved in our cases?
How many cases do each of my investigators have assigned to them?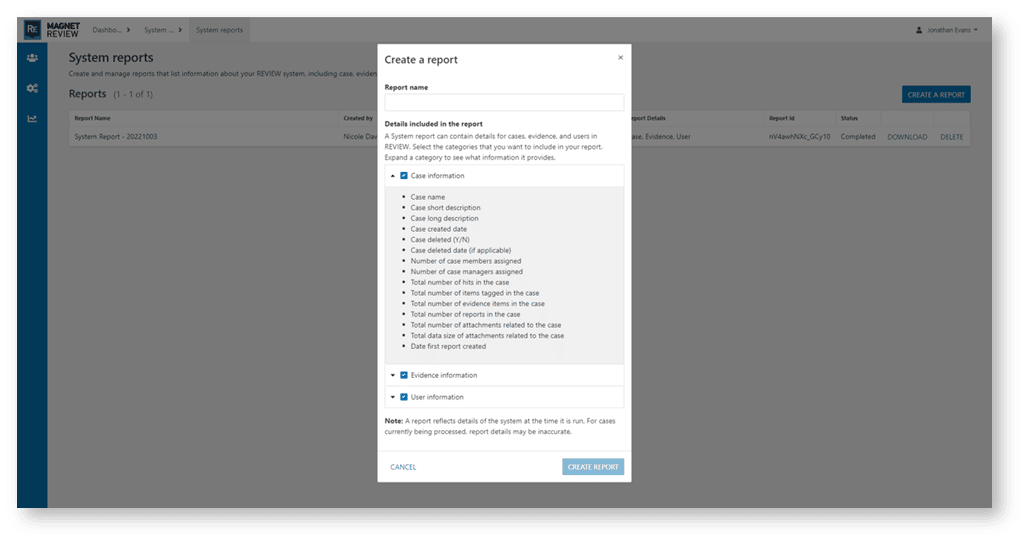 With REVIEW's new System Reports, administrators can quickly create customized reports with details on a number of categories, including:
Case Information: This includes details like case summaries, case creation/deletion date, members and managers, evidence source and hit count data, and more.
Evidence Information: This includes more detailed source information like what source the data came from, how it was ingested and when, and search hits count.
User Information: This includes user details like usernames and full names, email addresses, role, activity status, and their number of assigned cases.
Administrators can find the new System Reports option under the System Analysis tab. When creating the report, they can choose which information categories they'd like the report to include. Reports are exported in a CSV format, making it simple to sort and compare metrics across cases and users. Administrators can also archive and access previously created reports for comparison.
Get Started with Magnet REVIEW Today!
Reach out to our experts and let us help you empower your agency to securely collaborate on digital evidence review from anywhere, anytime.