Magnet OUTRIDER 3.0: Triage for macOS
We're proud to announce the availability of Magnet OUTRIDER 3.0!
With OUTRIDER 3.0, we are introducing triage support for macOS devices and external drives and a new streamlined UI for macOS triage.
You can upgrade to the latest version of OUTRIDER over at the Customer Portal. Be sure to login, then select Magnet OUTRIDER, and Software & Downloads to download the latest version. Support for OUTRIDER macOS triage is included in the same .zip download package as Windows (specifically, the installers for Mac 3.0 and Windows 2.2), but both downloads are available under the same license, and you only need one USB or one device for both Windows and macOS triage.
Because OUTRIDER is designed for live-system scans, it requires two separate installers: one for Mac and one for Windows. With the release of OUTRIDER 3.0, Windows triage is currently still version 2.2, so there are no updates for Windows triage. Keep an eye out for upcoming updates for OUTRIDER's Window's triage, though.
If you haven't tried OUTRIDER yet, request a free trial here. 
macOS Triage
With Magnet OUTRIDER 3.0, we're helping to expand the scope of the lightning-fast triage insights provided by OUTRIDER to also include macOS.
With this initial release of macOS support, you will be able to scan for illicit content and CSAM on macOS devices and external drives with preloaded and customizable keyword lists, regex keyword lists, built-in app lists, and Neula, the unique ultra-fast triage technology from the Child Rescue Coalition to identify CSAM. When we say that OUTRIDER's scans are ultra fast, we mean it. Based on in-field use, the average triage time is currently under 6 minutes.
With OUTRIDER 3.0 you will be able to scan a running macOS system and identify live-system artifacts by searching running processes (via keyword matches) and it can also be used to collect external IP addresses. Just like OUTRIDER's Window's based-triage, thumbnails of CSAM hits can be saved to a report, and examiners have the option to even save the path list to the report folder.
One point of note is that OUTRIDER currently does not support scans of Safari web history, but as always, we're committed to improving our products, so keep an eye out for future updates.
Updated UI with Mac Triage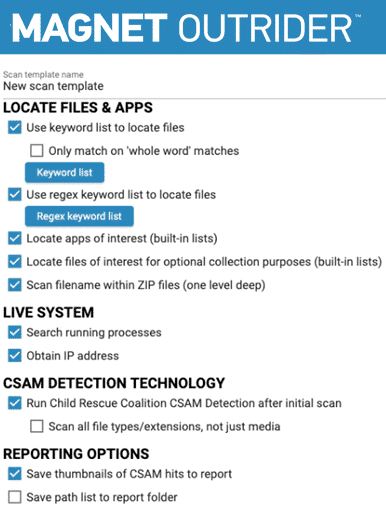 Along with bringing macOS triage support to OUTRIDER, we've updated the UI for Mac triage.
The workflows are streamlined with an improved look and feel, making it even easier for all users to leverage OUTRIDER for triage, whether you're a technical or non-technical user, regardless of whether you're in the lab or the field.
Plus, the triage speeds are better than ever.
In the lab, OUTRIDER can be used to determine if there's CSAM on either a Windows and macOS device, allowing examiners to determine if further analysis is required within minutes. The speed of OUTRIDER's triage means that examiners can clear devices faster than ever and spend more time focusing on device analysis or clearing more of the backlog.
In the field, technical and non-technical users can use OUTRIDER to quickly determine which devices require further analysis to justify device seizure. It can also help to minimize the time first responders have to spend on scene in potentially dangerous environments. Plus, investigators can quickly gather actionable evidence to request further search warrants for associated cloud accounts and they can leverage this information in interviews.
Watch for Windows Triage Updates
While OUTRIDER is designed to be ultra-simple with preloaded content and preconfigured workflows for out of the box plug and play ease of use, you can customize keyword lists and more: Click here for the full instructions of how to import a keyword list or NCMEC report data.
OUTRIDER is designed to triage live-systems, but you can make OUTRIDER bootable for Windows devices only with Windows-to-Go: Check out the how-to blog here for configuration directions.
Get OUTRIDER 3.0 today!
Request a quote and pricing information about OUTRIDER today by reaching out to us at sales@magnetforensics.com.
As always feel free to reach out to us at outrider@magnetforensics.com if you're having any issues or if you'd like to provide feedback. We'd love to hear from you!