Magnet OUTRIDER 2.0: Capture & Scan More Data with Even Faster Speed
We're excited to announce the availability of Magnet OUTRIDER 2.0! Magnet OUTRIDER is an ultra-fast triage tool that empowers law enforcement and examiners to quickly and easily preview devices, on-scene or in the lab.
Now with Magnet OUTRIDER 2.0, you can scan internet history files and capture more data with advanced live system scan options, with even faster speed compared to prior versions of OUTRIDER.
To upgrade to OUTRIDER 2.0, head over to the Customer Portal to download the latest version.
If you haven't tried OUTRIDER yet, see for yourself how fast and simple OUTRIDER is at finding CSAM and illicit apps. Request your free 30-day trial here.
Get the Intel You Need with 30% Faster Scans
Now, scans with OUTRIDER are 30% faster giving you the advantage of time on-scene to find critical evidence and intel, minimize disruptions to the community and giving you a head start on device triage when you're back in the lab.
No other tool provides forensic examiners with ultra-fast and accurate scans to support ICAC teams on-scene with actionable intelligence.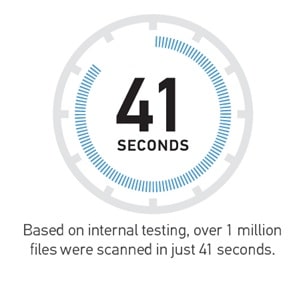 (Based on our internal testing, an example test case of >1M files were scanned in an average of 41 seconds, a 30% improvement over prior versions of OUTRIDER, inclusive of additional data capture features introduced in v2.0.)
Scan Internet History for Keywords
In addition to the CSAM-related keyword list that is included in OUTRIDER, you can now import a NCMEC CyberTip report to bring in URLs and file names as keywords for locating files or matching on browser history.
Or, for more flexibility, create your own URL/keyword list and upload it to OUTRIDER. IP addresses imported from a NCMEC CyberTip report will also be used to alert you if an imported IP address matches the current external IP address for the live system being scanned.
Capture More with Advanced Live System Scan Options
For scans of live systems, Magnet OUTRIDER can collect operating system artifacts, capture RAM, take a screenshot of the desktop, and obtain the external IP address for the system.
More Time-Saving Features in OUTRIDER 2.0
MORE IDENTIFIED APPS, MORE INTEL FOR YOUR INVESTIGATORS
Now, OUTRIDER lets you generate more actional intelligence for your on-scene investigations or to help you more effectively triage devices in the lab. We've added new application categories such as select VPNs, Messaging, and Gaming applications which can indicate nefarious activity and/or child grooming.
START YOUR SCAN QUICKER WITH A SIMPLIFIED SET-UP PROCESS
We've refreshed the OUTRIDER user interface and scan configuration to simplify and speed up the set-up process. The new set-up screens flow through set-up to scan options over three separate steps to streamline configuration. OUTRIDER saves your settings so that you don't need to waste time reconfiguring with each scan.
Also, each scan option now has a traffic-light style visual indicator letting you know how much time an additional data capture may add to your search so that you can make informed decisions on the spot.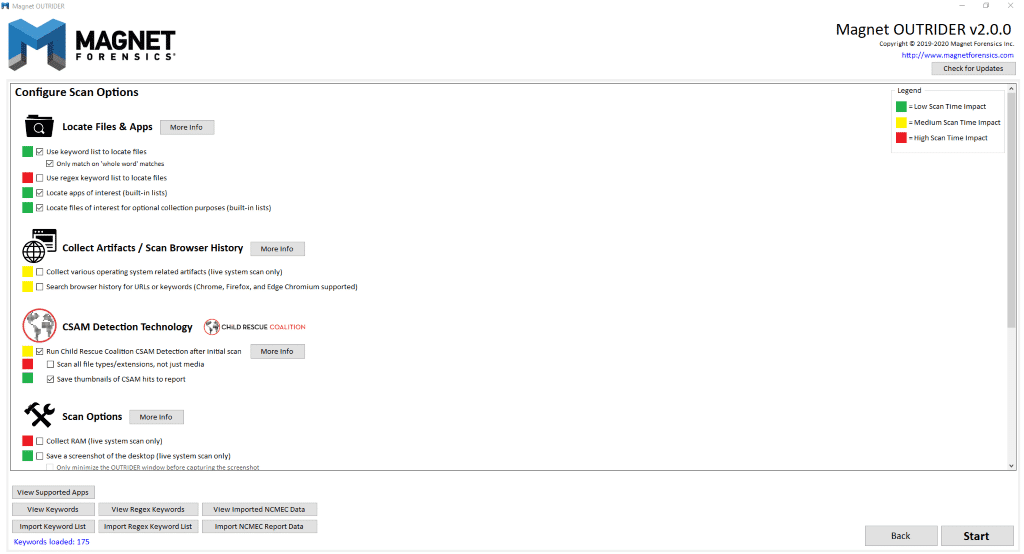 MAXIMIZE YOUR TIME IN THE LAB WITH TARGETED SCANNING
Your time in the lab is just as valuable as it is in-field, don't waste it scanning full drives, computers or servers when you only need to examine specific folders. Now you can save even more time by performing very targeted scans on one or more selected folders. Additionally, you can scan mobile extractions by saving the mobile image to a dedicated folder and performing a targeted scan on it.
Try Magnet OUTRIDER 2.0 Today!
If you're already using Magnet OUTRIDER, download OUTRIDER 2.0 in the Customer Portal. If you want to see how Magnet OUTRIDER can help you dramatically reduce the time is takes to find CSAM on computers and external drives, request a free trial today!