Find Similar Pictures in Magnet AXIOM 4.0
Our engineers have been hard at work and as a part of the latest AXIOM release, we've added additional capabilities around Magnet.AI. Content-based image retrieval (CBIR) is a fantastic resource for investigators needing to find similar images, especially when working with multiple pieces of digital evidence that could contain hundreds of thousands of images.
Magnet.AI finds similar pictures based on a picture's general attributes, rather than specific details such as small objects or faces. Use Magnet.AI to help you find other pictures that are similar, such as pictures of the same room or pictures with similar scenery.
To learn more about other features we've recently added to AXIOM, check out this blog! If you're not already using AXIOM and want try AXIOM 4.0 for yourself, request a trial today.
The Science Behind AXIOM's Find Similar Pictures Artifact
As digital evidence and requests for analysis continue rise for examiners, resources found in your forensic tools can make the difference between actionable data being discovered quickly for investigators to operate off of, and ultimately being too late. Investigations requiring massive amounts of media review, as we all know can take precious time, however with content-based image retrieval we can expediate results for examiners that otherwise may have taken many hours to manually find.
During the picture comparison stage, Magnet.AI processes each image through a deep learning model to extract non-readable characteristics from the media. Each image is analyzed, compiling thousands of feature measurement vectors for use in identifying similar pictures. When a reference image (whether from inside the case or imported from outside the case file) is queried for use in identifying similar images Magnet.AI calculates a score between the vectors created during the initial picture comparison stage. The closer the scores are to one another, the more likely the pictures are going to be similar.
Now that we've got an idea on what's going on behind the scenes when an examiner runs the Find Similar Pictures feature in AXIOM, let's walk through use of the tool.
Using the Find Similar Pictures Feature in AXIOM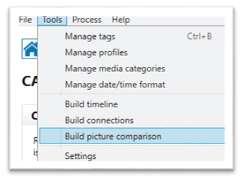 To use the Find Similar Pictures, the examiner must first open Examine, and build picture comparisons by choosing Tools > Build picture comparison after opening a case. Unlike building a timeline or connections with AXIOM, this process may take longer depending on your system specs. Examiners wishing for picturing comparison, connections, and timeline to be run automatically after processing can navigate to Tools -> Settings to check the post-processing options they wish to have run.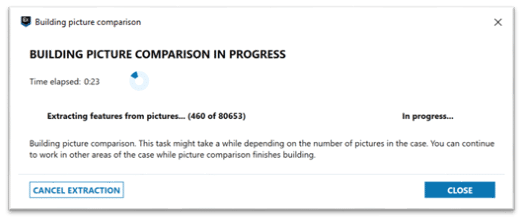 Once the process has completed, you can select a reference picture to find similar pictures. 
1. In AXIOM Examine, from the Artifact or File system explorers in Row, Column, Classic, or Thumbnail view, right click on a picture
2. Click Find Similar pictures and choose Select picture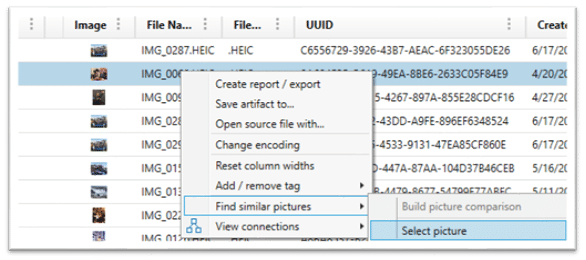 3. AXIOM Examine will then display matching results in the Thumbnail view in the Artifacts explorer, and will sort the pictures automatically so that the most similar pictures appear at the top.

Considerations for Using Find Similar Pictures
To find similar pictures, Magnet.AI must create a large database, so for optimal performance we recommend following the following these recommendations:
Make sure you have enough space to store the data. Each picture needs approximately 8 KB of space to store the data that Magnet.AI produces.
Store your case files on an SSD rather than a fixed or external drive. Magnet.AI will function on a fixed or external drive, but it will not perform as well.
Use a computer with a GPU. When you build picture comparison using Magnet.AI, if Magnet AXIOM detects a GPU on your computer with more than 126 MB of free memory, it automatically attempts to use it. Using a GPU instead of a CPU can significantly decrease the time it takes to build picture comparison.
Magnet.AI will search all uncorrupted picture files in your case. However, if the case contains more than 10 000 pictures, only the top 10 000 most similar to the reference photo will be displayed in the search results.
We hope Similar Pictures powered by Magnet.AI will help maximize examiners time when combing through media intense investigations, revealing pictures with similar characteristics. As always if you have any questions or comments don't hesitate to reach out to me at trey.amick@magnetforensics.com