Supporting eDiscovery With Email Relationship Linking in Magnet AXIOM Cyber Load Files
As organizational data continues to expand rapidly, eDiscovery cases are also growing in both size and diversity​. One category that remains at the top of the list for electronically stored information (ESI) is email—the preferred mean of business communications for 86% of professionals, the average worker sends 40 emails and receives around 121 emails every workday.
With the prominence of email in business communications, its not surprising that it is a key source of ESI in eDiscovery collections. To ensure you have the full context of emails in your collections, we have updated our load files in Magnet AXIOM Cyber to include relationship linking for email messages and attachments.
Capturing the Full Context of Messages in Load Files
With email relationship linking in load files, when selecting emails or attachments for export, you will now have the option to also include the parent and any sibling attachments associated with the communication. The email and attachment relationships as well as metadata for the artifacts will also be shown in the .dat load file generated which greatly helps with preserving context for downstream review.
AXIOM Cyber creates load file that can be seamlessly ingested by eDiscovery review tools with all the required materials and formats, including:
A plain text delimited file with a .dat extension in the Concordance/Relativity format containing metadata for the included artifacts
Folders with accompanying natives and text including:

MSG file for email
HTML chat threads for chat messages from Slack or other chat-based communication services
Original files for documents, media, and other file-based artifacts
Get All the Evidence You Need
AXIOM Cyber provides a robust artifact engine combined with the ability to collect potential evidence from computers (Mac, Windows, and Linux), mobile devices, and cloud sources like Slack, Office 365, Google Workspace, AWS and Azure. With the breadth and depth of artifact support, Magnet Forensics was named a Major Player in the IDC MarketScape: Worldwide eDiscovery Early Case Assessment Software 2022 Vendor Assessment (doc #US48970222, September 2022)
"Magnet Forensics has the capability to collect virtually any data source across virtually any environment or device. The depth that Magnet Forensics can explore the data and artifacts is hard to compete with."

Ryan O'Leary, Research Manager, Privacy and Legal Technology, IDC, and author of the IDC MarketScape
Pre-Filtering Data for eDiscovery
AXIOM Cyber also has a range of pre-filtering options that can be applied to eDiscovery investigations:
Privileged Material – In many eDiscovery cases there will be set parameters around what evidence can be included in the scope of the investigations. With Privileged Material you can load a list of keywords and AXIOM Cyber will automatically tag the artifacts for further review or exclude them from the Artifact Explorer.
Pre-Processing Date Filters – These give you the option of setting a date and time range for the artifacts that will be added to a case. Using date restrictions to filter electronically stored information (ESI) lets you easily limit collected data volumes to applicable timeframes.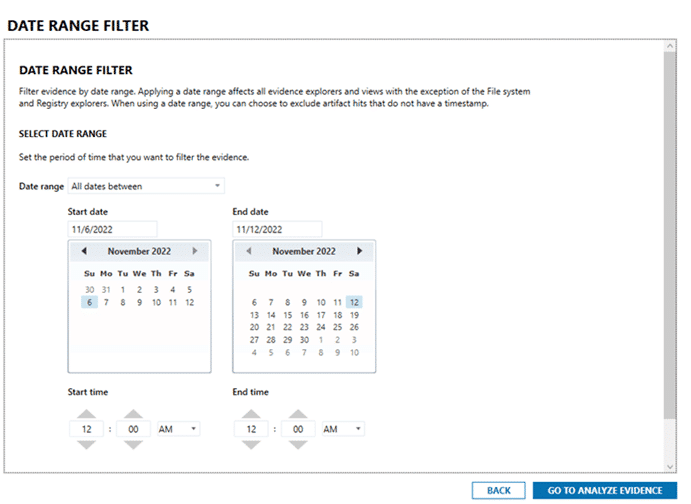 A Familiar View for Email Evidence
When analyzing emails, it's important to get through this work swiftly and efficiently. AXIOM Cyber's Email Explorer view helps you review emails by presenting them in an intuitive and familiar format that mirrors the appearance of common email platforms. Much like a native email platform, Email Explorer also provides several filters and search capabilities to narrow in on specific message times or themes to help manage the volume of data.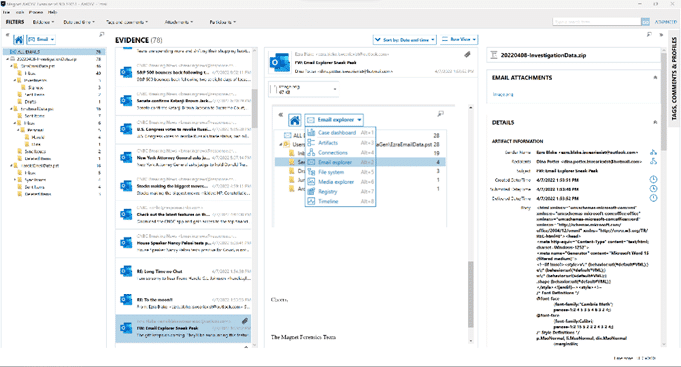 Get Magnet AXIOM Cyber Today!
To try out the updated load files AXIOM Cyber for yourself, update to the latest over at the Customer Portal or request a free trial today!