See What's New in the Magnet Digital Investigation Suite
The Magnet Digital Investigation Suite (MDIS) helps you to transform your digital investigations to increase efficiency, leverage powerful analytics, and collaborate agency-wide, all while enabling you to operate securely and transparently to reduce risk.
We're excited to share the latest new features we're introducing across the Suite, including major new versions of both Magnet ATLAS and Magnet AUTOMATE, along with a preview of several powerful new features coming soon in the next version of Magnet REVIEW!
These new capabilities make the Magnet Digital Investigation Suite an even more powerful platform for law enforcement agencies to help streamline, manage, and secure their digital investigations end-to-end and enable convenient and collaborative experiences for all stakeholders involved so they can work together to get to the truth faster.
Read on for highlights of the latest MDIS features, and be sure to check out our companion blogs below to read more details on each new solution release:
Visit the Magnet Digital Investigation Suite page to learn more, or email sales@magnetforensics.com to speak to one of our experts.
New in MDIS: Automatically Ingest and Process More Data Sources
We designed the Magnet Digital Investigation Suite as a unified platform that you can use to bring in, process, analyze, and share digital evidence from a wide variety of data sources, helping you to streamline your entire digital investigation processes and enable a more wholistic view of your evidence for your forensic examiners and other stakeholders.
Magnet AUTOMATE, our digital forensics orchestration and automation platform, helps you to leverage your lab's hardware and software tools to create automated, standardized workflows that can unlock capacity and drive efficiencies across your digital investigations.
In addition to robust support for mobile and computer data sources, with AUTOMATE 3.0 we're now extending support for three new important sources: DVR video, warrant returns, cloud, and memory!
You can now leverage AUTOMATE to automatically ingest and process data from:
DVR Examiner
Warrant returns and other cloud data packages
Chromebooks
Memory images
To see how you can include DVR Examiner in your Magnet AUTOMATE workflows, check out this how-to video with Magnet Forensic Consultant Kim Bradley.
AUTOMATE 3.0 also includes two powerful new features to help add further automation and control to your workflows:
Platform Autodetection: Automatically apply specific workflows according to the source device platform of an ingested image.
Process Next: When you receive a high-priority case, you can now easily move it to the top of your queue without disrupting your other jobs.
New in MDIS: Simplify Your Evidence Review
Once you've processed and analyzed your data sources, the Magnet Digital Investigation Suite can help you to easily share your results with investigators and other stakeholders wherever they are, and with tools designed to help them quickly and easily find the evidence they need.
Magnet REVIEW, our secure evidence review platform, provides a simple yet powerful interface specifically designed for the needs of non-technical users.
With the upcoming release of Magnet REVIEW 4.0, we're adding several new features to help highlight important information and evidence items so users can complete their reviews even more easily and effectively!
REVIEW 4.0 will include:
A new Device Dashboard that summarizes key source device information and details in a convenient, at-a-glance format.
Customizable artifact classification and multi-artifact views to help highlight important information to reviewers.
Chat thread previews in reports that provide reviewers with a native viewing experience for tagged chat items, including shared media like pictures and video.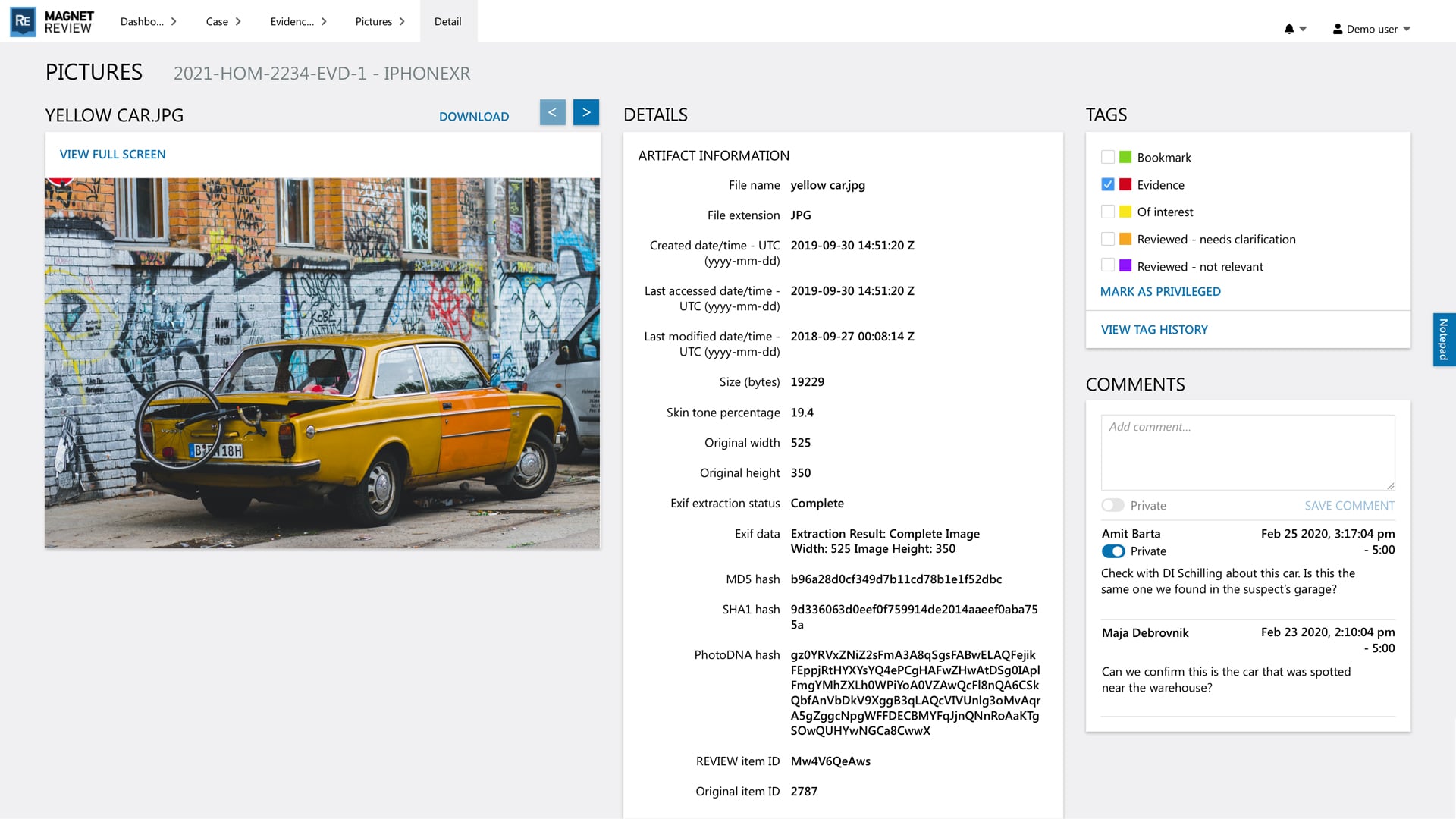 To see a preview of the new Device Dashboard, primary/secondary artifact classification, and multi-artifact view features, along with how-to demos for exporting evidence from AXIOM into REVIEW and viewing evidence from Cellebrite Physical Analyzer and MSAB XRY, check out our recent REVIEW Tips & Tricks video with Senior Product Manager Nicole Davis.
New in MDIS: Optimize Your Case Workflows
As your digital investigations become larger and more complex, having effective tools to help you manage your case data and workflows across multiple steps and stakeholders is critical.
ATLAS's case management and collaboration capabilities are a key part of the Magnet Digital Investigation Suite's integrated solution approach, acting as the command-and-control center for your digital investigations.
ATLAS 3.0 includes several powerful new features to help you to centralize your information and data to help all of your agency's stakeholders – forensics examiners, investigators, and external collaborators – easily secure, track, manage, and collaborate on all aspects of your case.
ATLAS 3.0 features an all-new task manager that makes it even easier for you to see the progression of your casework though the assignment, monitoring, and completion of tasks.
To learn more about the new ATLAS task manager, check out our how-to video from our Customer Solutions Manager, Kevin Harth.
We've also added new API functionality to help you easily add file attachments to items in ATLAS – both from your internal systems as well as via Magnet AXIOM or AUTOMATE – along with the ability to view video attachments within the ATLAS UI to improve user experience and maintain data security.
Upcoming MDIS Webinar: Getting Ahead of the Digital Evidence Challenge
Wednesday, February 9, 1:00PM EST
Join Dr. Stephen Boyce, who formerly supported both the Department of State and Federal Bureau of Investigation, now Magnet's Director of MDIS, for a Q&A session where he'll address the key digital evidence challenges facing law enforcement agencies today and how new approaches and technologies like those employed in the Magnet Digital Investigation Suite can help.
Register for this webinar here.
Transform Your Digital Investigations with the Magnet Digital Investigation Suite!
Reach out to our experts today and let us help you modernize your digital investigations to increase efficiency, leverage powerful analytics, collaborate agency-wide, and reduce risk.