New in Magnet AXIOM 5.8: Map Details Card, More Crypto Artifacts, and Magnet.AI Hate Symbol Update
We're proud to announce the availability of Magnet AXIOM 5.8!
You can upgrade to the latest version within AXIOM or over at the Customer Portal.
New in Magnet AXIOM 5.8: a faster way to view artifact geolocation data with the map details card, more cryptocurrency artifacts, artifact support for desktop Facebook Messenger app, and updated Magnet.AI training to identify more hate symbols.
If you haven't tried AXIOM yet, request a free trial here.
Map Details Card
When reviewing evidence in AXIOM that contains geolocation data, such as pictures or videos, you can now access a new card in the details section — which will plot the coordinates on a map.
The new map details card provides examiners with an at-a-glance view of the location information for the artifact without needing to switch to the World Map View. This is available in the Artifact Explorer, Media Explorer, and Timeline Explorer, enhancing the insights examiners have at their fingertips.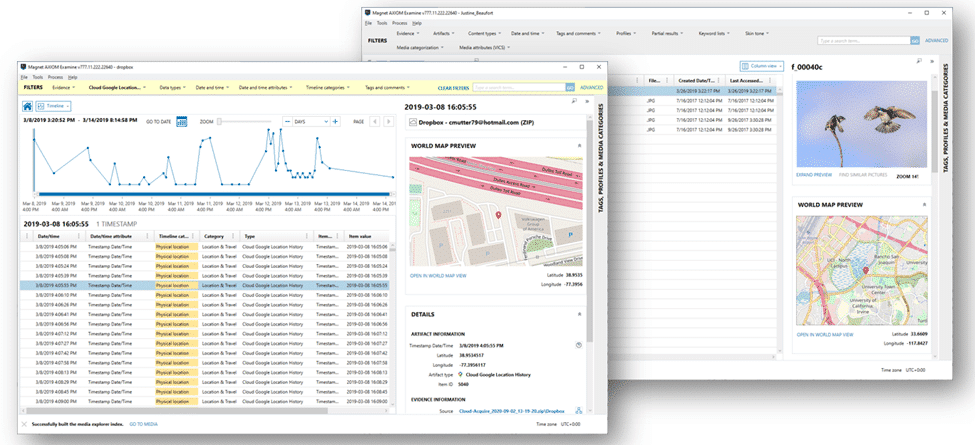 The new map details card allows you to quickly view location data in the same panel as other artifact information, making it fast and easy to get a sense of where an artifact may have been generated.
Learn more about the map details card in this blog from Kim Bradley.
More Crypto Artifact Support
Did you know that in AXIOM, you can search for evidence of cryptocurrency activity and apps via keyword searches?
We're adding artifact support for Coinomi and Breadwallet, in addition to the Bitcoin Core Client and Coinbase, Beam, and Exodus, which we added artifact support for in AXIOM 5.7 — helping you recover transaction data on the device.
While investigating cryptocurrency may still be an emerging area of interest for many examiners, the number of devices found with bitcoin/crypto artifacts is only growing based on our internal data. Knowing which crypto wallets have data stored on the device and which ones host their data solely in the cloud can help accelerate your time to evidence tremendously.
For more on cryptocurrency investigations, check out this webinar from the Magnet Virtual Summit, "Cryptocurrency Investigation and Following the Transaction Trail".
Artifact Support for Desktop Facebook Messenger App
You can now collect more evidence for computer-based investigations with artifact support for the desktop version of Facebook Messenger. Support is available for both Windows and macOS, with artifacts for groups, users contacted, calls, and messages.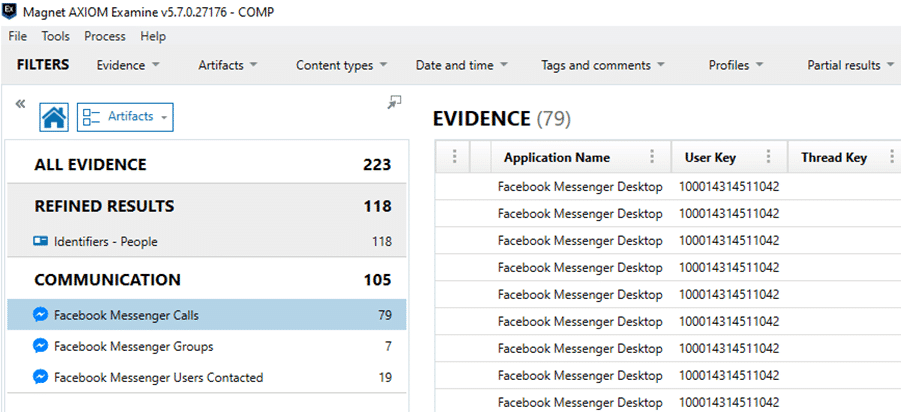 With Messenger being a cross-platform messaging app, being able to include multiple devices (and all of their artifacts) all in one case file may allow you to get a clearer picture of user behavior. You can correlate Messenger data from computer, mobile, and the cloud and each of these sources will provide unique pieces of evidence — allowing you to create a timeline of activity as a user moves between devices.
Identify More Hate Symbols with Magnet.AI
With AXIOM 5.8, we have improved Magnet.AI training to identify more hate symbols with greater accuracy.* With Magnet.AI, you can search images in Media Explorer for hate symbols and it will help to identify hate symbols, regardless of whether they're captured in a scene, in pictures the user has taken, or logos.
* Accuracy improvements over previous versions of AXIOM based on internal testing.
New Artifacts
Breadwallet Events // Android
Breadwallet Transactions // Android & iOS
Coinomi Transactions // Android & iOS
Facebook Comments // Android
Facebook Posts // Android
Facebook Tags // Android
Facebook Messenger Calls // Windows & macOS
Facebook Messenger Groups // Windows & macOS
Facebook Messenger Messages // Windows & macOS
Facebook Messenger Users Contacted // Windows & macOS
Telegram Media // Windows
Updated Artifacts
Contacts
Discord
Facebook Messenger
File System Events
iMessage
Messages
Signal
Snapchat
Viber
WhatsApp
Get Magnet AXIOM 5.8 today!
We are continually improving AXIOM to make it our most comprehensive digital forensic platform. When every second counts, it's important that we do what we can to streamline the primary workflow of examiners. We're excited that these AXIOM improvements can help to do exactly this.
If your agency needs to perform remote collections, collect from cloud storage services, or Microsoft office 365, check out what's new in AXIOM Cyber here.