New in AUTOMATE 2.7: Overview Dashboard and AUTOMATE REST API
Last year, we announced the introduction of new stats & management dashboards to surface key lab insights and metrics in easy to use, visual dashboards. Now with AUTOMATE 2.7, the Overview Dashboard has arrived to help you drive success and efficiency in the lab.
The Overview Dashboard will allow you to assess your lab's health at a glance, overall data throughput, workflow usage, cases in progress and the number of evidence sources processed. To learn more about how you can utilize lab insights and stats from AUTOMATE to make better operational and business planning decisions for your lab, check out our latest blog post, "Better Data Makes Lab Management Decisions Easier with AUTOMATE".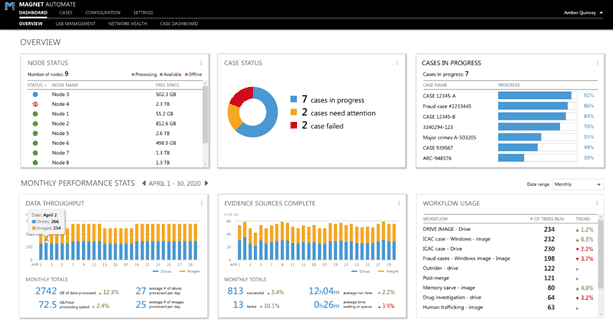 AUTOMATE REST API: Integrate AUTOMATE Into Your Ecosystem
We're excited to introduce a REST API for AUTOMATE with our latest release!
Now, you can integrate AUTOMATE with your current solution ecosystem allowing you to extend the features of AUTOMATE to different solutions. For example, you could automatically trigger a templated workflow in AUTOMATE from a case management solution remotely – streamlining your workflow from case creation in a separate case management tool through to processing & export seamlessly via AUTOMATE.
We're eager to understand how you may want to use the AUTOMATE REST API to extend the benefits and features of AUTOMATE, reach out to us at sales@magnetforensics.com to discuss your needs.
Integration with Magnet AXIOM 4.9
With this release, AUTOMATE integrates with AXIOM 4.9, introducing new artifacts that help you get to your evidence faster. Also, the ability to blur categorized media in exports is now available when you activate that feature in an export template for use within AUTOMATE workflows. Check out our AXIOM 4.9 blog post to learn more about the new artifacts and features we introduced.
Learn More About Magnet AUTOMATE & Request a Consultation
Visit the Magnet AUTOMATE page to learn more about AUTOMATE and to request a personalized demo and consultation with one of our experts today.