Meet the Magnet Forensics' Training Team: Luke Smith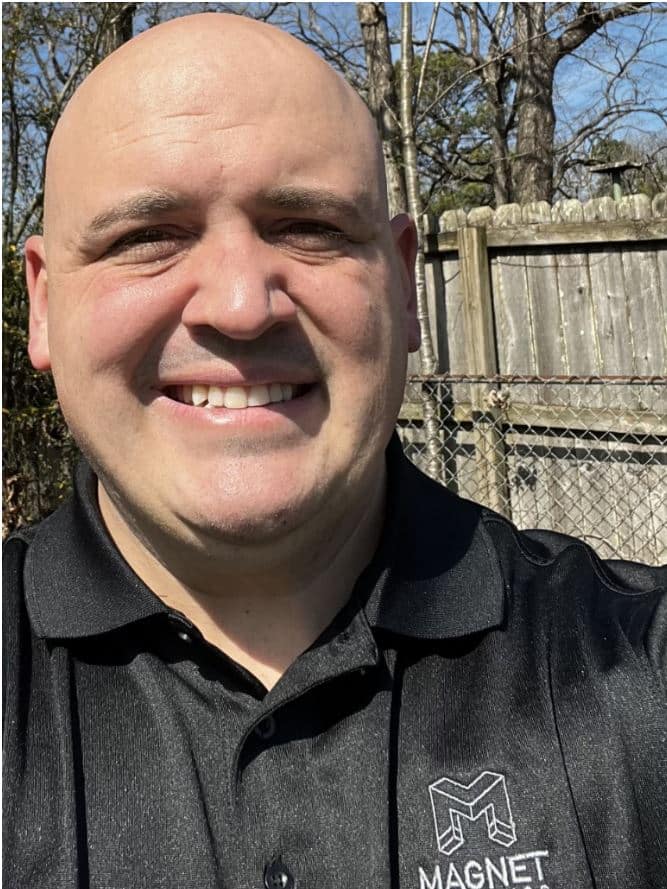 Introducing our newest member of the Training Team, Luke Smith. Learn more about Luke's varied and interesting background and what he's hoping to bring to his role at Magnet Forensics.
Let's get to know Luke!
Want to learn more about what courses are offered? Visit our Training & Certification page for more information.
MF: Tell us about your life before becoming a Trainer.
LS: Before becoming a trainer at Magnet Forensics, I spent 15 years in law enforcement. I began at a local police agency near Little Rock, AR. I eventually went on to serve as the in-house investigator for the Saline County Prosecuting Attorney's Office. I later moved to the Arkansas Attorney General's Office where I served as a Special Agent and the Director of Digital Forensics. We helped support our state's Internet Crimes Against Children task force. 
MF: What made you want to be a Trainer?
LS: I have always enjoyed teaching. From church classes to middle school students, to law enforcement advanced weapons and tactics, and digital forensic techniques. I enjoy teaching people something they didn't know before. Becoming a trainer for Magnet is just a logical extension of that. I have always, and continue to, believe in the mission of law enforcement. Being a trainer at Magnet allows me to continue to take part in that mission through educating new forensic examiners.
MF: What type of training have you taken part in personally? What is your favorite part of the role?
LS: I have taken several in-person and online classes through NW3C. I have attended IACIS BCFE and SANS FOR500. I have taken numerous vendor-specific training classes including most of the AXIOM-related classes. My favorite part of this role is meeting students from all different areas of the forensics community.
MF: What excites you the most about a new class?
LS: The students are the best part of a new class. I enjoy meeting them and hearing their experiences in their fields. I also enjoy meeting and getting to know examiners who have a true passion to learn more and further their forensic skills.
MF: Do you ever learn anything from the students?
LS: Absolutely! The field of digital forensics is a vast ocean, and everyone brings their own unique experience to the table. I love getting to hear how students go about their workflows in their own labs. No one can be a master in all things DFIR. We are all constantly learning. I enjoy getting insight into areas that I haven't had experience through the students.
MF: Is there a particular moment that stands out the most to you in your career in the classroom?
LS: I love when the lightbulb comes on in a student's mind and you can see the wheels turning. I love when the students have the "ah ha!" moment and resolve to use the newly learned methodology or information in a real-world case they are currently working.
MF: What do students get out of training in person that they can't get on their own?
LS: There is no comparison to in-person training. The interactions with the students and instructors can be invaluable. Students are more comfortable asking questions in class when they are in-person so there are many more discussions over topics that may or may not be in the manuals. There is also the added benefit of being able to network with your peers on the breaks and getting to hear how other examiners solved problems and worked through their own cases.
MF: How prepared do you feel students are to use Magnet Forensics products after taking the training course?
LS: I have taken many vendor-specific classes in my career. I feel that the Magnet training courses are the best at teaching forensic methodologies. We just happen to use AXIOM to teach it. By the end of any week of Magnet training, the students are very comfortable using the tool. The training classes fully prepare students to use the tool. There have been many cases where students are ready to get back and use something they have learned on a current case or will be going back to a previous case and using AXIOM to dig out another artifact.
MF: What is most unique about Magnet Forensics' approach to training?
LS: I think the thing that sets Magnet apart is the course material. Each course is set up in a way that not only shows student how to use the tool, but also highlights where the information is coming from, why it is important, and/or use cases where an examiner might need the information. This often allows for extra-curricular discussions from students which help to illustrate the topics and only make the learning that much more relevant.
MF: Why do you think certification is important to examiners?
LS: I think certifications are important because they can quickly display that an examiner has a certain level of competence in a given area. While tool-agnostic certifications such as IACIS's CFCE or the GIAC GCFE show competencies in core forensics concepts and methodologies, tool-specific certifications such as the MCFE can quickly show that an examiner has the training and understanding to use the tool. Certification help to distinguish between someone who attended a class, and someone who ingested the knowledge from the class and understands the concepts enough to pass the certification.  
MF: How do you manage to keep up on the latest trends in digital forensics?
LS: I keep up with the IACIS listserv, speak to students every week, and read through the research papers that are published for everyone's benefit.
MF: What trends do you see coming down the pipeline in digital forensics?
LS: Encryption is here and is only becoming more integrated into everyday devices. I think as examiners we will continue to encounter more applications and hardware that utilize some sort of encryption. With connection speeds increasing all of the time, I also think we will see a larger movement to cloud-based information. I believe as we move forward, local device exams (computer or phone) will yield less and less information stored on the local device and exams will require further processing to include the cloud sources.
Thank you, Luke! Welcome to the Training team and to Magnet Forensics overall – we look forward to seeing your future contributions.
Read our previous interviews with Director of Training Operations Jamey Tubbs, Chris Vance, Patrick Beaver, Doug Estes, Lyn Goh, Larry McClain, Hoyt Harness, Jerry Hewitt, Chris Blight, Erich Schmidt, Justin Almanza, Sean Boero, Katie Bressington, Nick Bria, and Cody Flowers.
Click here to go to the Magnet Forensics Training and Certification Portal.