Meet the Magnet Forensics' Training Team: Anthony DaSilva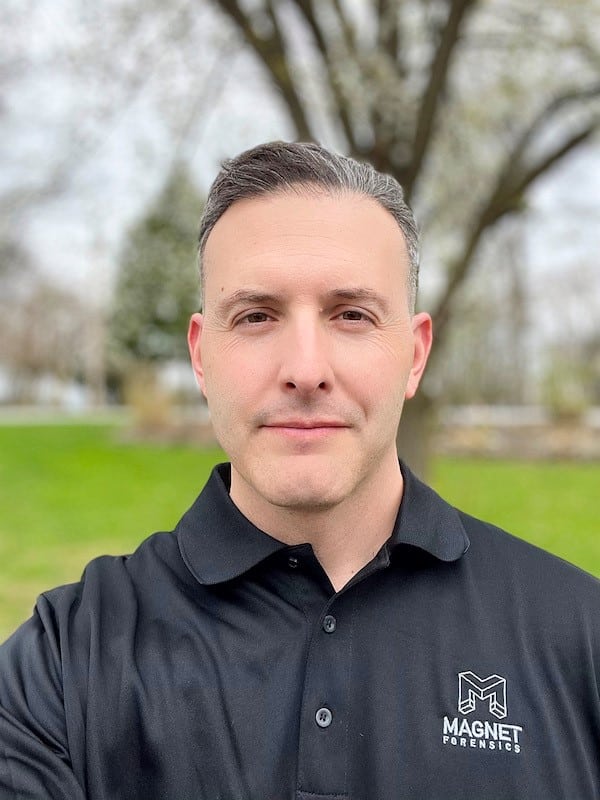 Introducing our newest member of the Training Team, Anthony DaSilva. Learn more about Anthony's varied and interesting background and what he's hoping to bring to his role at Magnet Forensics.
Let's get to know Anthony!
Want to learn more about what courses are offered? Visit our Training & Certification page for more information.
MF: Tell us about your life before becoming a Trainer.
AD: Prior to joining Magnet Forensics, I was a police officer for over 21 years in New York.  I began my career with the NYPD in 2000 doing routine patrol before joining the New York State Police in 2005. In 2012, I took cybercrime training offered by the New York State Police, in conjunction with other national agencies, and performed on-scene triage of computers and mobile devices utilizing forensic tools in the field. In 2014, I was promoted to investigator and was assigned to a back room, investigating a wide array of felony-level complaints. 
I continued to utilize my forensic training and experience to conduct forensic investigations on digital evidence connected to investigations I was conducted or assisting with.  In 2016, I joined the regional computer crimes unit full-time.  I completed extensive additional training and I performed forensic examinations of digital evidence full time in a laboratory setting. Upon my retirement in 2022, I was the supervisor overseeing all lab and field personnel assigned to my regional office overseeing cases and personnel in five counties, plus New York City.   
MF: What made you want to be a Trainer?
AD: During my time as a police officer, I watched as digital evidence became a larger and more important piece of almost every investigation. A lot of officers become overwhelmed by all of this information, or they are afraid to attempt to obtain it for fear of changing or erasing something. As a Trainer, I get to pass on the knowledge I have gained to others to help them enhance their investigations and collect, preserve, examine and report on digital evidence in a forensically sound manner.
MF: What type of training have you taken part in personally? What is your favorite part of the role?
AD: I am a graduate of both the NYPD and NYSP Police Academies. I have completed training covering the identification and seizure of electronic evidence, secure techniques for onsite preview, forensic imaging, processing and examinations, and I hold a Certified Forensic Computer Examiner (CFCE) certification from the International Association of Computer Investigative Specialist (IACIS). I also have received certifications for numerous forensic tools including Magnet AXIOM, Cellebrite, XMAN XRY, Forensic Explorer, Griffeye, Blacklight and DEI ADF.
MF: What excites you the most about a new class?
AD: Getting to meet other examiners, officers, agents, and people in private industries who are looking to digital evidence to help them reveal the truth.
MF: Do you ever learn anything from the students?
AD: Digital forensics is rapidly evolving and ever-changing.  In this field, you learn something new every day. This new knowledge can come from any person or any source.
MF: Is there a particular moment that stands out the most to you in your career in the classroom?
AD: I'm just getting started here. So, ask me in a year or so.
MF: What do students get out of training in person that they can't get on their own?
AD: You really can't have the same interaction with people in a virtual class that you can have in person. It's hard to read a room when you are not in the room. You can't tell what is really landing with people or tell by the look on their faces or body language if the need help or further explanation or if they want to ask something but don't want to interrupt. You also can not assist with the learning process as well virtually as you can in person.
MF: How prepared do you feel students are to use Magnet Forensics products after taking the training course?
AD: We prepare them as well as they can be prepared.  But just like anything you learn, if you don't use the knowledge frequently, you will lose or forget it.  So, I encourage all students to stay active with the tool and reach out to us with any questions they may have.
MF: What is most unique about Magnet Forensics' approach to training?
AD: No PowerPoint presentations. A lot of training courses rely too heavily on PowerPoint. It can be a great tool, but I think it has become a crutch that has replaced true knowledge in some circumstances.
MF: Why do you think certification is important to examiners?
AD: It demonstrates a level of proficiency. I believe obtaining certifications can boost morale and is especially important when it comes to court proceedings and testimony.
MF: How do you manage to keep up on the latest trends in digital forensics?
AD: Keeping up on certifications, reading blogs, and taking part in examiner list servs and private boards.
MF: What trends do you see coming down the pipeline in digital forensics?
AD: Cloud, cloud, and more cloud data.
Thank you, Anthony! Welcome to the Training team and to Magnet Forensics overall – we look forward to seeing your future contributions.
Read our previous interviews with Director of Training Operations Jamey Tubbs, Chris Vance, Doug Estes, Lyn Goh, Larry McClain, Hoyt Harness, Jerry Hewitt, Justin Almanza, Katie Bressington, Nick Bria, Cody Flowers, and Luke Smith.
Click here to go to the Magnet Forensics Training and Certification Portal.