Introducing Magnet OUTRIDER 4.0: Now with iOS Support
We're excited to announce that Magnet OUTRIDER now supports triage of iOS devices! This is in addition to already existing triage support of Windows, Macs, and external drives, as well as Android mobile devices.
Also with Magnet OUTRIDER 4.0, you can now use MD5 hash matching to locate files on a device using hashsets like VICS or CAID.
You can upgrade to the latest version of Magnet OUTRIDER in-product by clicking the Check for Updates button under Manage, or by heading over to the Customer Portal. Be sure to log in, then select "Magnet OUTRIDER".
Learn more about Magnet OUTRIDER and request a free trial today.
iOS Support
Whether you're using OUTRIDER in the field or in the lab, you often need to know what you're getting into before you do a full collection of a device. OUTRIDER is perfect for consent-based triage of iOS devices so you can quickly understand what's on the phone.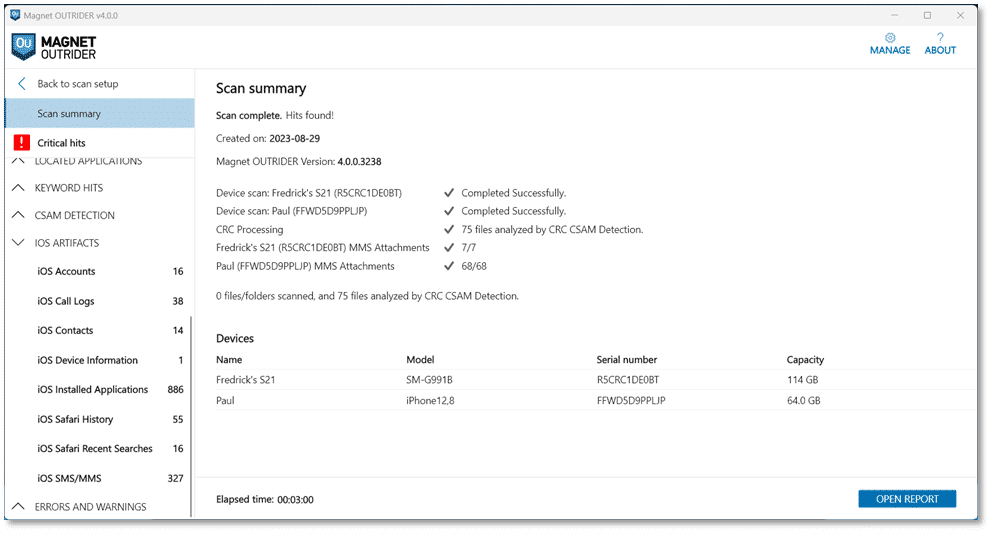 Use OUTRIDER 4.0 to perform logical scans of decrypted and encrypted backups in minutes. With iOS support, you get artifacts for:
iMessages
SMS
MMS Media
Contacts
Device information
Account information (names & email addresses)
Call logs
Browser history
Third-party apps
MD5 Hash Matching
We know that many customers want to use OUTRIDER to scan their VICS or CAID hashsets, or even their own agency hashset including NCMEC CyberTips. The challenge has been that, using alternative methods, scanning against millions of hashes can take time…time that OUTRIDER can't afford to spend.
This is where MD5 hash matching comes in. It's an ideal way to scan against millions of hashes in a short period of time to give you enough certainty that you can move forward with your investigation in the right direction.
With OUTRIDER 4.0, you can locate files of interest using MD5 hashes matching the source hashes. Once files are found using MD5 hash matching, they'll be displayed as Critical Hits under Hash Set Matches where you'll see a thumbnail preview of the file found, the hash found, the location of the file as well as the hashset source.

There's More!
In addition to iOS triage support and MD5 hash matching, we've added a few other features to round out the release of OUTRIDER 4.0 including:
Triaging MMS data for Android devices along with options to speed up scanning
Scraping of NCMEC pdf reports for keywords
Getting more detailed information about scan status to make immediate decisions
Watch Magnet OUTRIDER 4.0 in Action
On September 20 at 1:00PM, check out "Using OUTRIDER's New Features to Create Your Own Triage Workflows", a new webinar with two of Magnet Forensics' forensic experts, Chris Vance & Chris Cone, to learn more about how you can incorporate mobile devices into your triage workflows.
Save your spot for the session today!
Connect with Us
Request a quote and pricing information for Magnet OUTRIDER today by reaching out to us at sales@magnetforensics.com. As always feel free to reach out to us at outrider@magnetforensics.com if you're having any issues or if you'd like to provide feedback. We'd love to hear from you!