Cross-Case Searching for Tagged Identifiers in Project Prague Beta
With the release of Magnet AXIOM 5.2, we're also launching a beta feature, Project Prague, through the MAGNET Idea Lab™!
You can upgrade to AXIOM & AXIOM Cyber 5.2 within AXIOM & AXIOM Cyber or over at the Customer Portal.
Project Prague Beta allows users to search across cases for specific identifiers that have been tagged by Examiners in Magnet AXIOM, while also offering cross-case analytics.
Download a copy over at the MAGNET Idea Lab™, give it try, and let us know what you think.
Project Prague, What is It?
For large-scale investigations, crime analysis, and intelligence gathering, cross-case sharing of information can be hugely beneficial. Specifically, being able to search cross-case for tagged identifiers (e.g., names, emails, screen names, serial numbers, etc.) could be a huge benefit for single or multi-team investigations. If investigators were looking to identify the serial number of a camera across cases in an ICAC investigation, Project Prague would enable such a search. If investigators were looking for a specific username in a drug or weapons investigation across cases, Project Prague would be a great fit.

Some of the current key features of Project Prague included in the beta are the ability to:
Push specific identifiers of interest to a user-controlled Prague database
Track instances of identifiers across different cases
Query all identifiers in a case so they can be matched to identifiers of interest in Prague
Tag all hits relating to the matching identifier in a current case
Create a report outlining all details for matched identifiers and contact information for each
If you're interested in testing out this new beta feature and providing your feedback, visit the MAGNET Idea Lab™ and request access.
Project Prague, How Does it Work?
Cross-case searching requires examiners to tag identifiers and to push them to a customer-controlled Prague cloud server (either an on-prem or cloud-hosted) to host a database of identifiers. Prague is integrated with AXIOM to enable both the pushing of identifiers to the Prague database and the searching of that database for cross-case identifiers from AXIOM. Ultimately, the identifiers that are populated in the database are user created, controlled, and managed.
By having the Prague server and the identifiers managed and controlled by the customer, it allows users to be very intentional with the identifiers they are pushing to the Prague server, while having full auditability and report creation available.
When an identifier is flagged during a search, the case details and the contact info of the case owner is presented to the searcher, as well as a description of the artifact associated with the identifier (e.g., if a number is tagged as an identifier, the associated artifact will inform the searcher that it's a serial number, etc.).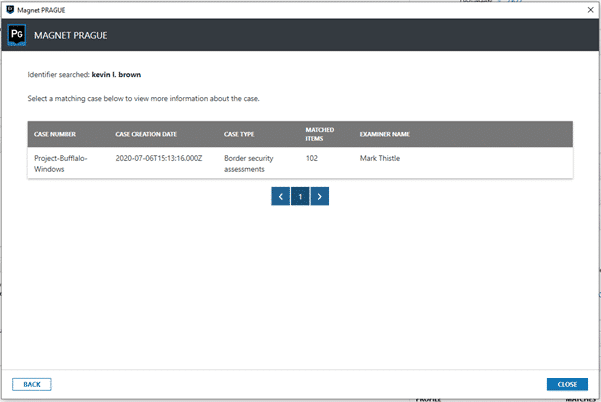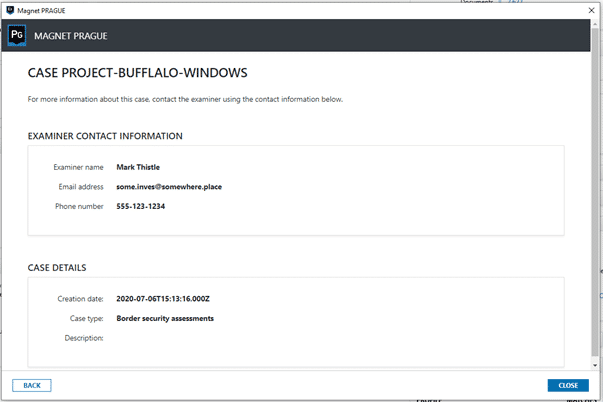 Project Prague, We'd Like to Know More!
We know that searching for cross-case identifiers could be hugely beneficial for those larger, multi-faceted investigations, where examiners and investigators are collaborating to probe a criminal network, whether it be for human, drug, or gun trafficking, anti-terrorism, etc.
We, however, also recognize that there is a lot more that we'd like to know from the community when it comes to building and designing the best cross-case search tool, so we are soliciting critical feedback.
Please reach out to us at the MAGNET Idea Lab™ if you have any feedback, thoughts, ideas for us to make Project Prague Beta a better tool for you and your teams. We're looking forward to hearing from you.
If you have any other questions, comments, or feedback, please reach out to Cody Bryant at cody.bryant@magnetforensics.com and use the subject heading 'Project Prague Feedback'.