Using AXIOM Cloud for Uber Acquisitions
The ongoing trend for many application services is transitioning to storing user data in the cloud, rather than on the user's physical device. This cloud data can be vital to your examinations!
Now, in Magnet AXIOM 3.10, we've added the ability to acquire and process data from a user's Uber account. Uber is one of the most popular ride-hailing services used today, and access to this data can quickly give you insight into the movement of the user that you may not have otherwise had access to.
Uber Acquisition & Analysis

To acquire Uber data, navigate to the Cloud evidence sources within AXIOM Process. Keep in mind that the acquisition does require two-factor authentication. Once the user's credentials are entered into AXIOM, a four-digit pin will be sent to the mobile device linked to the account. Simply enter the pin into AXIOM and the user's account can now be acquired!
Once acquired and processed, examiners can review the user's Uber trip history that is now being stored in the cloud. This artifact includes both the origin and destination addresses, the associated latitude and longitude coordinates, and the dates and times of travel. You will even see the cost of the trip and the driver name as well!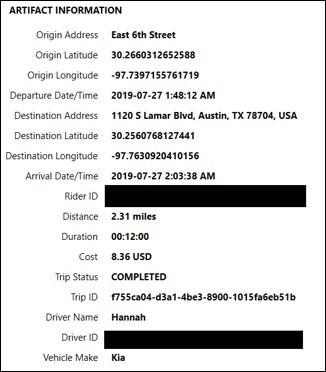 If available, AXIOM will also process cached maps from the Uber account as well. This can provide you with an easy visual representation of trips taken by the individual using the account.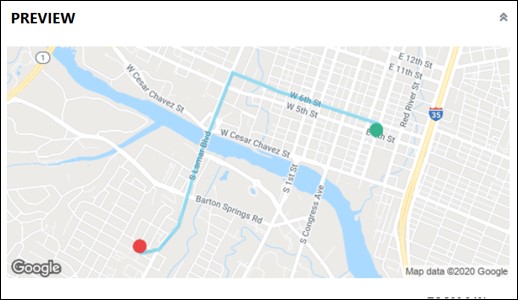 Now it's easier than ever to process a user's Uber data from the cloud with Magnet AXIOM, which can be crucial to an investigation. It can help show movement of the suspect or victim, or even provide insight into interactions with Uber drivers. Analyze Uber cloud data alongside additional evidence sources such as computer, mobile, or additional Cloud accounts to build a comprehensive timeline of activity.
The latest version of Magnet AXIOM is now available for customers to download! Either upgrade within AXIOM, or head over to the Customer Portal to download AXIOM 3.10.
If you're not already using Magnet AXIOM in your examinations and want try it for yourself, request a trial today.