Measure, Act, and Report on Lab Insights with New Dashboards in Magnet AUTOMATE 2.5
With Magnet AUTOMATE 2.5 (and AUTOMATE 2.7, coming soon in early 2021), we're introducing new stats & management dashboards. The new dashboards feature key lab insights and metrics delivered in easy to consume visual dashboards to help you drive success and efficiency in the lab.
Visibility into your digital forensics lab's stats and metrics enable lab managers to:
Report on the ROI and value of your investment in AUTOMATE by tracking overall lab throughput and efficiency metrics
Assess lab operations to help you make data-backed decisions regarding resource allocation, hardware & software procurement and strategic hiring decisions
Quickly Assess Lab and Case Status on the Homepage Case Dashboard
The AUTOMATE homepage gets an upgrade in v2.5 with an enhanced Homepage Case Dashboard. After logging in, gain an at-a-glance understanding of lab throughput and infrastructure health so that you can quickly assess which cases and nodes need immediate attention and why.
The Homepage Case Dashboard now features visual modules that report on:
Notifications Module: An instant view of which cases require immediate attention. This table summarizes what cases are currently pending additional details or were unsuccessfully processed and require manual intervention. 
Node Status: Provides a detailed breakdown of which nodes are online, offline, or currently in use as well as their available disk space so an examiner knows when they need to procure more drive space for a machine.
Case Status:  Shows the current processing status of the lab including how many cases are processing, failed, and pending. The seven-day totals show approximately how many cases successfully and unsuccessfully completed processing, giving the lab manager quick stats that they can report on.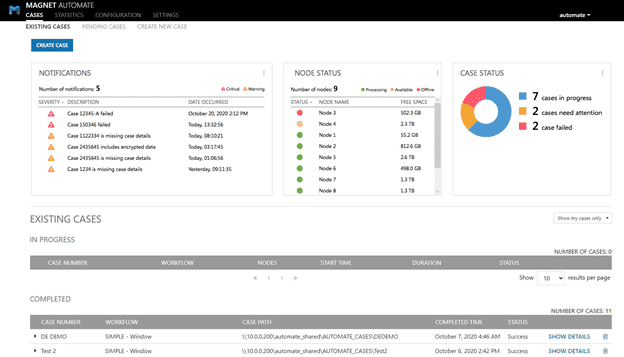 Drive Lab Improvement and Planning with a New Overview Dashboard
Coming soon, an all new Overview Dashboard provides lab managers with a high-level overview of lab operations and efficiency metrics to drive lab improvement and resourcing decisions. This new dashboard will allow you to assess overall data throughput, workflow usage, cases in progress and the number of evidence sources processed.
There are six modules featured in this dashboard, with key metrics including: 
Workflow Usage: Lab managers can use this information to show how often a workflow is used. This will give the lab manager the ability to track trends around how often a workflow is used (or not) to help them identify efficiencies in the lab, as well as what skills may be required if they're planning to hire new examiners.
Data Throughput: Shows how much data has been processed in AUTOMATE. You're able to configure this to show data processed over a period of time (daily, weekly, monthly, annually).
Total Number of Evidence Sources Processed: Shows how many evidence sources AUTOMATE has processed. You're able to configure this to show the total over a period of time (daily, weekly, monthly, annually).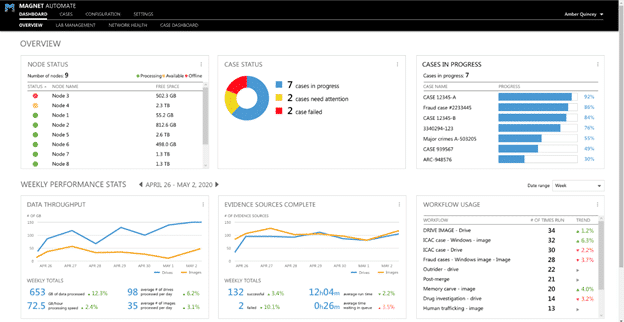 Integration with Magnet AXIOM 4.6
Additionally, AUTOMATE 2.5 integrates AXIOM 4.6 introducing new artifacts that help you get to your evidence faster. Check out our AXIOM 4.6 blog post to learn more about the new artifacts and features we introduced.
Learn More About Magnet AUTOMATE & Request a Demo
Visit the Magnet AUTOMATE page to learn more about AUTOMATE and to request a personalized demo and consultation today.