Magnet OUTRIDER 4.1: New Officer Wellness Tools, MAG24 Hashing and Matching, and More
We're thrilled to announce the release of Magnet OUTRIDER 4.1! In this release, we have added several new features to help streamline and accelerate your triage workflow, including:
Patent Pending MAG24 Hashing and Matching for triage with VICS and CAID
Media Blurring for Officer Wellness
Android Gallery and Media Hash Matching
We also recently added a number of new features in Outrider 4.0, which you can check out here. These features provide the ability to configure OUTRIDER for more specific scenarios while still maintaining the ability to perform quick and efficient scans of devices in the lab and the field.
You can upgrade to the latest version of OUTRIDER in the application by clicking the Check for Updates button under Manage or visiting our Customer Portal.
If you haven't tried OUTRIDER yet, you can learn more about it and request a free trial here.
Patent Pending MAG24 Hashing and Matching for triage with VICS and CAID
As devices have grown in storage capacity, searching the hashes of all available media can be time-consuming. Our new MAG24 hashing and matching format provides a faster option for triaging media using VICS and CAID hash lists.
MAG24 uses a unique patent pending process to accelerate your triage. The hash lists need to first be in a flat-file format, so the OUTRIDER installer includes a converter. The VICS and CAID lists are also deduplicated as part of the conversion process. A knowledge base article on using the included converter is available through our support portal (credentials required).
MAG24 then references file sizes to pare down the volume of media that needs to be reviewed and then compares only the images that match on size against VICS or CAID hash lists. With these added processes, MAG24 provides a significantly faster triage of devices with VICs and CAID hash lists, helping you get the important insights you need more quickly.
Media Blurring for Officer Wellness
Exposure to the illicit media in investigations takes its toll on examiners, so we have included additional media blurring in OUTRIDER 4.1 to help maintain officer wellness. In 4.1, media will be blurred by default and when you need to view a picture for validation, you can click on the image with the cursor to unblur it.
This feature helps limit exposure for examiners and other staff working in the same office space who aren't working CSAM cases and aren't trained for the impact of CSAM exposure.
Another new addition in this release is the ability to organize media in a grid view, helping you quickly review multiple images to identify those relevant to your investigation.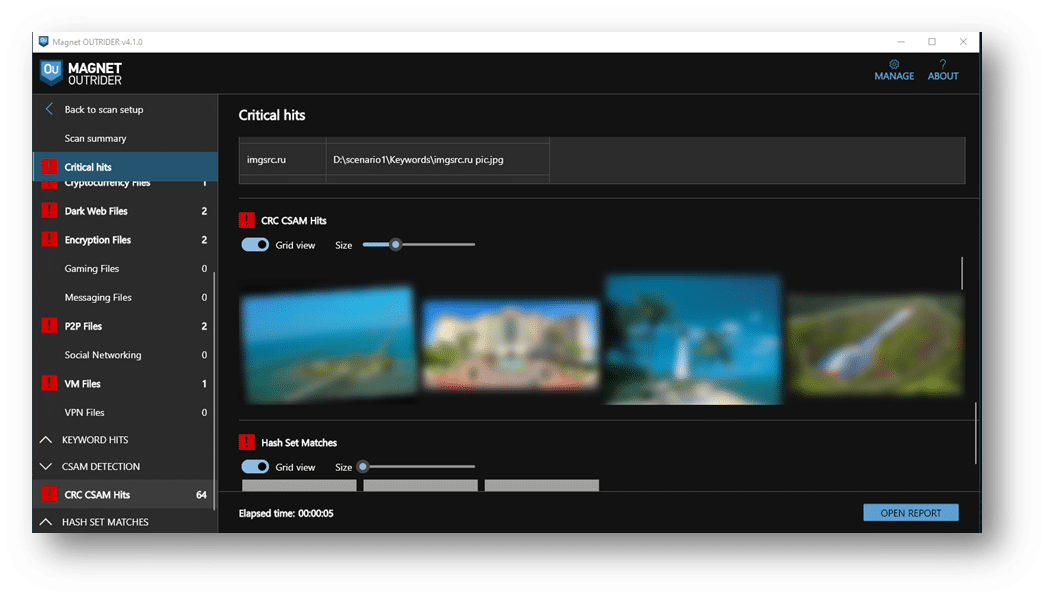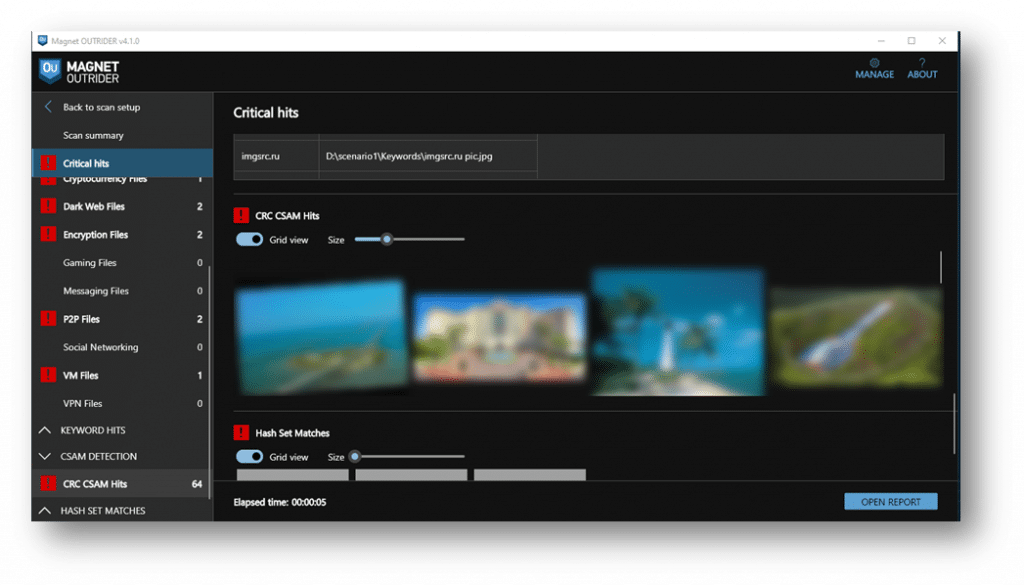 Android Gallery and Media Hash Matching
In OUTRIDER 4.1, you can now hash all media on the Android device – both in the gallery and those downloaded onto the phone – this includes using MAG24 hashing and matching outlined above for the rapid triage results. Media is viewable and available to save in the case folder only when there is a hit for the selected hash lists to keep the speeds rapid.
Google's Android mobile operating system is used on just under 70% of all mobile devices worldwide. With the prominence of Android devices and the use of mobile phones as cameras, the photos contained on those devices can be significant data sources for a range of investigations.
Connect with Us
Request a quote and pricing information for Magnet OUTRIDER today by reaching out to us at sales@magnetforensics.com. As always feel free to reach out to us at outrider@magnetforensics.com if you're having any issues or if you'd like to provide feedback. We'd love to hear from you!