Experience Magnet REVIEW with our SaaS Early Access Free Trial
Cloud computing has become a key enabling technology for many organizations today, helping them to transform their processes by providing resource flexibility, improved security, and reduced complexity and costs.
We designed Magnet REVIEW, our digital evidence collaboration solution, with a cloud-first approach to help our customers leverage the benefits of cloud technology to enable secure, scalable deployments while at the same time helping to maintain data security and regulatory compliance.
Now, in addition to our customer cloud-hosted version, we're very excited to announce a new upcoming SaaS-based version of REVIEW that we hope will make it even easier for your organization to share digital evidence efficiently and effectively. And we're offering an early access free trial integrated with Magnet AXIOM and Magnet AXIOM Cyber 7.7 so you can try it out for yourself today!
With this new Magnet-managed SaaS option, you'll be able to easily and securely use REVIEW throughout your organization without the need to install and manage the system yourself – simply create your own account via your browser and you can immediately start sharing your cases with your investigators and other stakeholders. Your case will be stored in a secure US-based server hosted by AWS and operated by Magnet Forensics.
Once you've created your account, you'll be able to securely share cases with your investigators and other stakeholders directly from the Examine export dialogue, review evidence using REVIEW's intuitive user interface and powerful search tools, collaborate using tags and comments, and generate and share detailed reports.
Read on for a walkthrough of how to get started with your free trial.
Setting Up Your Free Trial Account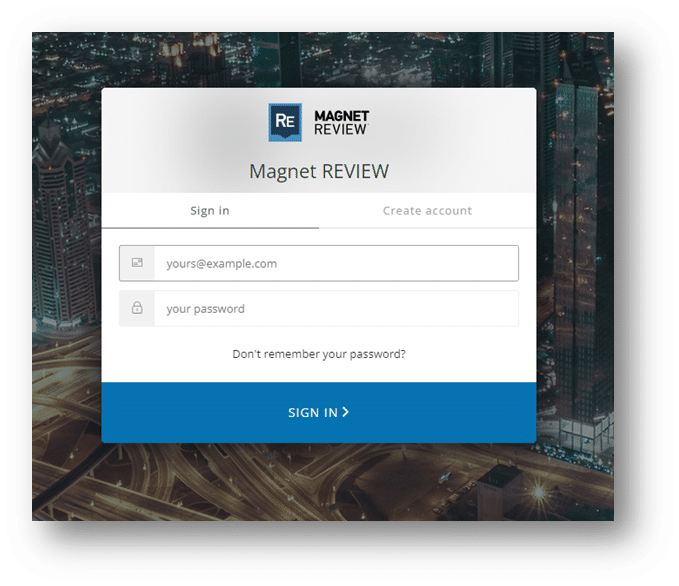 First, sign up for your free trial account by visiting https://magnetreview.com. Choose the 'Create account' option and fill in the required information. Once competed, you'll receive an email to verify your account, followed by a welcome email once it's verified.
Uploading a Case
After your free trial account is created, you can then begin uploading your cases from AXIOM or AXIOM Cyber. The process for this is similar to sharing your case via another format like Portable Case – go to the Examine export dialogue and follow the usual steps to select and configure your included artifacts, tags, and comments.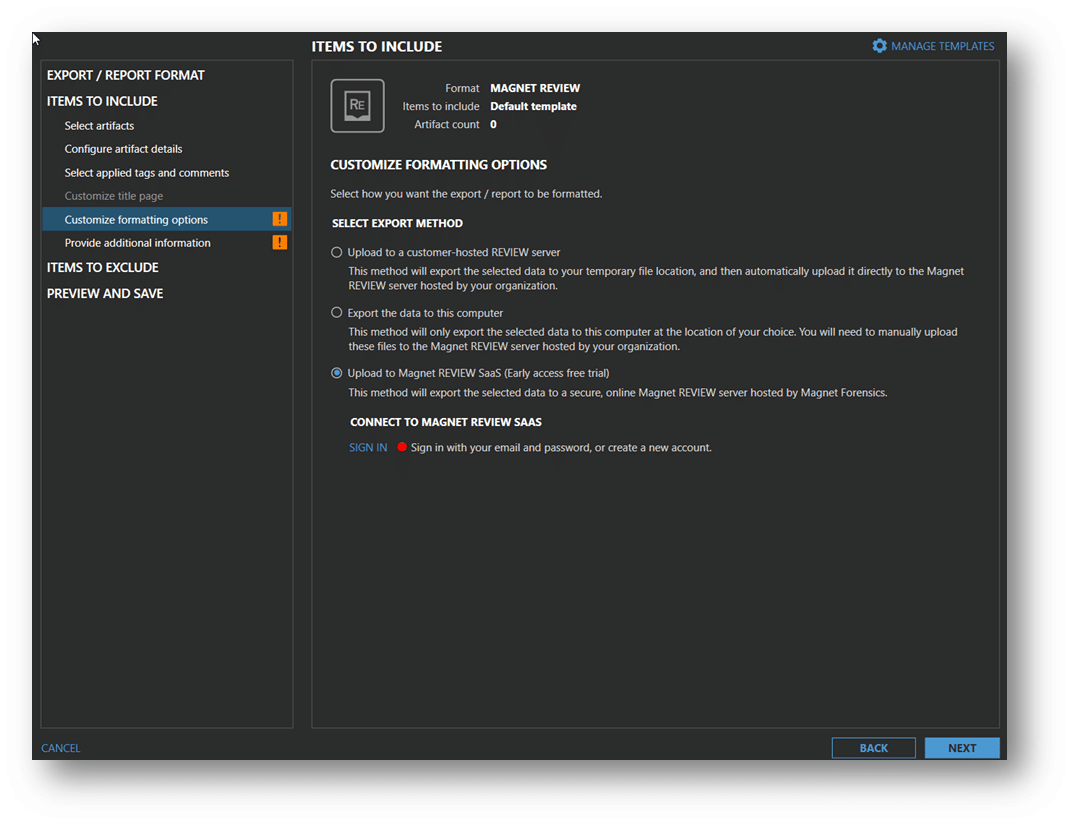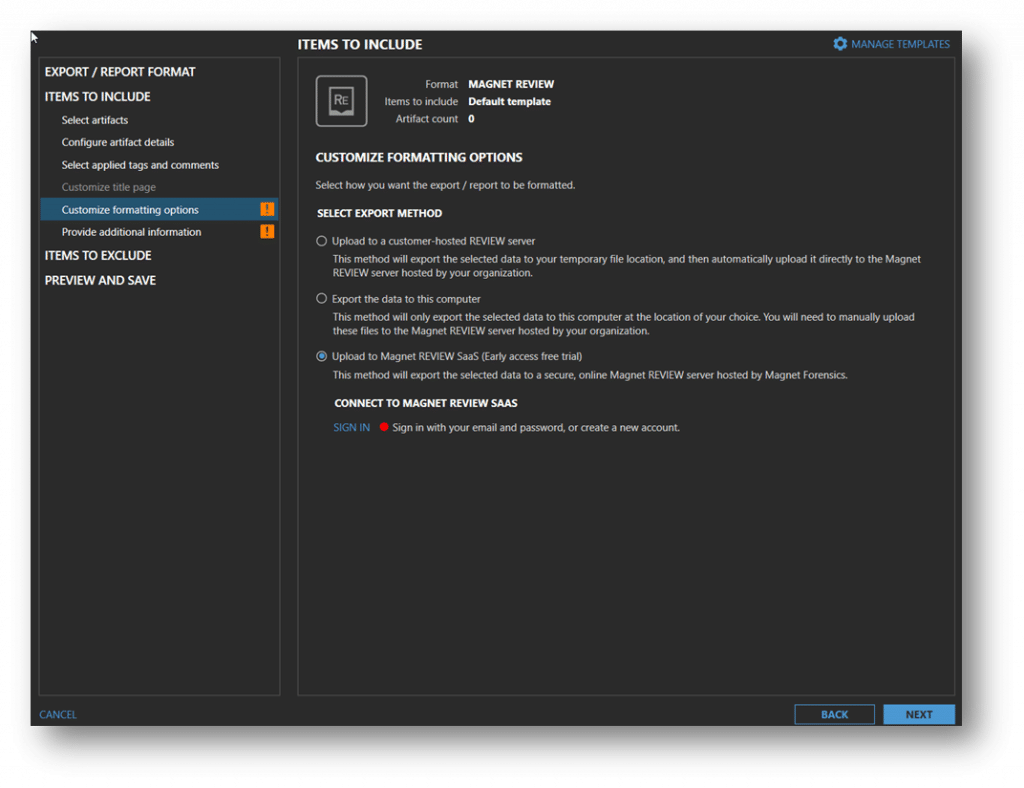 Within the 'Customize formatting options' screen, you'll now see a new option: Connect to Magnet REVIEW SaaS. Sign in with your free trial account email and password to connect REVIEW SaaS to your instance of AXIOM or AXIOM Cyber.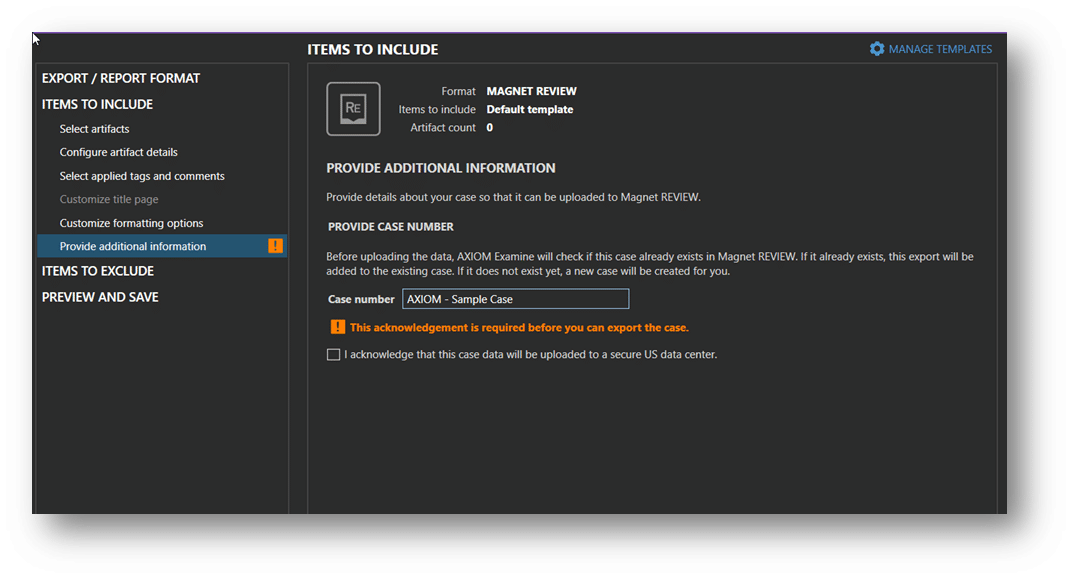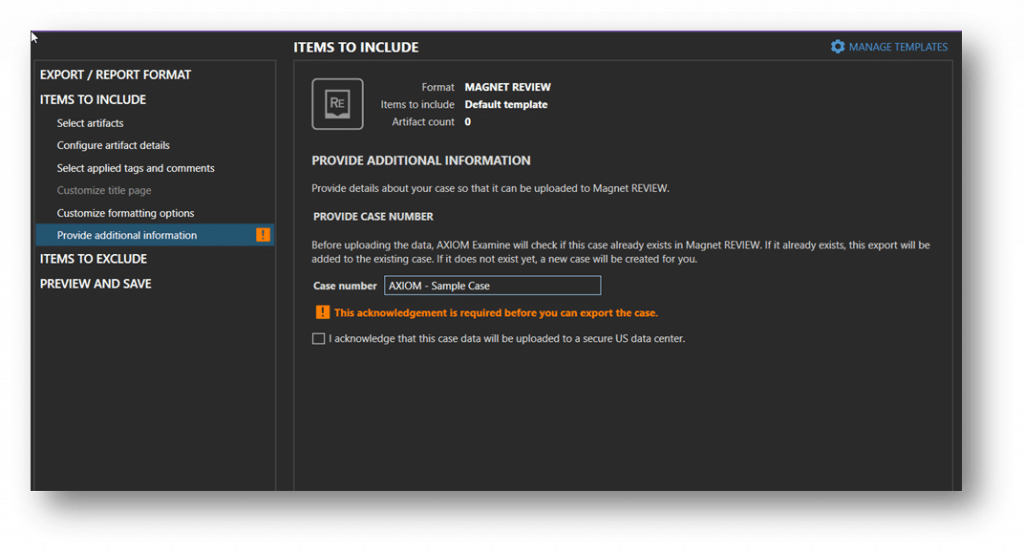 Next, in the 'Provide additional information' screen, you'll add a case number and acknowledge that your data will be uploaded to the REVIEW SaaS servers, hosted by AWS in the US. Follow the rest of the export dialogue, save your case, and it will then be uploaded to REVIEW.
Sharing Your Case With Other Users
Once your case has been uploaded, you can now share it with your investigators and other stakeholders.
Login to your REVIEW SaaS account, where you'll see your shared cases on the initial dashboard screen.
Select the case you'd like to share and then follow the steps below:
Click the Share Case button at the top right of the page.
Enter the email address of the user you wish to share the case with.
Choose the Access type to assign to the user.

Case member – Can review all items in a case, tag and comment on all items in a case, and create reports.

Case manager – Can review all items in a case, tag and comment on items in a case, create reports, manage users as well as case/evidence information and delete items from a case.

Legal reviewer – Can review, tag, and comment on only privileged content in a case.

Click Share Case.
The person you've shared with will be notified by email that they have a case awaiting their review and will be prompted to login or create their own REVIEW free trial account. They can then login and begin reviewing the case. REVIEW will present them with tips to get started, along with a handy Learning and Feedback module in the bottom right of the screen with a wealth of 'how-to' instructions for common actions.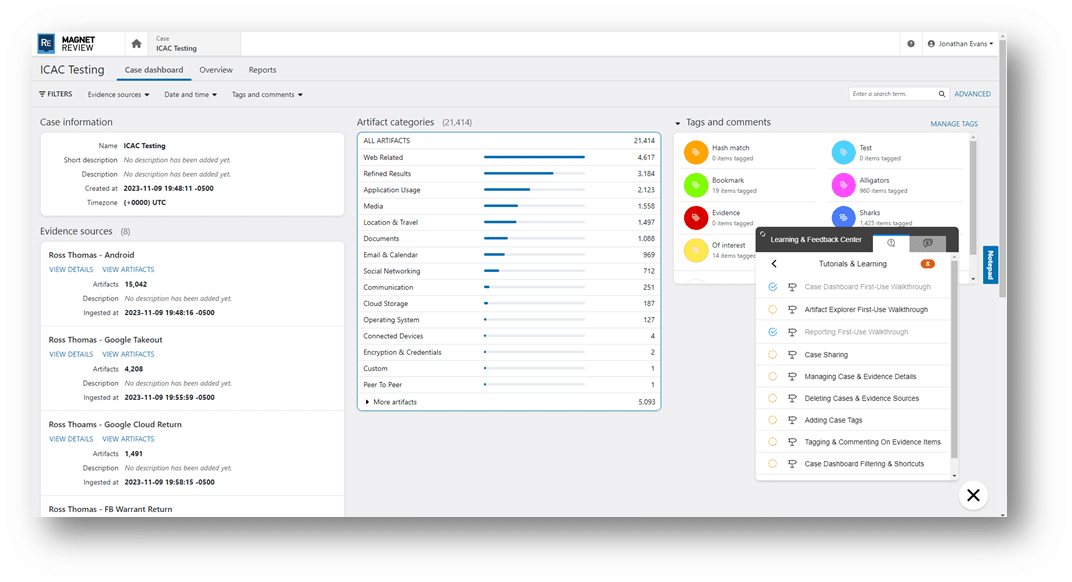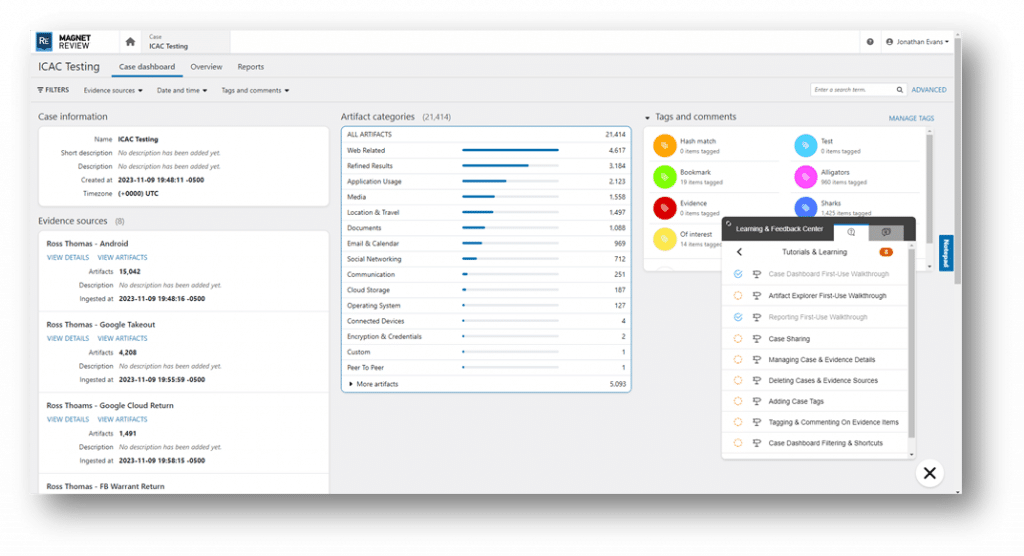 Upcoming Webinar December 13: What's New in Magnet REVIEW 5.3
Our latest version of REVIEW makes it even easier for you to bring your investigators and their evidence together, with a revamped user interface to help them to quickly find the evidence that matters and a new delivery option designed to simplify deployment and management.
Join Magnet Forensics' Nicole Davis and Jonathan Evans for a walkthrough of the powerful new experiences in REVIEW 5.3, including cross evidence views, updated evidence previews, and more!