Instagram Warrant Returns in Magnet AXIOM
AXIOM Cloud supports warrant returns from a variety of providers including Instagram. Instagram warrant returns can contain a wealth of data and are available in two formats; namely .pdf and .zip. AXIOM can process warrant returns from Instagram in the .zip format. According to Instagram, the content of the records in both the PDF file format and the .zip file are the same. If you would like to review the results in AXIOM, ensure you have the .zip file available.
So, what content will you find when you process an Instagram return? You will be able to see artifacts of Photos, Direct Shares, and Account Actions. Direct Shares includes chat history that can be viewed in a conversation that includes pictures shared inline.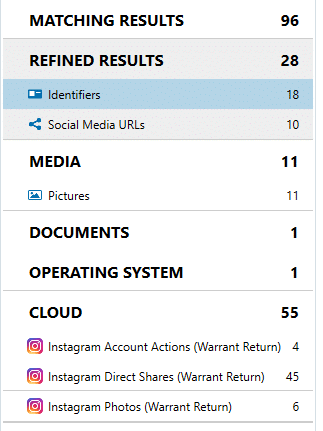 So how do you load these returns? What does the content look like? Check out Tarah Melton's video of processing a Instagram Warrant Return:
If you have any comments or questions feel free to reach out to me at Jessica.hyde@magnetforensics.com. Did something break in our support of an Instagram return you have received? Is there more data available you would like us to support? Please, drop us a line and let us know.