Highlights From Magnet Virtual Summit 2023 
That's a wrap on an amazing Magnet Virtual Summit 2023! Thank you to everyone who joined us over the course of nearly two weeks. We truly believe that together we have truly presented the virtual DFIR event of the year.
If you've missed any of the presentations from Magnet Virtual Summit 2023, most are available to watch on demand now! Head over to our recording library and watch as many as you like for free.
Interested in learning even more about DFIR trends and Magnet Forensics' approaches to staying ahead of them? Join us in Nashville for Magnet User Summit 2023 on April 17-19!
It's Been Waiting for You: Welcome to MVS!
Things got off to a great start at Magnet Virtual Summit 2023 with our founder & CTO, Jad Saliba, sharing his kick-off presentation. In this welcome address, he spoke to the latest Magnet Forensics innovations and how they're addressing DFIR needs across the field, and also took time for a live Q&A at the end where attendees had the chance to ask so many great questions.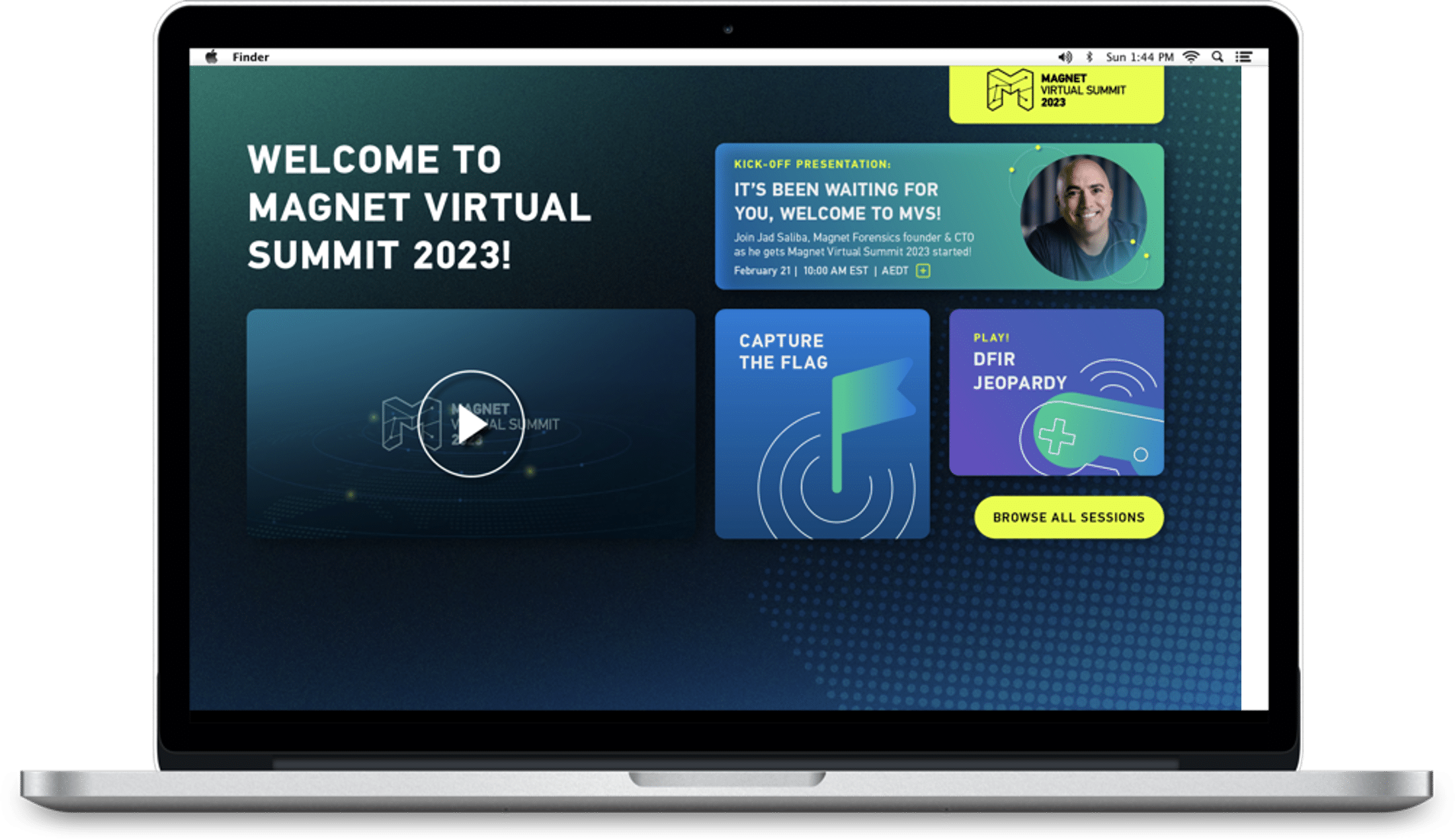 A Fascinating Fireside Chat With MNPD's Chad Gish
Fresh off the release of our latest Magnet Spotlight where we were proud to be able to showcase the amazing work done by the Metro Nashville Police Department, Jad took some time to talk directly with MNPD's DFIR expert, Det. Chad Gish. It's always a treat getting to hear Chad talk about the work he's so passionate about, and their conversation covered a lot of fascinating topics.
Chad has also been very excited to showcase the impact that Magnet AUTOMATE has made on his lab and case backlog. Check out more in this video:
The Top Attended Magnet Virtual Summit 2023 Sessions
We were unbelievably lucky to have 60+ experts speaking at Magnet Virtual Summit! Of course, they all brought wonderful insight and interesting points to their presentations, but if you're looking for a crash course on where to start with MVS recordings, here are the top five attended MVS 2023 sessions:
Adapting to the Cloud in DFIR – David Cowen, Vice President, Charles River Associates
In this keynote presentation, SANS instructor and Forensic Lunch host, David Cowen dives further into the current cloud landscape and will cover techniques—both new and not particularly well known—to help meet the demands of cloud investigations.
The Meaning of Messages – Chris Vance, Senior Technical Forensics Specialist, Magnet Forensics
This Mobile Unpacked with Chris Vance webinar focuses on the Messages app on iOS and its storage components. With Apple's dominance in the mobile market in North America and their walled garden philosophy, the core Messages app is one all forensic examiners are exposed to frequently. With so many additional features above just sending and receiving messages, how are those flags stored? This talk breaks down many of the different features, settings, and storage locations for SMS & iMessages across the iOS ecosystem.
Peering Behind the Curtain of Mobile Forensics: A Practical Approach to Peer Review of Mobile – Jessica Hyde, Founder, Hexordia
How do you determine if a mobile forensic analysis is complete? How do you know what you don't know? What if the nefarious actor is using an unsupported app? In this session, Jessica Hyde and Ricky Johnson discuss how to improve your team's analysis of mobile forensics through peer review. They share not only why this type of review is critical but provide practical tips, methods, and a checklist to ensure your lab is getting the most out of your mobile data extractions.
Free Triage Tools to Bolster Your IR Toolkit – Doug Metz, Professional Services Consultant, Magnet Forensics
Time is always of the essence in IR investigations and reducing the time to collect and analyze data is crucial. Triage has become an increasingly important part of DFIR toolkits, enabling forensic investigators to manage the large volumes of alerts and data that could be reviewed to determine the validity and extent of incidents. Join Forensic Consultant Doug Metz, as he outlines the free tools that you should have in your IR toolbox to help streamline collections and gather the data that's most relevant to your investigations.
Once More Into the Breech: Digital Forensics Court Testimony – Jason Jordaan, Principal Forensic Analyst, DFIRLABS
It does not matter if you have done the best digital forensic examination and analysis on the planet and have followed all your policies and procedures correctly, if you can't testify when the case makes its way to a court.
This presentation identifies the skills and techniques necessary to be an effective witness in court—regardless of the court—whether you are testifying as an investigator or forensic scientist.
Another Amazing Magnet Virtual Summit CTF!
Of course, it wouldn't be a Magnet Virtual Summit without another incredible Capture The Flag competition and this year the competition was fierce.
Returning champion, Kevin Pagano was the First to Finish in the contest, but the winners, as announced by Jessica Hyde, were:
Congratulations to the winners of the #MVS2023 #DFIR #CTF!
First place: @MoysiadisS
Second Place: @EmilyWeatherill
Third Place: @brum_below
Still time to play for the First to Finish!

— Jessica Hyde (@B1N2H3X) March 1, 2023
Here's a quick overview of what the scoreboard looked like for the top three winners and what the scoreboard looked like for the First to Finish designation:


Jessica will be exploring the results of the CTF in a later blog post, so stay tuned!
Mentorship Day: A Wonderful Opportunity to Learn How to Advance in DFIR
One of the most fulfilling MVS experiences we have is the ability to connect experienced DFIR professionals with those who are looking to either get started or advance in the industry.
Mentorship Day was a chance to not only hear from a few of those experts (including Jessica Hyde, Alexis Brignoni, Mari Degrazia, Aaron Sparling, and Mitch Kajzer) in an engrossing panel discussion (catch up on it here: Moving Up in DFIR: a Mentorship Day Panel), it was also a chance for those starting out to bring their resumes and experience to volunteer mentors and get real-time feedback on how they can navigate a career in DFIR.
The day was also kicked off with a fantastic keynote from Jessica Hyde. Be sure to watch it if you haven't already: Growing in Digital Forensics – Practical Mentorship and Resources.
Talking to Folks in Latin America Directly During LATAM Day
Finally, we were proud to have an opportunity to offer a series of presentations in Portuguese and Spanish directly for people within the Latin American community during LATAM Day—giving them an opportunity to hear about DFIR trends and insights that are directly applicable to them in their region.
Catch Up on Magnet Virtual Summit 2023 Through Our On-Demand Recordings
Whether you missed sessions, or want to rewatch the ones you've already seen, head over the MVS 2023 on-demand library to find recordings of nearly all of the presentations offered at the event.
In addition to a number of Magnet Forensics product-related presentations, there is a wide selection of interesting topics to choose from, including:
Mobile forensics
Memory forensics
Incident response
Cloud forensics
Mental health preservation
OSINT
eDiscovery
Triage
Lab virtualization
Threat hunts
And much more!
Thank you to everyone who took part in Magnet Virtual Summit 2023 and made it such a resounding success! We can't wait to do it all again in 2024, so stay tuned for details later this year.