Automating Cloud Acquisitions With Magnet AUTOMATE Enterprise
We're excited to announce that automated cloud acquisitions are available in Magnet AUTOMATE Enterprise automated workflows!
AUTOMATE Enterprise always supported the processing of cloud images that were acquired using Magnet AXIOM Cyber. With this new capability—the acquisition of cloud data using automated workflows—you can eliminate even more of the manual steps required to collect the cloud data you need for your DFIR investigations.
This is excellent news as cloud-stored data is even more prevalent than ever. A staggering 90% of large enterprises have adopted a multi-cloud infrastructure, with a significant increase in 2020 due to the rise in the need for remote work. Additionally, 60% of the world's corporate data is stored in the cloud.
Four Key Benefits of DFIR Workflow Automation and Automating Cloud Acquisitions
Let's start with the main reason why we're excited to be able to automate cloud acquisitions and then cover some benefits of automation that we hear from our customers:
Remove (Even More) Manual Touchpoints to Accelerate Investigations
By automating cloud acquisitions, you can remove more of the manual steps associated with acquiring data, which can save time during investigations. You only need to set up workflows once with preset parameters, and upon case creation simply enter stored credentials to configure a cloud workflow. Once you click "Start Workflow," automation will handle the collection, processing, and export. You don't need to touch the case again until it's ready for your analysis.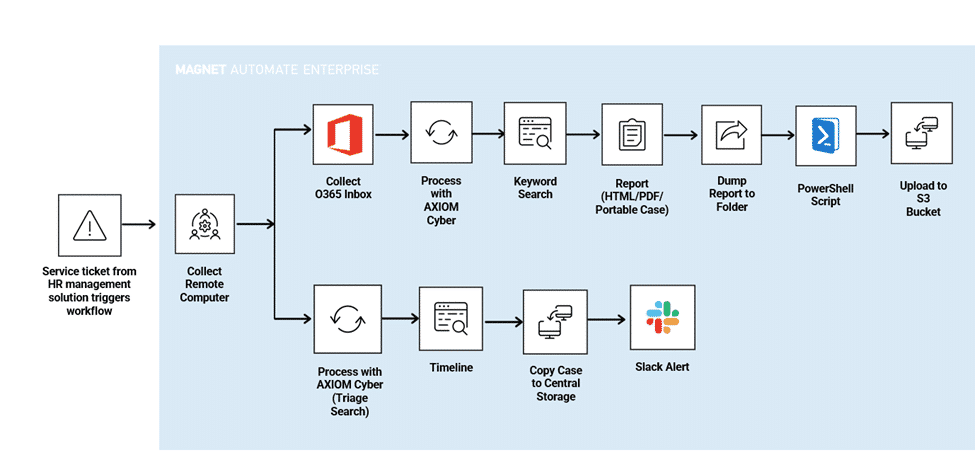 Promote Efficiency With Streamlined Workflows
Constant context switching between tools is not only exhausting but highly inefficient. When your DFIR, cybersecurity, and business tools don't talk to each other, you're left with little choice but to carry on with manual processes. Magnet Forensics has always encouraged a toolkit approach. We've built AUTOMATE Enterprise to integrate with almost any tool in your tech stack with a REST API or CLI. That's right, now you can combine all your tools into streamlined, consistent workflows to do away with manual touchpoints and inefficient processes.
Scale Up Forensic Collection & Processing
AUTOMATE Enterprise can handle data collection from several endpoints or custodians at once, and then process them in parallel. Combine that with triggers from your EDR/XDR or other case management solutions (such as Magnet ATLAS) that kick off workflows without any human intervention, and you can keep your lab running 24/7/365, even when you're not behind the keyboard.
Improve Work Experience, Boost Productivity
Nobody wants to wait for tools to complete, select the same processing parameters repeatedly, or email stakeholders when evidence is ready for their review. It doesn't add value and leaves investigators burnt out and desiring more from their work. Let investigators focus on analyzing the data, and boost productivity, by automating the collection and processing of forensic data.
Modernizing DFIR Workflows With Automation
If you haven't explored the many types of investigations that AUTOMATE Enterprise can streamline, download our guide Modernizing Forensics Workflows with Magnet AUTOMATE Enterprise to learn more.
In the
guide, we share the benefits and value of automating common DFIR workflows and use cases such as data loss prevention workflows, malware investigations, and inter-org handoffs.
Learn More about Magnet AUTOMATE Enterprise
Watch a short webinar sharing the benefits of DFIR automation and a closer look at how our solution works.
Request a demo of AUTOMATE Enterprise to learn more from our experts.