US Defense Cyber Crime Institute (DCCI) validates IEF v6.2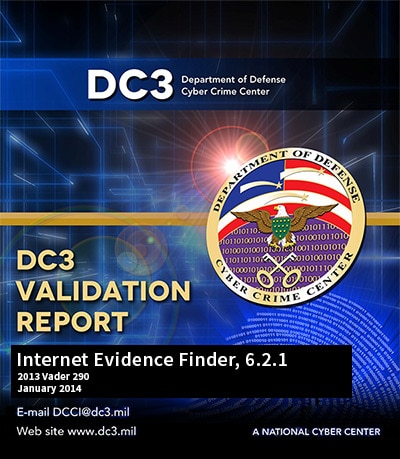 We are pleased to announce that Internet Evidence Finder (IEF) v6.2 has been validated by the United States Defense Cyber Crime Institute (DCCI). DCCI is the research, development and evaluation arm that tests tools tailored to the specific requirements of digital forensic examiners and incident responders. DCCI is a part of the Department of Defense Cyber Crime Center (DC3).
Our customers are always interested in 3rd party reviews and examples of how IEF can be used in their digital investigations.
The DCCI report evaluated IEF on 42 different criteria to determine the circumstances under which computer crime investigating agents assigned to Defense Criminal Investigative Organizations (DCIOs) may employ IEF for digital forensic investigation and analysis.
Findings included:
IEF is forensically sound and does not modify evidence files upon reading them
IEF successfully produces the same results after being run against the same dataset multiple times
IEF successfully recovered data from a number of Internet related artifacts including: Hotmail, SkyDrive, Skype, Yahoo, AOL, Facebook, Gmail, Google Documents, Limewire, Dropbox, Twitter, Hushmail and more
IEF supports searching raw, E01, Ex01, vmware virtual disks, folders and more
Having IEF validated by the US DCCI is another big vote of confidence for our team. We are committed to incredibly high standards and pride ourselves on developing quality products that deliver accurate results. External validation helps confirm that we continue to be on the right track. We look forward to the US DCCI review of our latest, and most feature-packed release of IEF to date, IEF v6.3.
The DCCI report is available to U.S. federal, state, local law enforcement agencies and law enforcement officials from Australia, Canada, England, & New Zealand.
Our thanks go out to the DCCI and DC3 folks for selecting IEF to go through this rigorous validation process.
We appreciate your support!
– Jad and the Magnet Team