New in Magnet AXIOM 5.5: Support for Vehicle Data and Third-Party Map Servers
We're proud to announce the availability of Magnet AXIOM 5.5!
You can upgrade to the latest version of AXIOM & AXIOM Cyber within AXIOM & AXIOM Cyber or over at the Customer Portal.
With AXIOM 5.5, we are introducing support for vehicle data via Berla iVe exports, support for third-party map servers, and PhotoDNA hit stacking. There's a lot to be excited about in the 5.5 release. With AXIOM, you can now examine exports from Berla to investigate vehicle data, review location data with a third-party map server in off-line and air-gapped environments, and streamline CSAM grading workflows with PhotoDNA support.
As more sources of data become available, being able to include all your data in one case only becomes more important so that ​examiners can take advantage of the insights provided by the analytical tools of AXIOM, such as Timeline, Connections, and Media Explorer. Especially when those data sources, such as Berla vehicle exports and mobile devices have location data can all be plotted onto a single timeline and overlaid on a map, whether it be in an online or offline environment.
If you haven't tried AXIOM or AXIOM Cyber yet, request a free trial here.
Support for Vehicle Data
With AXIOM 5.5, we've now added support for Berla iVe exports, which enables users to include vehicle forensic data with all the other evidence sources in one case. This is an exciting win for examiners who are looking to plot the movements of a person of interest on Timeline with vehicle events and location data from all devices in a single case file. Having the data from a mobile extraction plotted on the same Timeline as Berla vehicle data could provide strong evidence for many different case types, such as accident, murder, and trafficking investigations, and many more.

Some of the initial Berla artifacts highlights that are supported in AXIOM 5.5 are waypoints, routes, velocity logs, call logs, devices, and many more.
To learn more about examining Berla artifacts, read the blog "Examining Vehicle Data with Magnet AXIOM" by Kim Bradley. To learn more about Berla iVe, visit berla.co.
PhotoDNA Hit Stacking and More Filters for Media Explorer
You can now review media more easily with PhotoDNA* Hit Stacking, while reducing exposure to CSAM and ensuring that grading is consistent between similar images during ICAC investigations. Plus, with updates to Optical Character Recognition (OCR), results are indexed and searchable, which pairs perfectly with the Global Keyword filter, helping to streamline examiner searches even further.
PhotoDNA identification is ideal for identifying duplicate content that might have slight modifications, such as changes in the image format, images that have been resized from an original, or been edited in other minor ways. PhotoDNA creates a unique hash for each image which is then compared against other hashes of known CSAM images to identify copies of the same image, even when even if the MD5/SHA1 hash value does not match.
Once the images have been identified as being similar, they will be collected in the same stack, so the images only have to be graded once. The inclusion of PhotoDNA hit stacking provides more consistent CSAM grading to ensure that very similar images are treated equally in the data set.
Read more about media explorer and check out the how-to video with Trey Amick in his blog, "Media Explorer in Magnet AXIOM".
*PhotoDNA access is only available for Law Enforcement customers.
Support for Third-Party Map Servers
For examiners working in offline environments who have a map server, AXIOM can now be configured to leverage offline or third-party map servers, making the workflow for vehicle forensics and geolocation analysis much more accessible for certain agencies. We have heard from the community loud and clear that offline maps are what examiners want and this is our first step towards providing offline map support.
With this initial step we are providing to support to maximize the flexibility of the map packages that users work with, while mitigating the size of the download packages, but it does require integration with a third-party map server.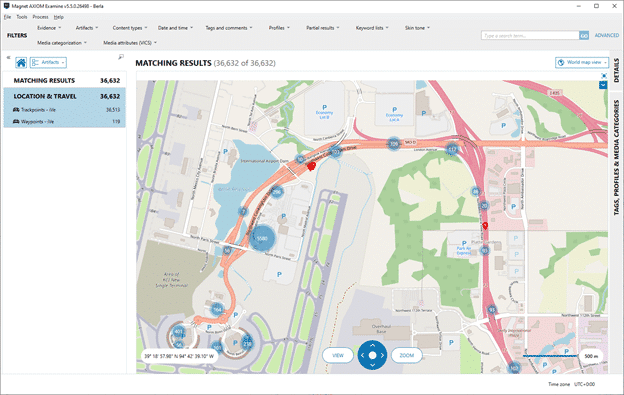 If you're an existing AXIOM customer and you'd like to learn more about third-party map server support, check out the knowledge base article.
Learn More About Google Takeouts in Our Demystify the Cloud Webinar Series
Sign-up for the second webinar in this series as Jessica Hyde explores the data available from Google Takeout.
Watch previous sessions on demand and learn more about the cloud capabilities of AXIOM over at the Demystifying the Cloud webinar series page.
New Artifacts
Call Logs // iVe Vehicle
Additional Information // iVe Vehicle
Events // iVe Vehicle
Device Info // iVe Vehicle
Attached Devices // iVe Vehicle
File Info // iVe Vehicle
Contacts // iVe Vehicle
SMS // iVe Vehicle
Tracking // iVe Vehicle
Trackpoints // iVe Vehicle
Routes // iVe Vehicle
Waypoints // iVe Vehicle
Meta-Info // iVe Vehicle
Phone Numbers // iVe Vehicle
Velocity Points // iVe Vehicle
Velocity Logs // iVe Vehicle
Thumbcache // Windows
Updated Artifacts
EML(X)
macOS Keychain
Safari
SMS / MMS
Snapchat
WhatsApp
Yahoo Mail Attachment
Get Magnet AXIOM 5.5 Today!
We are continually improving AXIOM to make it our most comprehensive digital forensic platform. When every second counts, it's important that we do what we can to streamline the primary workflow of examiners. We're excited that these AXIOM improvements can help to do exactly this.
If your agency needs to perform remote collections, collect from cloud storage services, or Microsoft office 365, check out what's new in AXIOM Cyber here.