Making a Difference, One Child at a Time
By: Jad Saliba, Founder & CTO of Magnet Forensics
It's not an issue many like to talk about, or perhaps even know about. But child sex slavery is one of the fastest growing criminal enterprises in the world. A perverse industry that preys on the poor, especially in economically disadvantaged countries, this kind of exploitation is booming in places like Haiti and the Dominican Republic. It's fuelled by rich tourists from North America, Europe and other privileged nations, who know they can buy underage sex while on vacation, and they aren't afraid to do it.
As a former law enforcement officer and digital forensics examiner, I've assisted on many child exploitation investigations and have been exposed to the heinous crimes that happen every day against children. My hat goes off to all those still in the trenches today, fighting this very difficult and very important fight. It never gets any easier, but I've been able to deal with the terrible things I've seen by trying to make a difference where I can. It's also a big reason why I left my job in local law enforcement to develop Internet Evidence Finder full-time as the founder and CTO of Magnet Forensics. If I could help law enforcement professionals around the world potentially save thousands of children from exploitation and slavery, I had to do it.
My desire to help in any way I can is what motivated me to reach out to an organization called Operation Underground Railroad (O.U.R.) earlier this year, to see if they could benefit from using Internet Evidence Finder or if we could offer support in some other way. This incredible non-profit group, made-up of former CIA officers, ex-Navy Seals, and other operatives, has made it their mission to rescue children trapped in the sex slavery industry, and arrest the perpetrators who traffic them. Their founder and CEO is Tim Ballard, a former DHS Special Agent who investigated child exploitation cases worldwide.
Working with local law enforcement and prosecutors in whatever city they're targeting for each operation, O.U.R. team members put in months of undercover work to identify and gain the trust of pimps before a sting is planned and carried out. I was honored when they invited me to join their team. And in August, I packed my bags and headed to the Dominican Republic for my first O.U.R. mission.
Preparing for a Sting
After arriving in Santo Domingo, our team was taken to a safe house where we spent the next two days coordinating and planning the rescue operation. We also collaborated with local and federal law enforcement and prosecutors to ensure we had the right resources and support in place to run a successful operation.
Our group would play the role of American tourists looking for underage prostitutes. We moved into a mansion in another city to set the scene. It was there we would meet with the pimps, who agreed to have sixteen girls delivered to us the following day.
A bit of anxiety kicked in the night before the sting operation. We all mentally prepared and visualized the various scenarios that could potentially unfold. My biggest fear was somehow botching the sting or injuring a child , but all we could do was make sure we had rehearsed everything well enough.
The Rescue
As daylight broke, our team sprang into action. Some left to pick up the girls and pimps, others went grocery shopping, and the rest of us got the house ready. As twisted as it sounds, we had to decorate the house with party favours and provide cookies and candy for the kids to keep up the façade. Then, around 1pm, it was go time.
The pimps brought more girls than promised, as 26 of them filed through the house on their way to the backyard. One of the most difficult moments in the operation was seeing the look in their eyes as they walked through the house. Many of them looked defeated, hardened and empty. It was like they had detached themselves from their bodies.
While other operatives kept the kids busy (and safe) by the pool, Tim Ballard and other undercover operatives negotiated prices with the pimps and detailed exactly what the girls would do for the money. Every conversation was captured on video and audio surveillance to be used as evidence. These men (and women) didn't care about anything except getting their hands on our money.
A few minutes later, a gun was pointed at me as local law and federal enforcement stormed in. I waited a split second to make sure no one was making a move for the girls in the backyard and then got down on the floor beside one of the pimps. While we were all on the floor, the children were harmlessly taken from the house to a safe location to meet with members of the International Justice Mission, an organization that provides aftercare and counselling to victims of slavery, child exploitation, and other types of oppression. I was handcuffed and escorted out of sight, along with the rest of my team, while the pimps were arrested and taken into custody. The whirlwind was over, and we made our way back to the safe house.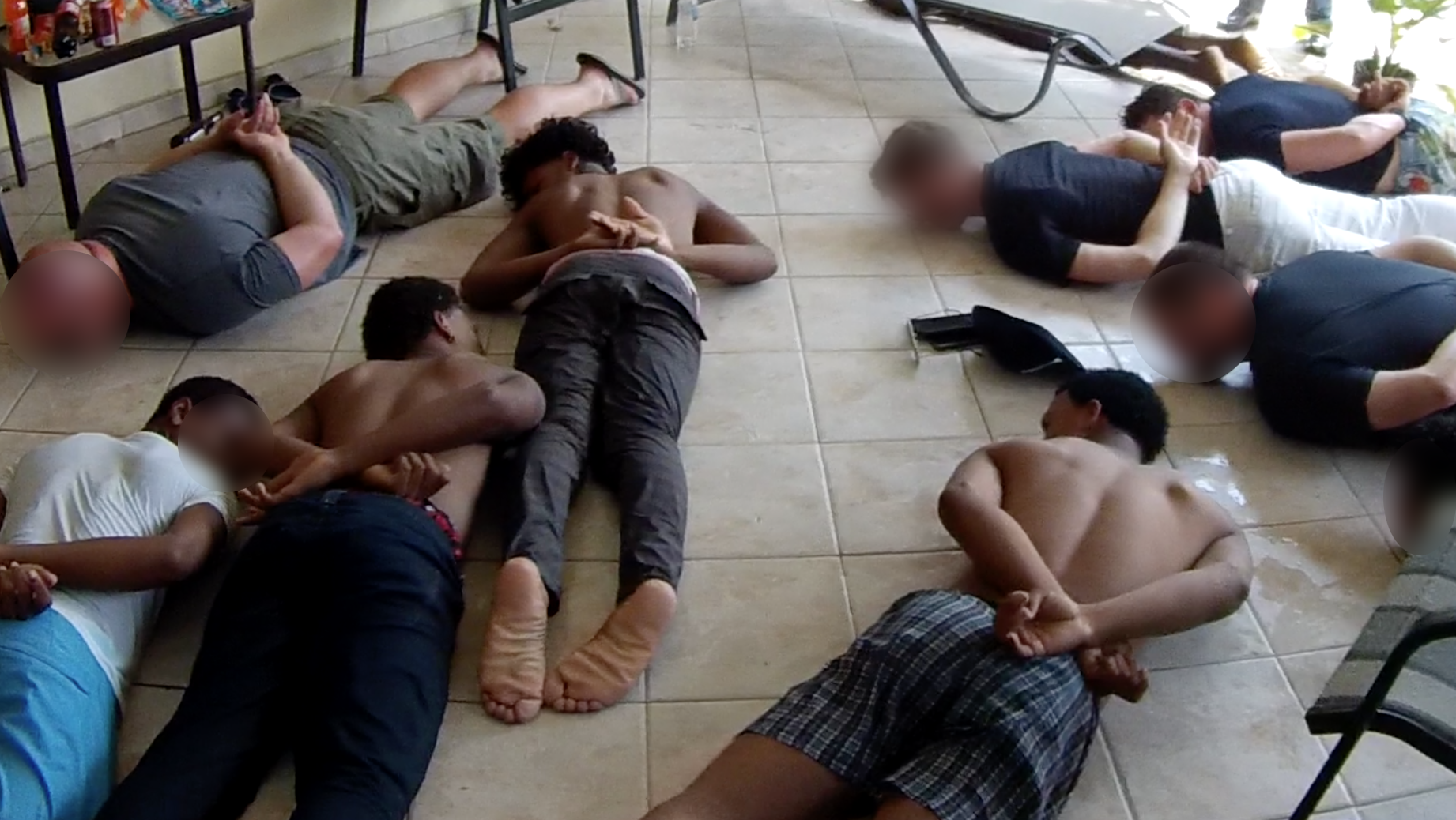 During a sting, everyone is arrested, including O.U.R. team members, in order to maintain their cover. Only the traffickers actually go to jail. Photo Credit: Operation Underground Railroad.
Twenty-six young girls were rescued, and eight criminals were arrested.
Continuing the Mission
As I reflect back on 2014 and all of the things I have done as CTO of Magnet Forensics, there are a lot of things I am grateful for. I work with an amazing team that is passionate about developing the best digital forensics software and supporting law enforcement in all they do. It comes as no surprise to me that my team cares about O.U.R.'s mission as much as I do, and organized a fundraiser to help sponsor a future operation for O.U.R. With the help of our local community, we were able to raise $12,600. The campaign is now closed, but you can also make a general donation on their main site here. Thanks for your support!
My participation in the O.U.R. mission was definitely one of the most rewarding things that I have experienced in my life, both personally and professionally. I am committed to continuing on with O.U.R. as they work to rescue exploited children. To everyone else that is also working in the field and combating child exploitation, thank you for all you do.

—————————————————–
Jad Saliba is the Founder and CTO of Magnet Forensics. He also volunteers as VP of Digital Forensics for Operation Underground Railroad.