Magnet User Summit 2019 is Coming to The Hague!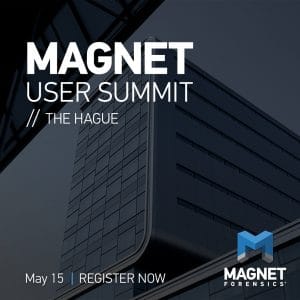 We're bringing Magnet User Summit 2019 to The Hague on May 15 and registration is now open!
Magnet User Summit 2019 is a chance for customers and partners to come together and learn about the latest in digital forensics and digital evidence management.
Taking place in The Hague, Netherlands at the Hague Marriott Hotel, the Magnet User Summit is a one-day conference that provides an opportunity to hear about the latest trends in digital forensics and to take part in hands-on labs that will give you a unique opportunity to go in-depth with Magnet Forensics products. We'll also offer the chance to relax and enjoy some refreshments at our networking event.
And fresh off our recent partnership announcement, Grayshift, the makers of GrayKey, will be joining us to talk about being the leader in iOS acquisitions and how, when paired with the analysis capabilities of Magnet AXIOM, it makes an unbeatable combination for law enforcement.
Find More Information and Register
Visit www.magnetforensics.com/mus2019thehague/ to save your spot for the event and to get all the details you need — including the full event schedule.
We hope to see you there!
The Magnet Forensics Team