Magnet AXIOM Now VICS Certified by Project VIC International
Project VIC International and its partners are at the forefront helping to identify and rescue children from sexual exploitation. The VICS standard developed by Project VIC International sets the bar for many tools that law enforcement agencies around the world use for their child exploitation investigations.
Magnet Forensics and Project VIC International are proud to announce that Magnet AXIOM is now VICS certified for use with Project VIC and CAID hash sets.
Richard Brown, Director of Project VIC International says "Magnet Forensics has released one of the most comprehensive updates focusing on child protection by incorporating multi-national support for Project VIC child rescue ecosystems and combining this effort with artificial intelligence layers to assist our Victim Identification experts rescue children from continued abuse."
The importance of thoroughly and efficiently organizing and sharing relevant media data is especially apparent when working ICAC investigations. Examiners need to be able to easily focus their analysis to provide rapid support to potential victims. The hash sets provided by Project VIC and CAID allows for just that.
Jad Saliba, Founder & CTO of Magnet Forensics says "Internet Crimes Against Children are some of the most horrific cases seen by Law Enforcement today. Alongside our partners like Project VIC International we're constantly working to make sure that those who are undertaking this unbelievably important work have the best tools possible to get through more cases, faster, and with less exposure to the materials themselves."
These hash sets allow for the sharing of hashes of known child sexual abuse material (CSAM) resulting in the rapid identification of illicit media on seized devices. Through the VICS metadata shared, examiners and investigators can focus their efforts on unknown victims or offenders to better prioritize victim identification investigations. Over time, this allows for more victims to be rescued, streamlines work efforts for participating agencies, and helps to limit over exposure to illicit material.
How Magnet AXIOM Helps for Child Exploitation Investigations
Rapid Media Categorization
AXIOM's new media categorization features make it even easier to use Project VIC and CAID data to focus your investigation. Examiners now have the capability to efficiently grade media in AXIOM's thumbnail view, leveraging keyboard shortcuts and rich previews to quickly move through large amounts of content in a case. This saves precious time when moving through your workflow by reducing the number of steps needing to be taken to move data between different tools for grading, and allowing the examiner to grade all of the media directly in AXIOM.
VICS metadata is also now shown for matched media items, during pre-categorization, to help focus victim identification efforts on unknown persons. Once categorization has been completed for a case, examiners can immediately save their results back to AXIOM's hash database for use in future case work, and upload back to Project VIC or CAID for all other investigators to benefit from.
To read more about media categorization, you can check out a detailed how-to document here and watch and embedded video to see it in action.
Easy Management & Sharing of Hash Sets
Following the value that the Project VIC team puts on maintaining the quality of these datasets and providing a simple experience for users, we are committed to continuously enhancing our support for leveraging VICS data to assist in your forensic examinations. Much effort has been put into making sure that adding data from Project VIC or CAID in AXIOM happens as quickly and easily as possible.
AXIOM now supports import and export of VICS 2.0 JSON data for use in investigations. Exporting in VICS format allows examiners to share findings back to the various national VICS repositories (Project VIC US, Project VIC Canada, CAID, etc.) for review, adding more relevant data which ultimately benefits the rest of the forensic community. AXIOM now also offers support for importing incremental hash sets to save time when updating Project VIC or CAID data for your cases.
Magnet Forensics is excited to continue working closely with Project VIC International and the community to take steps towards reducing the possible intermixing of unrelated hash sets—ensuring a high degree of quality control on the hash sets you use in your investigations.
Leveraging AI to Surface Content of Interest Quickly
Using Magnet.AI, examiners can process pictures and text-based conversations to quickly filter and sort possible CSAM content for further review by investigators. AI will quickly and accurately identify CSAM content, nudity, bedroom scenes, and much more in media, as well as flagging chat messages with sexual content in them and potential luring conversations. Found content is tagged and surfaced for review in AXIOM's Case Dashboard, providing for time savings and a more informed starting point in your investigations.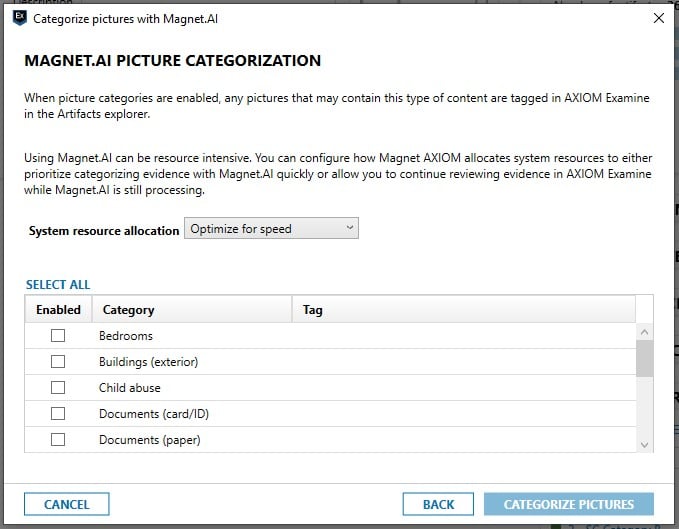 Certification is an Important Step
Certification by Project VIC International is an important step for Magnet Forensics to move forward in helping law enforcement agencies worldwide rescue children from unspeakable situations and apprehend offenders.
In places like the UK where tools must be certified by Project VIC International and have support for CAID hash sets, Magnet AXIOM is now an option for agencies to use within their child exploitation investigations.
Brown of Project VIC International says "Magnet Forensics' new advancements in the child protection area is much needed. Police need to be armed with the best tools technically possible to fight this heinous crime. Magnet Forensics' contributions and innovation in artificial intelligence are just some examples of their dedication to child protection globally."
We hope you will utilize our continued developments of Magnet AXIOM for your investigations and, as always, your feedback is always encouraged so that we can provide our customers with the best experience possible. Please reach out to me at tarah.melton@magnetforensics.com with any comments or questions.