How to Enable Your Virtual Workforce to Seamlessly Collaborate, Process, and Access Cases
When you were asked to ensure as many team members as possible were working remotely, you were presented with a daunting task. How do you rethink your digital forensic lab's standard operating procedures (SOPs) almost overnight, without impacting case integrity, chain of custody, quality and lab throughput?
The challenge is widespread, and you're not alone: in a recent survey to our law enforcement customers, almost 70% of respondents told us that their work routines have been disrupted – 39% are now on rotating shifts and 30% are strictly working from home.
Implications of Transitioning to a Virtual Workforce 
The change was swift, and the challenges immediately became clear.
Primarily, examiners no longer have persistent physical access to the people and technology they rely on to get their jobs done and new bottlenecks in the workflow have emerged.
Powerful workstations used for acquisition and processing sit offline in the lab, as does the physical evidence. With limited access to the lab, often only one or two examiners are allowed in at a time, the capacity for service to the agency has decreased requiring them to ruthlessly prioritize. The main challenge is access to evidence, a struggle for 57% of our law enforcement customer survey respondents.
Additionally, interactions that were once face-to-face and organic now happen via Microsoft Teams or other channels. Case assignment, management and review is a challenge when you can't physically see the evidence moving through the lab or simply asking a team member about its status.
Fortunately, solutions exist that allow you to be even more resilient by optimizing resources and streamlining processes during these challenging times to continue to serve your agency, and community.
Securely Access the Lab Remotely, From Anywhere, with Magnet AUTOMATE 
Giving your examiners access to the processing tools in the lab doesn't mean you need to forgo security (or current health guidelines.)
Magnet AUTOMATE is an orchestration and automation platform that uses your lab's existing hardware and software tools to create standardized workflows, to image and process data without examiner intervention.
By deploying AUTOMATE in the cloud and securely connecting to physical lab assets using a VPN, you can control and orchestrate workflows from anywhere there's an internet connection. All this while ensuring that the physical evidence items, forensic images, and case materials never leave the lab. This helps alleviate security concerns around extremely sensitive or illicit materials leaving the lab or effecting the chain of custody.
With one or two examiners having physical access to evidence items in the lab, others on the team working remotely can continue to work with the digital outputs from tools and workflows.
How Does this Work?
 Once cases are imaged and processed, they're stored in a central location (in the cloud or on-prem), ready for analysis and review by an examiner. The queue of cases continues to process even after the "in-lab" examiner returns home ensuring your forensic equipment is always maximized and taking advantage of the off-hours in the weekend or overnight. For example, if the "in-lab" examiner queues up 20 cases to process in Magnet AUTOMATE, the system will move through all 20 of these cases seamlessly and sequentially without an examiner being physically present to start a given task or piece of software. 
Additionally, physical workstations (and evidence) can be located anywhere in the world. This gives labs with satellite locations and deployed units the ability to acquire evidence anywhere while processing from one central entity. That central location can be in the cloud, or by securely connecting into your lab's physical network. Importantly, original evidence and devices remain securely stored within the lab even while new processes are employed to facilitate the work of the team.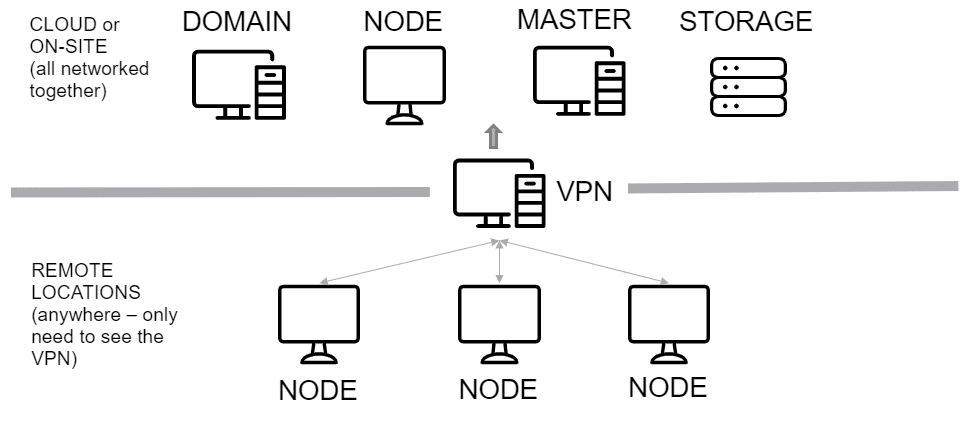 Collaborate, Stay Productive and Organized with Magnet ATLAS 
Once you transitioned to a virtual workforce and recognized the need to future-proof your lab, exploring new collaboration and communication tools likely became a top priority for you. Not only to adapt to today's challenge, but also to become more resilient to future challenges too, such as natural disasters. 
Working together remotely has become essential, and employing a common platform allows the entire team to continue to remain productive while allowing others to request, review, assist with, manage, and ultimately receive the results of the team's digital forensics work.
With Magnet ATLAS you can easily keep track of all aspects of a digital forensics' investigation, remotely, using any device with an internet connection and browser. ATLAS is an end-to-end case management, reporting and collaboration platform for internal and external stakeholders.
The intuitive and easy-to-use interface enables any team member to kick-off and contribute to the investigation, and role-based permissions, password protection and strong at-rest and in-transit encryption ensures you're meeting lab security standards at all time.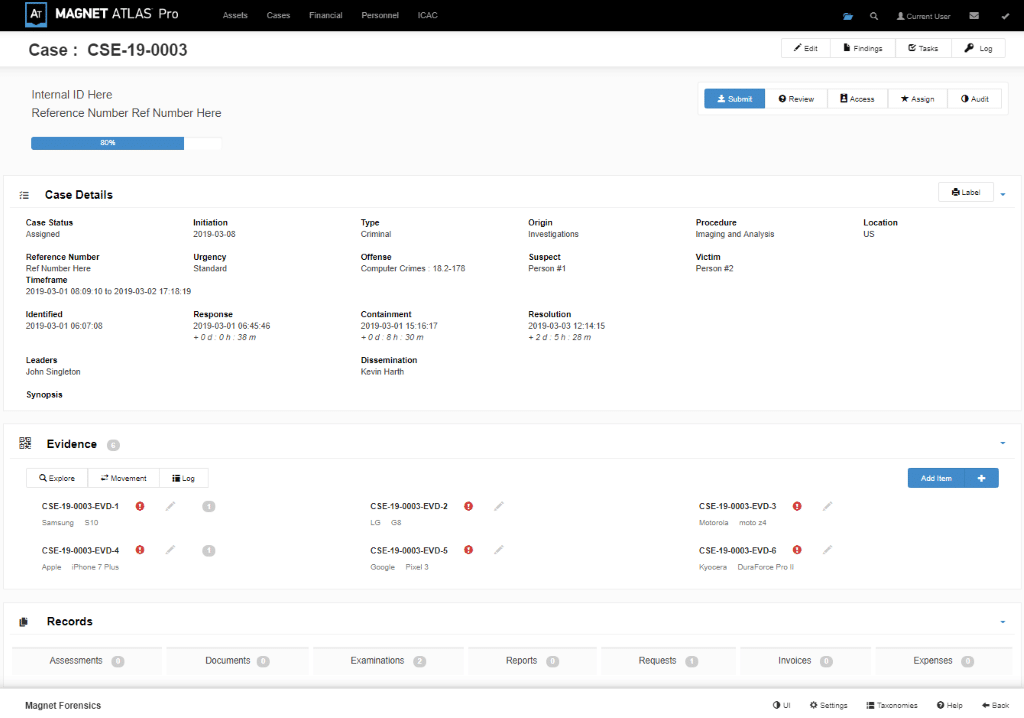 Designed to follow the normal workflow of the lab, ATLAS assists examiners in documenting the work they do. Creating cases, end-to-end evidence tracking, and standardizing the documentation and note taking during the examination phase are just the beginning of the efficiencies gained by the lab team collaborating in a common system.
Additionally, ATLAS enables you to manage elements of your lab remotely, keeping track of lab expenditures, tool utilization and licenses, all in one place.
You'll gain the ability to easily review requests for lab services, assign casework within the team, monitor progress, and review and approve the finished work. These repeatable workflows can help the team document their compliance with standards required for internal or external accreditation even as physical distancing recommendations may have greatly disrupted the normal work of the day. You'll also benefit from metrics produced in real-time as the team completes their work. Aggregated directly from the casework, managers can easily report statistics related to the team's work. From broader case level stats for types, origins and locations to mention a few, to more focused stats based on your defined criteria, you'll always have rapid access to the numbers needed to identify trends and measure productivity.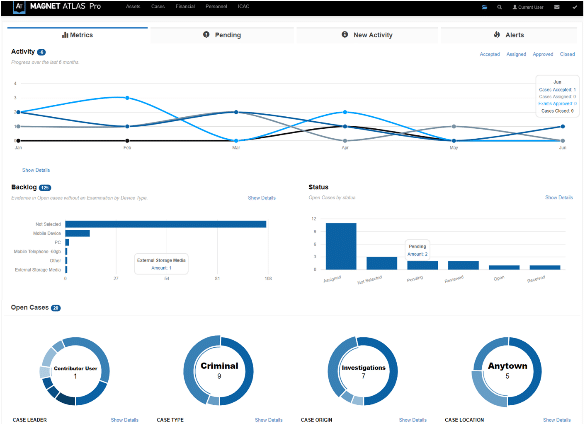 Especially beneficial as physical distancing guidelines persist, is the ability to distribute "Findings" to appropriate stakeholders. Results can be disseminated to investigators and other authorized internal and external people without the need for unnecessary travel or exposure to lab personnel. When we return to the lab and our offices, this same capability could remain just as beneficial by helping to cost-effectively provide results to stakeholders anywhere there's an internet connection, and under more standard conditions.
For our customers, ATLAS has already proven to be an indispensable platform for their newly virtual workforce:
"A really important element of my unit's workflow is using ATLAS to keep examinations organized. There are plenty of moving parts, and plenty of evidence items that we deal with on a constant basis. Having access to ATLAS from anywhere that there is an internet connection, makes casework a lot easier. I can maintain productivity, and organization without having to be in the lab during these times. ATLAS continues to help us during these difficult times, and the support behind it is nothing short of custom tailored." – Luis Martinez, Criminal Investigator, Westchester County District Attorney's Office 
Create a Resilient "Virtual" Digital Forensics Lab with Magnet AUTOMATE and Magnet ATLAS 
While this is a challenging time, lab managers can drive digital transformation and efficiency in their lab that will last well beyond this crisis. With Magnet AUTOMATE and Magnet ATLAS, we can help your lab be resilient and, in the end, come out on the other side with the capacity to take on more investigations, complete them faster, and ultimately better serve your agency and community.
Contact your account manager or sales@magnetforensics.com to share with us the problems you're experiencing and learn how we can help you successfully enable your virtual workforce with our Lab Solutions.