Magnet Forensics Releases Internet Evidence Finder v6.4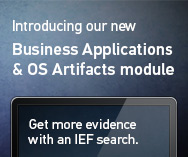 With the release of Internet Evidence Finder v6.4, Magnet Forensics adds to its list of Internet and mobile-supported artifacts, and introduces a new Business Applications and OS Artifacts Module to enable the recovery of more evidence with an IEF search.
IEF v6.4 Resource Centre:
June 18th, 2014 – Magnet Forensics, the global leader in the development of software solutions that recover and analyze digital evidence found on computers, smartphones and tablets, today announced the release of Internet Evidence Finder® (IEF) v6.4. This release adds support for new Internet and mobile artifacts, and introduces an add-on module to enable the recovery of evidence from the use of 58 business and operating system applications.
Business Applications and Operating System Artifacts Module
The Business Applications and OS Artifacts Module adds support for the recovery of 42 types of business application artifacts, and 16 types of Windows operating system artifacts. With the increasing size and complexity of investigations, there is more pressure than ever for forensics professionals to find ways to streamline the investigative process and quickly get to relevant evidence. When added to an IEF license, this new module will expand the types of evidence that can be found by an IEF search beyond Internet artifacts, provide all evidence in a single consolidated report, and give the digital forensics professional a more complete view of user activity on a computer using a single search.
Artifacts supported in the new Business Applications and OS Artifacts Module include:
Corporate Email and Instant Messaging Artifacts

Outlook OST & PST files
mbox email archives
Microsoft Lync/OCS IM

Document File Artifacts

.pdf
.doc & .docx
.xls & .xlsx
.ppt & .pptx

Windows Operating System Artifacts

User accounts
USB device history
lnk files
Prefetch files
Shellbags
Jumplists
Event logs
Mounted network shares
Startup items
Time zones
OS and file system info
*IEF will carve for most of these artifacts whenever possible*
For more details on supported Business & OS artifact types, click here.
Also Included in This Release:
Support for new Internet artifacts, including:
Google Analytics Cookies
eMule GUIDs
Updated support for existing Internet artifacts, including:
Firefox Private Browsing
Twitter
Support for new mobile artifacts, including:
Yahoo Mail
Google Hangouts
Firefox
TigerText
Burner
Learn More:
IEF Pricing and Licensing Options
As part of the release of IEF v6.4, Magnet Forensics is introducing changes to the naming and organization of licensing for the various IEF editions and artifact modules. The changes are intended to provide customers greater flexibility to customize their IEF license(s) to meet their investigative needs and budget. The table below summarizes the new IEF licensing and pricing:
Products
License *
Annual SMS
IEF Editions
IEF
$1,549
$400
IEF Triage
$1,799
$450
IEF Bundle
$1,999
$450
IEF Add-on Modules (optional components)
Mobile Artifacts
$600
$150
OS & Business App Artifacts
$600
$150
* First Year SMS Included with License
For further details, read our blog post on Understanding the New IEF Editions and Modules