EFFICIENTLY PREPARE EVIDENCE FOR EXAMINATION WITH MAGNET AXIOM PROCESS.
Magnet AXIOM Process uses automation to streamline the acquisition and processing tasks required to prepare evidence for examination. Spend less time executing processing tasks and more time analyzing the evidence. AXIOM processes images – from extraction to data recovery to case file building – all in one step.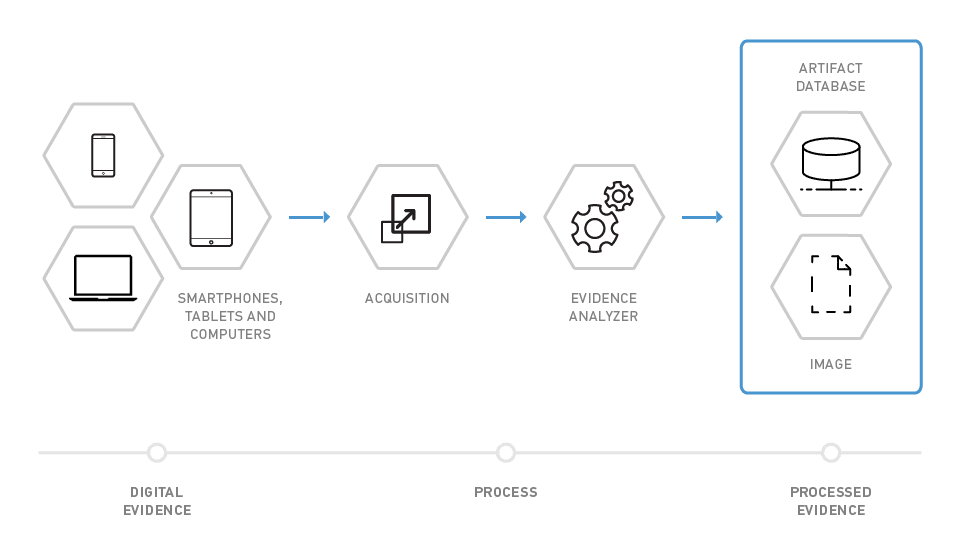 SEARCH AND CARVE IMAGES WITH
EVIDENCE ANALYZER
The Magnet AXIOM Evidence Analyzer intelligently parses and carves for hundreds of different types of digital forensic artifacts found in allocated and unallocated space on computers, smartphones and tablets. AXIOM automates the discovery of digital forensic evidence – processing the raw unstructured and disparate data in forensic images, file dumps and extracts the meaningful data for each supported artifact type.
"We put Magnet AXIOM to work against images with large amounts of multi-media. The software was able to put the data in a format that made it easy for the examiner to report on."
– Dave Kaye, Manager of Digital Forensics, Collier County Sheriffs Office
One search
to recover hundreds of types of artifacts
Magnet AXIOM recovers evidence from 750+ types of Artifacts from Windows and Mac computers and iOS, Android, and Windows smartphones and tablets.
Create your own custom artifact definitions to find more artifact data or have AXIOM's Dynamic App Finder automatically identify new apps and create artifact definitions which can then be saved for future use.
Extract data from full files or carve for deleted data and traces of data elements/fragments left behind by apps and websites, presenting it in an organized and easy to read format.
Always stay current
with Artifact Updates
Technology changes quickly. Frequent artifact updates ensure Magnet AXIOM continues to recover evidence from new and updated applications. The team at Magnet Forensics dedicates tens of thousands of hours on artifact R&D every year.
Do more than find.
Add processing options to enhance your case.
Add hash sets to either filter out non-relevant files to enhance search performance and reduce false positives or add hash sets that will specifically call out and identify known bad pictures and videos.
Detect encryption
and provide decryption with a known password.
AXIOM can decrypt full disks encrypted with BitLocker and TrueCrypt (and more to follow) within the investigative workflow.
See for yourself how you can save more time for analysis.
Schedule a live demo of Magnet AXIOM from a product expert.
Schedule a demo
Work smarter with single stage evidence processing
Magnet AXIOM's Single Stage Evidence Processing automates all the acquisition and processing tasks required to prepare evidence for analysis. 
Convert idle computer time, when you're out of the forensic lab, into productive time. Magnet AXIOM allows you to queue up a series of acquisition and processing activities for multiple evidence items, like smartphones and computers, to be automatically executed.
Discover all the new analysis features and
capabilities in Magnet AXIOM Examine
Learn More
Need Magnet Axiom
for Computers?
Learn more about AXIOM's supported artifacts and operating systems for computer forensics.
View Specs
Need Magnet Axiom
for Smartphones?
Learn more about AXIOM's supported artifacts and operating systems for smartphone forensics.
View Specs
Get a fully functional
free trial for 30 days
Get trial >
Assess your digital forensics needs and get a live walk-through of
Magnet AXIOM by scheduling a demo.
Schedule a demo >
Interested in pricing for Magnet AXIOM?
Check out our pricing guide
See Pricing >