Magnet Virtual Summit DFIRFit 2020 = #MVSDFIRFit2020
Hi! It's Jessica Hyde with Magnet Forensics. While we are disappointed to not be running/walking the streets of Nashville like we did last year, we are excited to be bringing some of the same flavor to this year's Magnet Virtual Summit DFIRFit 2020 event! Here are some memories captured by Kevin Pagano last year. We really enjoyed the participation from Brian Moran and Heather Smith as they played the part of dinosaurs roaming the streets of Nashville to help us raise money for charity.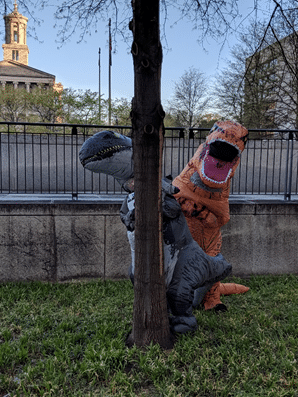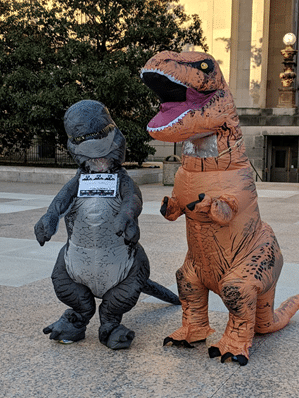 Well this year, we have teamed up again with Brian Moran and Kathryn Hedley to plan an entirely virtual #DFIRFit event, so you can participate from wherever you are in the world! On May 12, we ask that members of our community do physical activity (of any kind) for at least 30 minutes and share a picture of it on Twitter, tagging it with #MVSDFIRFit2020 (and yes, costumes are encouraged!) As in past years, we ask that participants make an optional charitable donation as part of the event, but it is not required to participate in the #MVSDFIRFit2020 challenge. However, we have a special treat for those who do make a minimum donation to one of the three selected charities (Play Like A Girl, Middle Tennessee Emergency Response Fund, or Gates Foundation Combating COVID-19 Fund), you can qualify for a swanky limited-edition prize pack* (*please note, supplies are limited). For more information, check out MVSDFIRFit2020.com.
And as yet another bonus for this year (so many bonuses!) our prehistoric motivation is back. While we may not be able to be chased around Nashville by them this year, they can still provide encouragement, motivation, and laughter on your respective #DFIRFit journey, as training for #MVSDFIRFit2020 has already begun!
So, What Can You Do to Participate?
Do some type of physical activity (run/walk/jog/weightlift/bike/yoga/dinosaur wrangling/curling/etc.) for at least 30 min on May 12th, as we all virtually get #DFIRFit together apart.
Post a picture/video of that activity on Twitter with the #MVSDFIRFit2020 (preferably in costume/#DFIRFit apparel/#MVSDFIRFit2020 gear)
(Optional) Fill out the form on mvsdfirfit2020.com and donate to one of the three designated charities:
– Play Like A Girl
– Middle Tennessee Emergency Response Fund
– Gates Foundation Combating COVID 19
Oh, remember how we mentioned swag prize packs? – Heck yeah!
1) There is an awesome prize pack for those who donate including a limited edition* medal, sticker, magnet, and webcam cover. Brian designed this incredible logo for the originally planned event:
(*quantity is limited to the first 30 individuals who register)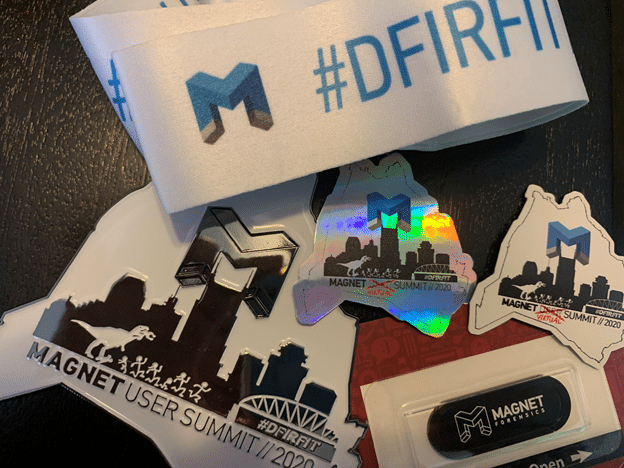 2) BONUS: Magnet Forensics will have a special prize for the most creative picture/video of a #DFIRFit activity with the #MVSDFIRFit2020 hashtag on May 12th. We will announce the winner live on the Forensic Lunch on May 15th.
3) Also, Brian modified the original logo and created designs for t-shirts and hoodies! So if you are interested, #MVSDFIRFit2020 branded items will be available for purchase here.
Why That Design?
As you may remember from last year, participants in the run/walk got a limited-edition running bib with a similar logo, that you were able to customize however you saw fit. For this year's logo, Brian did an incredible job showing the Nashville skyline, the Magnet Logo, and the dinosaur motivation for the walkers and runners! Brian even made the medal in the shape of Davidson County, Tennessee where Nashville is located. For the stickers and magnets, the logo was updated from Magnet User Summit to Magnet Virtual Summit.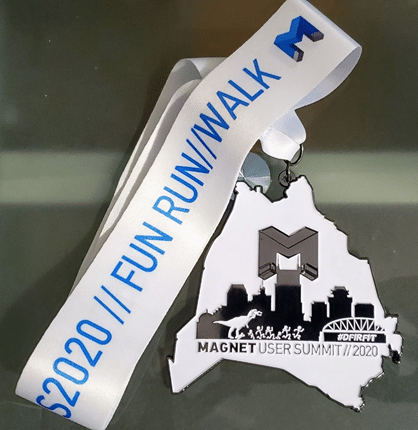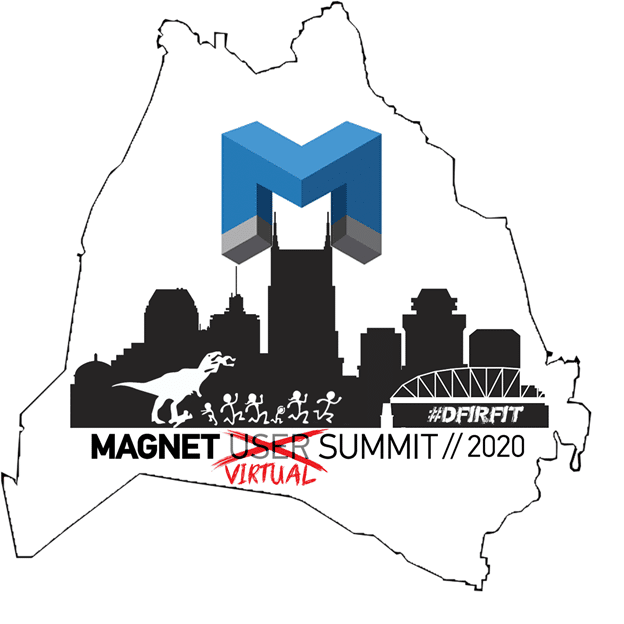 We can't wait to see how you are getting #DFIRFit and how much we can raise as a community for these great causes. I want to thank Brian Moran and Kathryn Hedley not only for all their work helping create this amazing event, but for all the motivation they have given to the entire community with the #DFIRFit Movement. Please consider nominating them for Social Media Contributors of the Year for the Forensic 4:cast awards.
We are looking forward to your pictures and to seeing you all at the Magnet Virtual Summit starting May the 4th! If you have comments or questions, be sure to reach out to me at jessica.hyde@magnetforensics.com