Magnet AXIOM 7.1 is Now Available!
A critical component of digital forensic examinations is the need to collaborate and discuss the findings from the case data with other stakeholders. This can include attorneys, other investigators, Human Resources, clients, and more.
In Magnet AXIOM 7.1, we added features to enhance collaboration for examiners in the lab as well as outside stakeholders, including tag and comment syncing from Magnet REVIEW to AXIOM and being able to quickly search for artifacts by their Item ID in AXIOM.
We've also added performance enhancements—including an easier way to see image hash verifications in AXIOM Process—and we've improved the speed of loading conversation views in artifacts for expanded threads.
You can upgrade to the latest version within AXIOM or over at the Customer Portal.
If you haven't tried AXIOM yet, request a free trial here.
Enhance Collaboration Inside and Outside of the Lab
With Magnet REVIEW, agencies can enable secure, streamlined digital evidence, sharing between the lab and different remote stakeholders during a digital investigation.
In AXIOM 7.0, we enhanced this collaboration between examiners in the lab and investigators in the field by enabling you to export tags from AXIOM Examine to REVIEW as part of the export package. Now, in AXIOM 7.1, we've enhanced those syncing capabilities further by enabling tags and comments from REVIEW back into the original AXIOM case.
After tagging and commenting in a case file in REVIEW, investigators can export a JSON file with the original hit ID, and the tags and comments metadata associated with those, and send this back to AXIOM. This feature can help streamline the investigation, as multiple stakeholders can now easily work together sharing notes, comments, and flagging items for further investigation.
With AXIOM 7.1, we're speeding up the process of collaboration by allowing the ability to quickly locate an artifact by its item ID, rather than spending time manually searching for it. With this new feature, workflows can be streamlined by simply punching in the Item ID number and immediately jumping to the artifact in question, instead of spending valuable time trying to locate it. This can be helpful when using tools like Portable Case. With the Item ID included in Portable Case, downstream reviewers can easily flag artifacts to request more context on the artifact from the lab.
Verify Image Hashes Faster
In AXIOM, you can use image hash verification to ensure that data isn't altered during the investigation, especially since there are various tools and techniques that are involved in data analysis and evidence collection that can affect the data's integrity. In AXIOM 7.1, we're making it easier and faster to verify hashes by displaying the results of whether a hash value match occurred at the end of the scan, rather than having to hunt through log files for that validation value.
Quickly Review Conversations in Artifacts
We have vastly improved the speed of loading the conversation view in artifacts for expanded threads, providing a much faster experience—even for threads that include thousands of messages. This performance improvement can help examiners more quickly review a series of messages providing the added context of the conversation. Below you can see the difference in how this enhancement will look in AXIOM.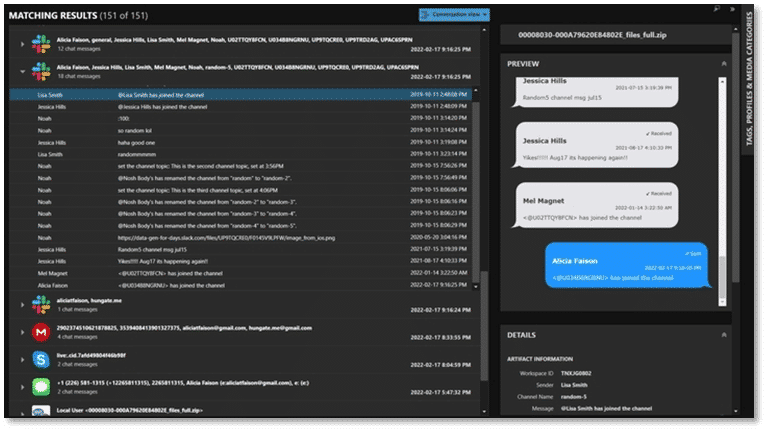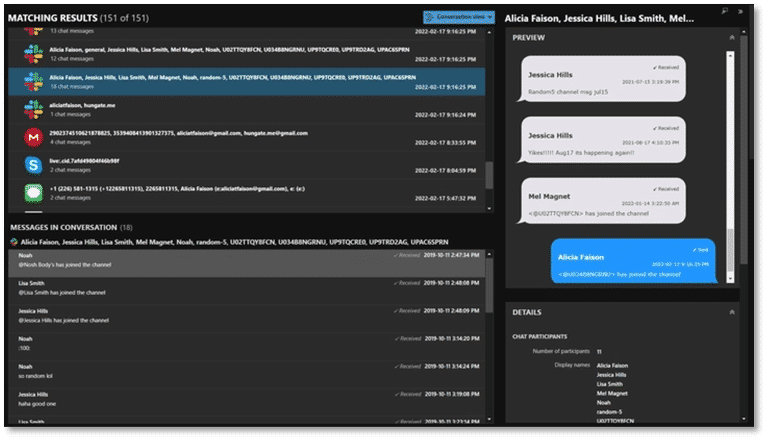 New and Updated Artifacts
As with all releases of AXIOM, there is also support for several new and updated artifacts to help keep your investigations current with the latest apps, including:
NEW
iOS Device Wallpapers
Microsoft Office 365 MRU
Snapchat Geolocation (Warrant Return)
Windows Program Compatibility Assistant Records
UPDATED
Android Installed Applications
Audio
Google Account Information (Warrant Return)
Google Login History (Warrant Return)
iOS Device Information
Linux Operating System Information-icon Operating System Information
Motion Photos
TikTok Media
Video
WhatsApp Messages
Get Magnet AXIOM 7.1 Today!
We are continually improving AXIOM to make it our most comprehensive digital forensic platform. When every second counts, it's important that we do what we can to streamline the primary workflow of examiners. We're excited that these AXIOM improvements can help to do exactly this.
If your agency needs to perform remote collections, collect from cloud storage services, or Microsoft office 365, check out what's new in AXIOM Cyber here.