MAGNET Apple Warrant Return Assistant: Download Our Free Tool
The MAGNET Apple Warrant Return Assistant, a solution to download, decrypt, and decompress Apple warrant returns in just a few clicks, is available as a free tool.
When a cloud service vendor shares a user's account data based on a warrant return, (e.g., a data package from a company such as Apple), the package often contains a .csv file with several links to servers to then go and collect discrete collections of a user's account data.
Now, you will no longer have to access and decrypt the data contained within each link and decompress those files if they are compressed. The MAGNET Apple Warrant Return Assistant will help you avoid a labor-intensive and time-consuming manual process that can take hours to manage the entire collection process.
Download a copy of the MAGNET Apple Warrant Return Assistant here.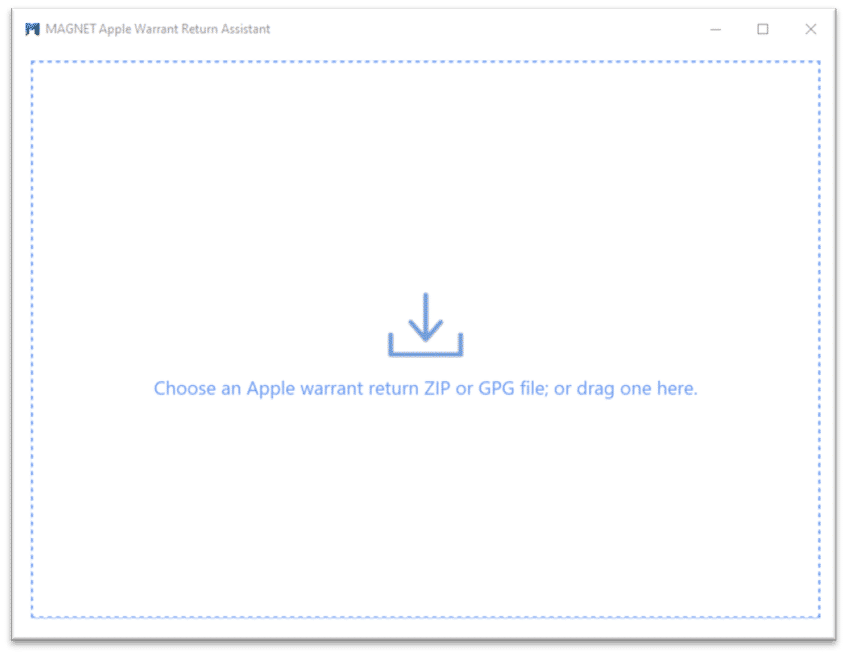 How the MAGNET Apple Warrant Return Assistant Works
Avoid the manual steps of individually downloading data from warrant return links by using the assistant. You can launch the process via drag and drop or selecting an Apple warrant return .zip or .gpg file and the tool will then prompt you to provide the password for the package.
The tool with then provide the option to "Download All" and the assistant will begin the process of downloading the data associated with each link, so you can launch the process and let the tool do the work to collect account data in the background.
Once the download process is complete, it will repackage the data in one easy-to-process .zip file which can be processed and analyzed by Magnet AXIOM.
Magnet AXIOM provides artifact-first support for Apple account data, regardless of whether it's from a warrant return or a live acquisition. AXIOM offers you the ability to analyze iMessages, iCloud logs, device backups, account information, and so much more, including support for iCloud backups up to, and including iOS15.
Key Features:
Download all Apple warrant return files with just a few click
Allow all files to download in the background
Collect all files in one easy-to-process .zip file
Analyze the data with dedicated iCloud artifacts with Magnet AXIOM
Take advantage of the free MAGNET Apple Warrant Return by downloading a copy on our Free Tools resource page today.
Check out the Apple Warrant Return Assistant in action in our "Download Apple Warrant Return Data: Remove the Roadblocks" Tips & Tricks webinar.
If you haven't tried AXIOM or AXIOM Cyber yet, request a free trial here, and analyze your Apple warrant return data and iCloud backups with dedicated artifact support to uncover critical evidence for you case.