Meet the Magnet Forensics Training Team: Scott Saul
MF: Tell us about your life before becoming a Trainer.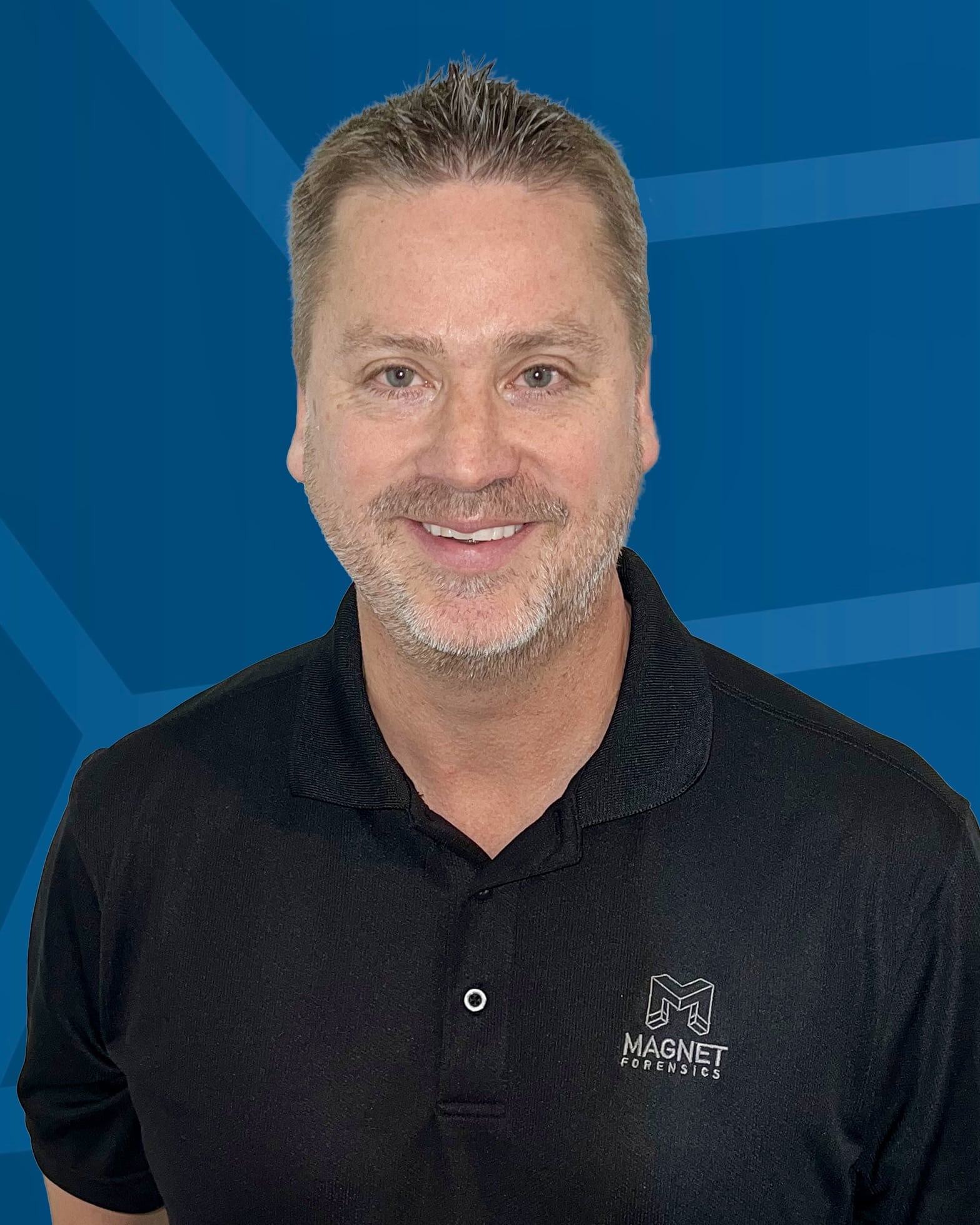 SS: Before joining Magnet Forensics as a Trainer, I served in law enforcement for more than 31 years. I wrapped up my career in Los Angeles with the FBI, where I was a Digital Forensic Examiner assigned to the Orange County RCFL (Regional Computer Forensics Laboratory), handling criminal and intelligence cases. I joined the FBI after retiring as a police officer with the Albuquerque Police Department, where I began as a patrol officer and worked my way through the detective ranks. I had the opportunity to serve on many teams, including employing traditional physical forensics as a crime scene investigator and being a detective in both the Armed Robbery Unit and the Homicide Unit. My last two years were spent as a forensic examiner in the FBI's New Mexico RCFL.
The best role I ever had was as a K-9 handler for the FBI. In 2017, I was introduced to the love of my life, K-9 Ginger, when I became her handler. She became the FBI's second Electronics Detection K-9 (the first was assigned to an agent in New Jersey). We were responsible for covering the Western half of the U.S. but traveled as far east as Annapolis, Maryland, for cases. Unfortunately, she became acutely ill and passed away in 2021.
MF: What made you want to be a Trainer?
SS: I have been blessed to have acquired a wealth of knowledge over the years. Sharing that knowledge to help others contribute to the mission has always been appealing, whether assisting investigators to get answers or helping new forensic examiners ramp up to come on board and support the overwhelming amount of casework. Selfishly, being a trainer keeps me constantly learning new tips and tricks that I can also pass along.
MF: What type of training have you taken part in personally? What is your favorite part of the role?
SS: I've been had the opportunity to have taken courses over the last decade ranging from a two-year FBI certification program to some of the best vendor training on the market to master's degree cyber courses. My favorite parts of this role are being a part of the amazing culture of Magnet Forensics, trying to absorb the knowledge of my coworkers, and having access to the vast amounts of Magnet's training material so I can pass it along to students.
MF: What excites you the most about a new class?
SS: It is meeting new people in forensics, from the wide-eyed students new to the industry to the more experienced examiners. I enjoy swapping stories and, more importantly, swapping knowledge, methods, and techniques with each other. Whether it's rescuing children, assisting in corporate or criminal investigations, or counterintelligence, digital forensics is work that matters, and helping arm people to join the mission is exciting.
MF: Do you ever learn anything from the students?
SS: Absolutely! Students in this field are brilliant, come from various backgrounds, and I always find students with experiences I do not have or know things I do not know. No one knows everything, and I enjoy learning from the students as well.
MF: Is there a particular moment that stands out the most to you in your career in the classroom?
SS: Several. There is a particular phrase you hear from trainers and teachers, and that is experiencing the "light bulb" moment when you see them furiously taking notes, or they approach you after class and tell you they are going to take a method back to work and immediately use it in their examinations. The moment that stands out the most to me was when a student knew something on a topic I was covering that I didn't know, and I let the student take control and guide the class. The student directed us to the location in a database of a particular artifact I had not been aware of before the class.
MF: What do students get out of training in person that they can't get on their own?
SS: In-person students get interaction with the instructors and other students. I love seeing a group of students who have never met huddle up and talk about digital forensics on a break, over lunch, or even in the middle of a class.
MF: How prepared do you feel students are to use Magnet Forensics products after taking the training course?
SS: Very prepared. Students who walk away from Magnet training, no matter their experience level, can immediately put something they learned in class to use with the Magnet Forensics products in real-world cases.
MF: What is most unique about Magnet Forensics' approach to training?
SS: The Training Annual Pass (TAP). It's fantastic that you can take all the training you want in a year and in a way that fits your needs, whether in-person, on-demand, or virtually led.
MF: Why do you think certification is important to examiners?
SS: I think the explanation I heard when I first got into the field was likening certifications to a driver's license explains it well. Possessing a driver's license doesn't make you an expert driver, but it shows you have the skills and ability to drive a car and handle routine day-to-day challenges. I believe certification also indicates you are willing to put the time and effort into a skill, and it is something employers expect you to have. Most importantly, the term forensics states the goal is to apply scientific knowledge to solve legal problems and be used in court. It is beneficial to a jury to hear you have certifications to back your opinion when testifying in court.
MF: How do you manage to keep up on the latest trends in digital forensics?
SS: Taking training and being exposed to Magnet's training material, listening to podcasts and webinars, reading Twitter posts and blogs, and speaking with other trainers and students.
MF: What trends do you see coming down the pipeline in digital forensics?
SS: Encryption and third-party apps are going to continue to be a challenge. The field will continue to grow with the amount of security video content being produced, IoT and A.I. devices always listening and tracking our movement and littering devices with artifacts and dealing with the sheer amount of data being stored in the Cloud and on devices.