Magnet Forensics is Proud to be Named a Leader for Worldwide Digital Forensics in Public Safety
We're very excited to share that Magnet Forensics has been named a leader in the new IDC MarketScape: Worldwide Digital Forensics in Public Safety 2022 Vendor Assessment!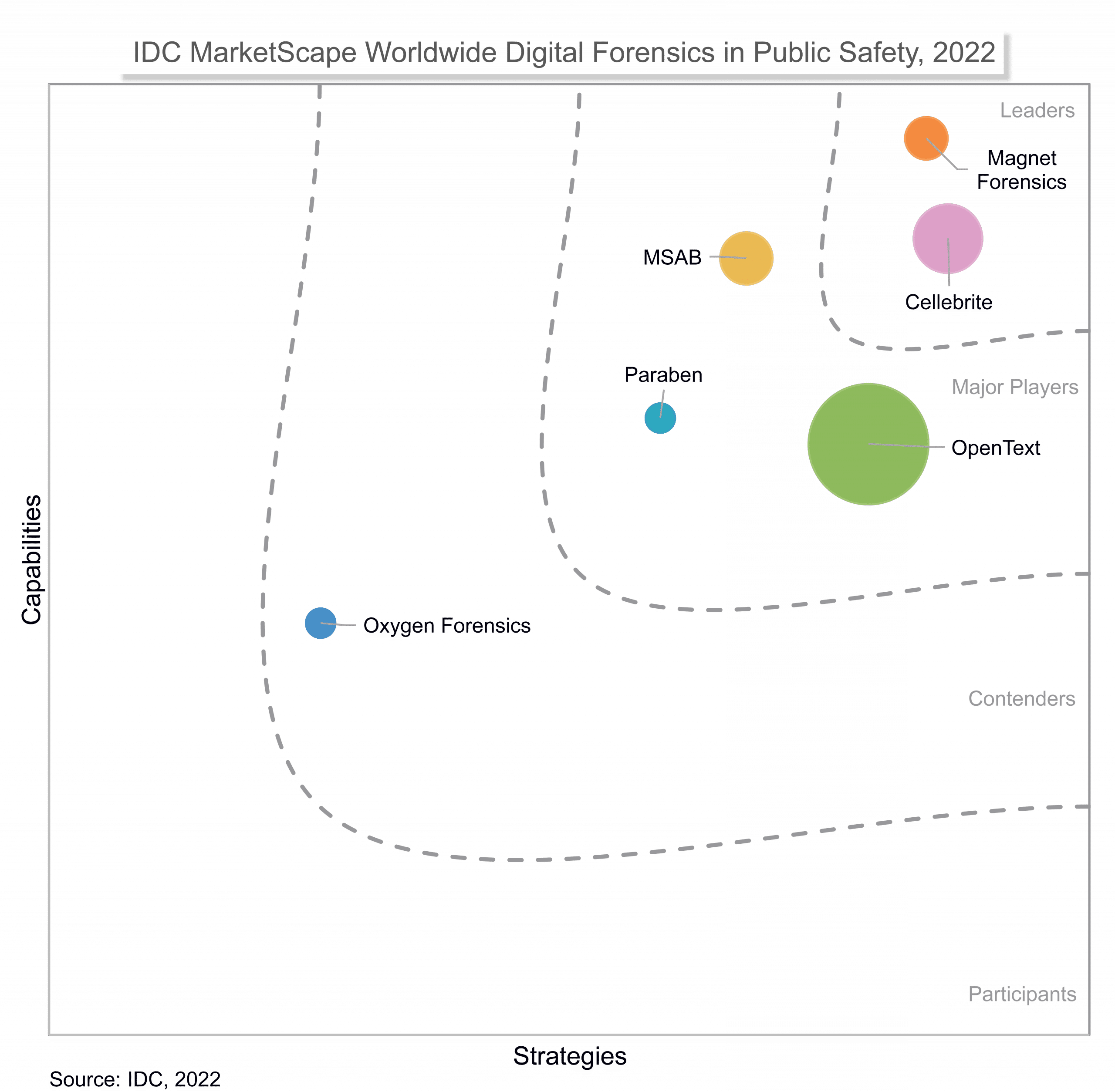 Here are a few highlights:
"Technologically, Magnet Forensics' solutions are focused on alleviating the central pain points in today's large-scale, complex digital investigations: volume, backlogs, labor and skill shortages, compliance requirements, early identification, truncating the time to insights, and so forth."
"Of all of the vendors analyzed in this study, Magnet Forensics is the most advanced in terms of its cloud offerings, likely the result of its focus on automation and parallel processing, which make cloud compute capabilities an obvious choice."
"If continuous innovation and workflow automation are critical to addressing workload, backlog, and volume issues, Magnet Forensics' solution and product innovation road map are squarely focused on these issues. If your agency values responsive, resonant, mission-aligned customer service, Magnet Forensics' capabilities and corporate culture will be an excellent fit. If cloud efficiencies and future potential are important to your agency's future road map, Magnet Forensics is currently well positioned to provide those capabilities."
2022 IDC MARKETSCAPE FOR DIGITAL FORENSICS IN PUBLIC SAFETY
SEE WHY WE WERE NAMED A LEADER
IDC MarketScape provides technology buyers with a 360-degree assessment of the strengths and weaknesses of current and prospective vendors. Download the report excerpt to see why we were named a Leader in the field of Worldwide Digital Forensics in Public Safety.
IDC MarketScape vendor analysis model is designed to provide an overview of the competitive fitness of ICT suppliers in a given market. The research methodology utilizes a rigorous scoring methodology based on both qualitative and quantitative criteria that results in a single graphical illustration of each vendor's position within a given market. The Capabilities score measures vendor product, go-to-market and business execution in the short-term. The Strategy score measures alignment of vendor strategies with customer requirements in a 3-5-year timeframe. Vendor market share is represented by the size of the icons.