Magnet AXIOM Cloud will Offer Data Extraction for Cloud-Based Services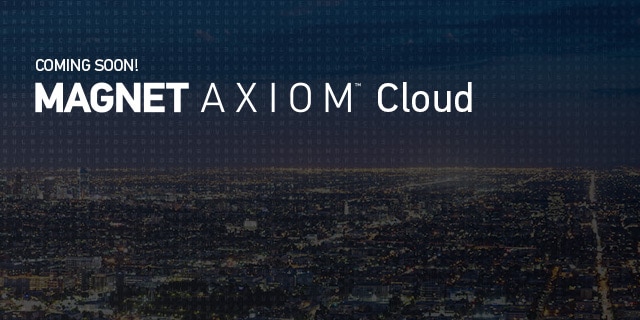 As data drifts further away from physical drives and more into the cloud, examiners have an ever-changing location to locate information. Instead of locating incriminating evidence on drives or SD cards, it can often be stored on services like Google, iCloud, and Dropbox— leading to a whole new set of challenges for examiners.
That's why we're introducing Magnet AXIOM Cloud, a new add-on in Magnet AXIOM that will pull data from cloud services and create the first truly comprehensive and integrated forensics platform for computers, smartphones, and now, the cloud.
"Cloud data, like smartphone or computer data, is only one piece of the puzzle for an investigative team. With the addition of cloud to our smartphone and computer offerings, we are making Magnet AXIOM the only truly comprehensive, integrated investigation platform for digital forensics," said Jad Saliba, Founder and CTO at Magnet Forensics. "In my experience as a digital forensics examiner, being able to create a holistic timeline of the data was imperative. We want to ensure Magnet AXIOM customers can examine all the evidence together. We want to help them ensure that no connections are missed through evidence segregation."
We'll be sharing more about how you can purchase Magnet AXIOM Cloud shortly — either as an add-on to Magnet AXIOM, Magnet IEF, or as a standalone product — along with information on supported artifacts and how you can try it for free.