Magnet AXIOM 6.4: Establish Your Timeline Faster Than Ever Before
Magnet AXIOM 6.4 is now available, offering you faster Timeline filtering than ever before, so you can reduce the time it takes to establish the timeline of events for your case.
Timeline is not the only thing that's faster in AXIOM 6.4, OCR scan performance has also been significantly improved. We are also announcing an exciting beta, Hash Sets Manager, which allows you to automatically manage hash set distribution to instances of Magnet AXIOM or AXIOM Cyber in your lab, even if it's offline. Plus, we are also introducing a new Magnet.AI model to automatically identify images of hands and artifact support for Samsung Story Services, surfacing more geolocation data.
You can upgrade to the latest version within AXIOM or over at the Customer Portal.
If you haven't tried AXIOM yet, request a free trial here.
Faster Timeline Filtering and OCR Scans
With AXIOM 6.4, you will be able to uncover evidence with timeline faster than ever before. Timeline performance enhancements have reduced your time to evidence when performing global searches or applying filters. As case sizes have grown, the need to reduce the time it takes to filter data, especially when working in cases involving hundreds of thousands of artifacts, has become increasingly important. This should improve the filter time within the timeline view.
Based on internal testing, Timeline performance on average improved by 82%. We analyzed a 74 GB iPhone 11 extraction with 804,351 hits on a Windows machine running an Intel(R) Xeon(R) CPU E5-2640 v4 @ 2.40GHz 2.40 GHz (2 processors) with 128 GB of RAM. Some examples of the performance improvements from AXIOM 6.3 to AXIOM 6.4 include:
Average for Date filter: 83% faster
Average for Global search: 78% faster
Average for timeline category: 87% faster
Regardless of your hardware, though, you should expect to see some marked improvements.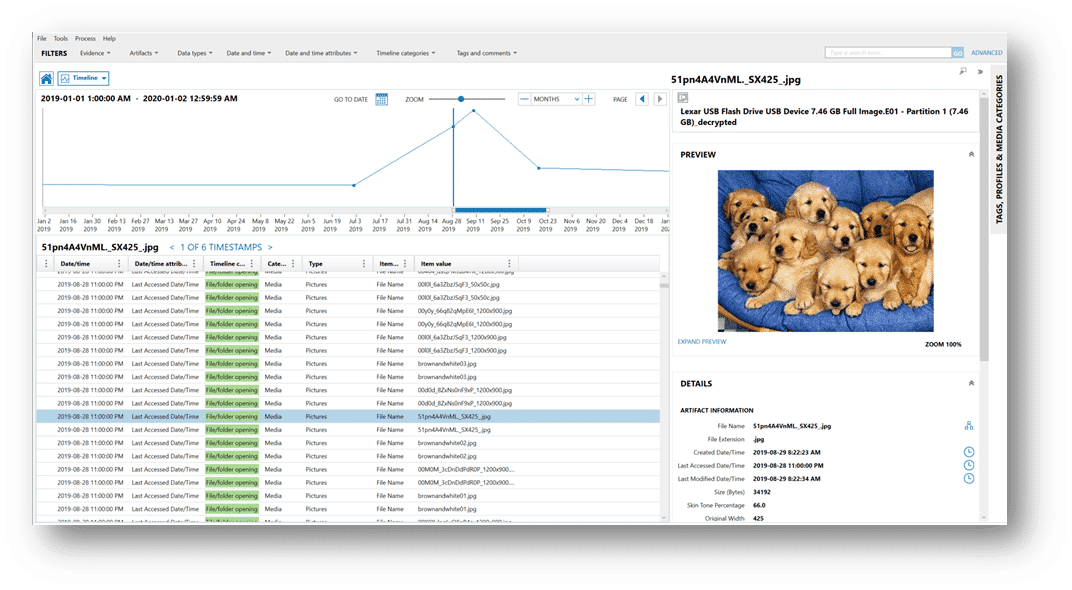 In addition to Timeline filtering performance improvements, we have also significantly reduced the time it takes to complete optical character recognition (OCR) scans during initial case processing. Based on our internal testing, we reduced OCR scans by 40%, enabling you to perform keyword searches of images and .pdfs even faster.
Announcing Hash Sets Manager Beta
Maintaining up-to-date hash sets can be a painful process, especially for those operating in offline labs. The beta for Hash Sets Manager offers you a central database that allows you to automatically manage hash set distribution to instances of Magnet AXIOM or AXIOM Cyber in your lab, even if it's offline. Download and distribute hash sets to devices on your network from Project VIC, Child Abuse Database, and more, with Hash Sets Manager.
When investigating IP theft or other corporate related crimes, you can also use Hash Sets Manager to upload custom hash sets. Custom hash sets can be based on an IT department's gold build to help pare down the data for investigations.
Hash Sets Manager is an active beta in Magnet Idea Lab, so head over to the Idea Lab and sign up if you haven't already to become a beta user. After you try the Hash Sets Manager, we would love to hear what you think.
In the meantime, check out the Tips & Tricks session to see if in action.
Uncover More Evidence for Your Investigations
Introducing a new Magnet.AI capability, automatically tagging images of hands, as well as artifact support for Samsung Story Service, which offers an additional source to collect geolocation data from Samsung Gallery images.
Tagging images of hands will allow investigators to more easily look for unique identifying marks on a suspect's hands, which, for example, can be especially helpful if you're searching for a unique identifying mark on a suspect's hands in CSAM images.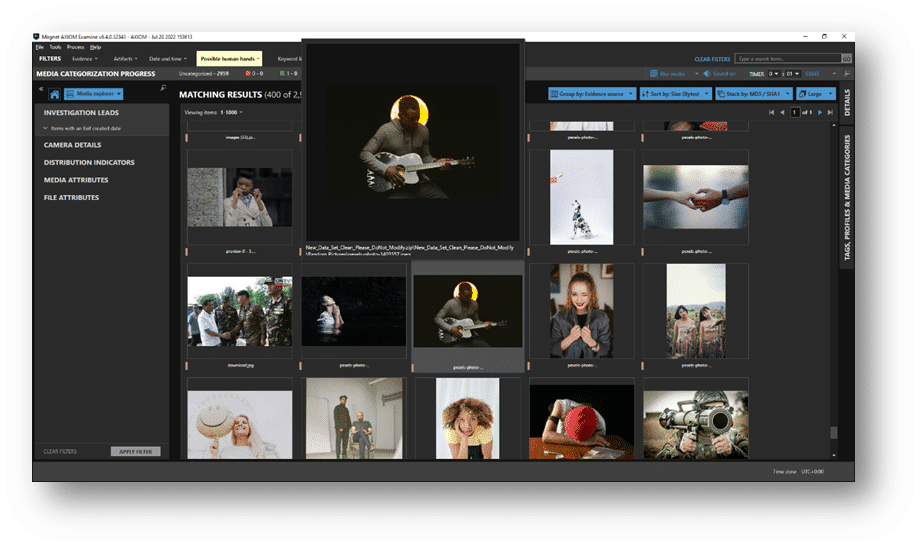 With Samsung Story Service, if a suspect uses the Samsung Gallery app to create "stories", you can potentially uncover more geolocation data, search for keywords related to the categories used by Samsung's image detection AI, and more.
Samsung Story Services does draw information from images in the Samsung Gallery, so any available EXIF data should be drawn from the images in the gallery, for example, but it should offer collections of images based on similar characteristics.
Faster AirDrop Processing
With AXIOM 6.4, we've improved the AirDrop artifact processing performance for Mac and iOS extractions. Based on our internal testing, AirDrop processing improved by 5-51%, depending on the device and image type. Now, you can process your iOS and Mac images faster than before.
Speaking of processing, in case you missed it with Magnet AXIOM 6.3, we introduced the option to only parse artifact data at the time of the initial scan, and to compliment the parsing-only scan option, you can now carve evidence sources after the initial processing is complete. You will now be able to get to key evidence even faster, while maintaining the ability to complete deep-dive analyses on evidence.
Check out the "Take Control of Digital Evidence Processing" blog to learn more.
New and Updated Artifacts
AXIOM 6.4 adds new Android artifacts, including Samsung Story Services, which can provide geolocation data, along with updates to several other important iOS, Mac, and Windows artifacts.
New Artifacts
Privacy Dashboard // Android
Samsung Story Service // Android
Updated Artifacts
AirDrop Available Recipients
AirDrop Background Activity
AirDrop Discoverability
AirDrop Incoming Transfers
AirDrop Outgoing Transfers
AirDrop USB Connection History
AMR Files
Android Messages
Android WeChat Friends
Android WeChat Messages
Facebook Messenger Messages
Identifiers – People
MBOX
OneDrive
Pictures
USB Connection History
Windows Event Logs
Get Magnet AXIOM 6.4 Today!
We are continually improving AXIOM to make it our most comprehensive digital forensic platform. When every second counts, it's important that we do what we can to streamline the primary workflow of examiners. We're excited that these AXIOM improvements can help to do exactly this.
If your agency needs to perform remote collections, collect from cloud storage services, or Microsoft office 365, check out what's new in AXIOM Cyber here.