Magnet AXIOM 6.2: Surface Handwritten Documents Automatically
Magnet AXIOM 6.2 is now available, which adds a new handwriting classifier in Magnet.AI and improved viewing experiences for key iOS apps, in addition to several new UX enhancements to help you work investigations even easier and faster.
In case you missed it, be sure to catch up on the release of Magnet AXIOM 6.0, where we introduced the Cloud Insights Dashboard, the Magnet AXIOM Cloud Authenticator, and so much more.
You can upgrade to the latest version within AXIOM or over at the Customer Portal.
If you haven't tried AXIOM or AXIOM Cyber yet, request a free trial here.
Easily Surface Handwritten Documents
Now with AXIOM 6.2, you can identify and categorize handwritten documents automatically with Magnet.AI, helping you uncover relevant written evidence even faster.
The new Magnet.AI handwriting classifier builds on the recent Magnet.AI classifier updates, which saw the addition of the tattoos and invoices classifiers, as well as expanded inclusion of more hate symbols for the hate symbol classifier. The new handwriting classifier in Magnet.AI will automatically recognize handwritten documents and group them together, selectable in "Categorize Pictures" with Magnet.AI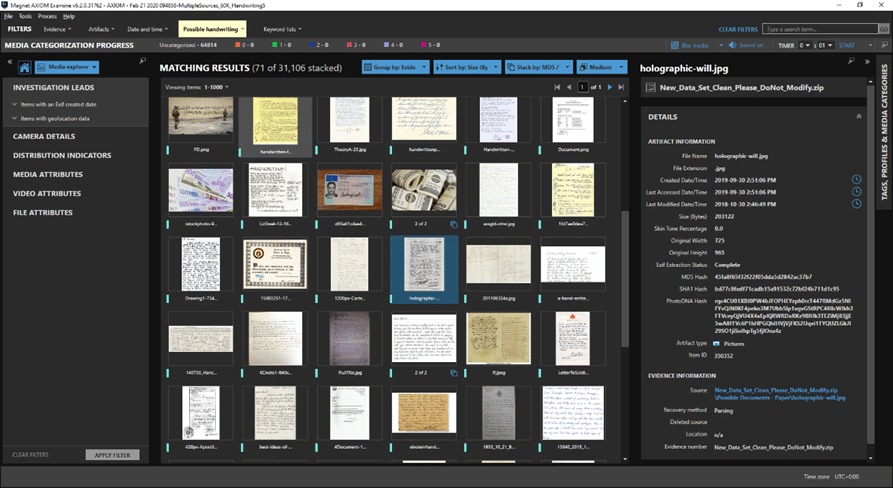 With Magnet.AI and Media Explorer, you can automatically surface, tag, and review case relevant media evidence, quickly focusing the scope of your search, rather than manually sifting through countless images from different sources.
New UX Improvements
AXIOM 6.2, we've introduced several new UX enhancements to help you work your investigations even easier and faster, such as introducing hit highlighting for advanced searches, a reorganized AXIOM Examine settings page, and a new "User Accounts" category for refined results.
Now, when you perform advanced keyword searches in AXIOM, any matching keywords will be highlighted in the result. This helps users to quickly identify why a hit was matched within AXIOM Examine when using advanced searches.
The user interface for the application settings in AXIOM Examine has been updated and reorganized to make it easier for users to find the settings they need. Now settings are divided into groups to make it easier for users to find the section they are looking for.
This new refined results category for "User Accounts" combines all the user account artifacts into one place so you can quickly scan through the user accounts, making it easier, for example, to identify the accounts you can request warrant returns for.
Get More From Your iOS Examinations
With AXIOM 6.2, we're helping you get even more from your iOS examinations with a new near-native Apple Mail experience and secure decryption for Apple Notes.
Apple Mail is the default email client on iPhones and can often contain valuable evidence for your case and the experience of viewing Apple Mail has been enhanced—ultimately saving you time. Now, Apple Mail and Apple Mail Fragments are combined into a single artifact to make it much easier to review; support has been added for "Quoted Printable" in the preview, making emails that are marked up appear as they would on the device; and, now "Email Attachments" has been improved to filter out "noise" so that only proper attachments will be surfaced.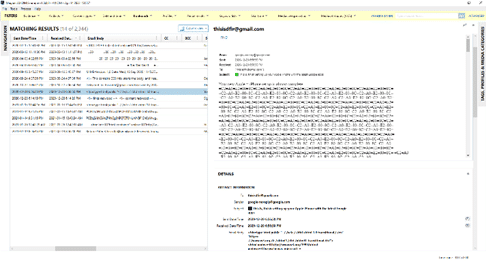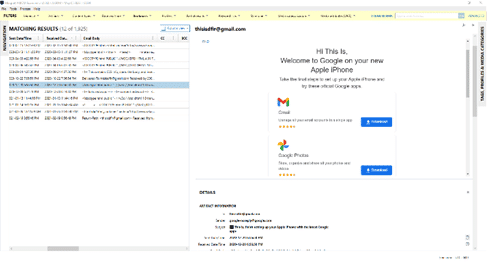 Valuable information has historically been found in Apple Notes such as password, images, addresses of interest, draft messages, etc. By leveraging the Apple Keychain, we can now decrypt locked Apple Notes and any photos within them if the user has biometrics enabled for Apple Notes (i.e., they've toggled "Use Touch ID" or "Use Face ID"). We've also updated our support for Apple Notes up to the latest version (iOS15.4).
New and Updated Artifacts
AXIOM 6.2 adds new iOS artifacts for App Intents, iCloud Devices and Server Files, along with updates to several other important iOS, Android, and Berla artifacts.
New Artifacts
iCloud Devices // Cloud
iCloud Server Files // Cloud
iOS iMessages/SMS/MMS – App Intents // iOS
Refined Results – User Accounts // All Platforms
User Accounts // Windows
Updated Artifacts
Android Contacts
Android Call Logs
Android SMS/MMS
Android Messages
Apple Notes
Apple Mail
Cloud MBOX Emails
Email Attachments
iOS Maps
iOS Wi-Fi Profiles
iVe – Call Logs
iVe – Files
iVe – SMS
Signal Group Members
Signal Messages – iOS
SIM Card Activity
Snapchat Cached Videos
Snapchat Chat Messages
Wallet Payment Cards
Wallet Transactions
Get Magnet AXIOM 6.2 today!
We are continually improving AXIOM to make it our most comprehensive digital forensic platform. When every second counts, it's important that we do what we can to streamline the primary workflow of examiners. We're excited that these AXIOM improvements can help to do exactly this.
If your agency needs to perform remote collections, collect from cloud storage services, or Microsoft office 365, check out what's new in AXIOM Cyber here.