A Conversation with Dr. Liam Owens, Founder and CEO of Semantics 21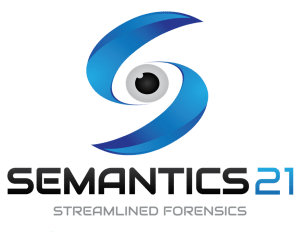 When our partners at United Kingdom-based Semantics 21 shared on Twitter that they had won a Staffordshire Chambers of Commerce Science, Technology and Innovation Award, we couldn't have been more pleased for them. To be recognized for the work they do in artificial intelligence certainly validated why we wanted to partner with them, and we're excited to bring you this more in-depth look at their work with our interview of S21 Founder and CEO, Dr. Liam Owens.
MF: Please tell us more about Semantics 21. What kinds of semantic gaps existed specifically in law enforcement, that drove you to start this company?
LO: S21 identified a number of key gaps which exist within law enforcement including the need for:
"Intelligent tools" to assist investigators when looking for key information from imagery such as age, nudity, similarity and other specialist areas.
"Semantic-level intelligence" which enables computers to use these detected facets to derive what is actually happening in the depicted scene.
Faster tools; existing tools struggle to keep up, or need excessive processing times, which would only be made worse by the increasing amount of data due to availability of digital devices, internet and mass storage.
"Intuitive" tools, to assist and work with an investigator, as opposed to the investigator having to adjust their existing workflows and procedures to use the tool.
Automation, especially for advanced analysis and victim identification, with the investigator often having to revert to manual investigation or multiple third-party tools for specific analysis as opposed to running various processes "under the roof" of a single tool.
S21 felt there was a need for a new breed of digital forensics tools, developed from the ground-up with the end investigator and ultimately putting the investigation at heart. This enabled S21 to develop a modular system which could dynamically adapt, be built upon or even have modules plugged in and out with ease. [Our system] ensures peak performance whilst easily being extendable for futureproofing.
MF: What are the biggest challenges for customers in our space, and how is S21's work overcoming them?
LO: There are so many challenges which our customers face on a day to day basis. Some of the biggest, in our view, include:
The ever-increasing amount of data, exacerbated by the growth of the internet, availability of digital devices, and the [expanding] storage capacities of these devices.
Countrywide or departmental demands for increasing public safety with (in most instances) reduced budgets or fewer personnel.
More "devious" and "tech-savvy" suspects, and let's not forget innocent members of the public, adopting more secure data storage methodologies such as encryption or obfuscation to protect their data.
The continual need not just to identify illicit material, but also to better understand the people involved – suspects, victims. Imagine having thousands or hundreds of thousands of images/videos potentially containing vulnerable exploited children, whom no one knows about.
It's important to recognise that these issues will not be resolved overnight, but still our teams drive themselves each day to do more and more to try to reduce the issue. S21 works towards overcoming these issues by continuing to produce and enhance our existing toolset to be faster, more intelligent, and more dynamic to adjust to [investigators'] day-to-day challenges.
By producing the fastest tools for media ingestion, with the widest range of source inputs including those from our great partners at Magnet, we empower users to capitalise on the best parts of our industry-leading platforms to perform the most comprehensive and streamlined analysis possible.
S21's AI capabilities bring a whole new leading edge to victim and suspect identification – with state-of-the-art algorithms for filtering, performing low-level analysis, and even intelligence sharing and gathering capabilities on images and videos.
We know that from our user feedback, we have helped them find more victims than before, in many instances; more than in previous years combined, by making the process as simple but comprehensive as possible.
MF: What attracted you to partnering with Magnet Forensics—in addition to child protection, what cultural values do we share?
Both of our teams are customer focused and driven – with the end-user experience, and ultimately investigation quality, in mind. The teams get along well also, which is important for future collaboration and co-operation; with recent outings in Atlanta to watch the mighty "Braves," for example!
Magnet and S21's capabilities are nothing short of complementary to each other, with each of us leading our respective fields and paving the way for the future of digital forensics. Both our management teams are passionate not only about victim ID already mentioned, but also about the investigator welfare which we feel is often missed. We encourage both of our teams to make frustration-free products which work for investigators; limiting the burdens that investigators deal with daily.
MF: What do you see as the biggest benefits of our partnership to organizations and users?
The biggest benefit, as touched on before, has to be the complementary nature of our tools, which are able to co-exist and develop together. This means that our products' users can make the most of the "best of both," with streamlined methods to transfer data between the products.
We know Magnet does a great job at data recovery and internet artefact/chat analysis, so with our partnership, Magnet can continue to recover as much image/video data as possible, knowing that with a couple of key or mouse presses, the data can be sent across to S21 for more specialist analysis of the digital media.
Even better, through using S21, users will not need to limit the data they export. [There's no need to fear] the time it will take to read it in and analyse it for categorisation and victim identification, as S21 can handle massive amounts of digital media in seconds … not days.
MF: What accomplishment are you most proud of?
In a short time, S21 has accomplished so much, and it is difficult to choose from so many. However, from our main accomplishments so far, the ones which stand out are:
Our growing customer base and glowing customer feedback. S21 has not only proven there are more advanced, faster and cheaper alternatives to other software which is dominant in the field, but that its software is designed for the user. We are continually applauded about our customer support, fast response to fix any issues, [and] new and advanced features required for cases – we have become a white whale in the community. Our software is tailored, dynamically changing with the best customer support possible.
The way in which we have helped our users significantly reduce, and in many cases eliminate, their backlogs. Our users are flying through cases, faster than ever before.
The number of additional victims found, even when revisiting historic cases which were investigated previously with other software. Every victim is a person, with feelings, family, friends, a past and (we hope) a better future ahead of them. Sometimes we try to block this out, to be able to do our work, but to hear how S21 has helped professionals find new or previously missed victims, is bittersweet. We hope one day to live in a world where there will not be a need for software like ours, but until that day, S21 will give everything we have to continue to evolve and enhance investigations.
Innovations and technological advances. For example, when we started out others had portrayed "skin tone" as "nudity detection" or tried to deploy very basic techniques in a grand fashion as "AI," and this in our view damaged how people perceive AI forensics as a "gimmick." S21 have worked hard to show that AI isn't a "gimmick" and that, when deployed by qualified experts, it can really enhance investigations. Our development of in-house algorithms for age, nudity, visual similarity, keypoint detection, detection of first-generation images (the list could go on), has helped filter media and identify victims. We are proud to have recently won the Staffordshire Business Chambers 2018 award for "Science, Technology and Innovation" in recognition of how we have used our expertise to enhance such an important field of work.
Our partnerships with other experts in the field such as Magnet. Together, we are stronger. Working in the field of [child sexual exploitation] is not something to be taken lightly, a lot depends on us providers doing our very best for our users, and ultimately, the public that we help protect. Working together makes us all stronger, and gives the best opportunity for that victim to be found, identified and protected.
Although we've listed these as accomplishments, they're in no way the "finished product" – here at S21 we're still doing more every day to better ourselves and provide even more.
MF: What's the next step for S21?
S21 will continue to enhance our existing toolset to be even faster, more intelligent, and more dynamic to continually changing investigations. We are already developing a new range of products to enhance our existing S21 suite, in addition to new AI to provide even more functionality.
We have been encouraged and supported by organisations and officials across the world to bring our products to assist their law enforcement units, so we hope to keep growing in all corners of the world in the coming months and years.
A couple of months back we ran a number of complimentary two-day certified training sessions across multiple locations in Canada, and the turnout was fantastic. It was amazing to work with some many dedicated professionals who truly are an example to us all.
After such great feedback, we're about to launch the same system here in the UK, inviting all our law enforcement agencies to attend 1- or 2-day training sessions, whether they are a brand-new user or a veteran of S21. The hands-on session will guide each user [through] creating an analysis, categorising, generating reports, sharing intelligence and, of course, deploying all those fantastic victim identification features. Attendees will be offered complimentary fully-unlocked assessment licences to try out the software with their own cases and data.
We'll also be looking to do the same in other countries across the world.
MF: Where should customers look for you in terms of upcoming events or online?
To date, every S21 user initially heard of us via word of mouth; that says everything, we are so proud. This has allowed us to put all our resources back into continued application development and user experience. However, we are investing more resources towards getting our products in front of more audiences.
We've recently joined Twitter, Facebook, and LinkedIn. We are adding a news section to our website. Customers can get in contact and we'll add them to our mailer and product update list which we send out when we release new updates.
We will also be publishing some of our own articles, using our expertise in the field of both digital forensics and multimedia analytics, to help users keep track of the field through "digestible" updates. We invite customers to share our posts, or join us on social media to keep up to date, as we're sure there will be some great content on there for everyone.
Finally, we are planning to attend conferences such as the Ontario 13th Annual Provincial Strategy Multidisciplinary Training Workshop, the Crimes Against Children Conference in Dallas (2019) and others, so customers will hopefully see much more of us.