Magnet-Hosted Events
We're hosting events around the world where you can get an in-depth look at Magnet Forensics products and ask the experts your questions.
Upcoming Conferences
Planning on visiting one of these worldwide conferences? We'll be at each one — so stop by our booth to talk more about our products and how we can help you in your investigations.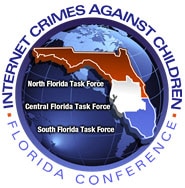 Florida ICAC Symposium
Orlando, FL, USA
Dec 11-13
The Florida ICAC Task Forces, along with the Florida Department of Law Enforcement, Child Abduction Response Team (CART) and Offender Registration and Enforcement will once again be hosting a 3-day conference to expand the efforts and knowledge base of law enforcement investigators and prosecutors by providing highly specialized training focused on investigating and prosecuting technology-facilitated crimes against children.
Details

Cyber Attack Shanghai
Shanghai, China
Dec 11
CYBER ATTACK 2019 Event – Shanghai Series provides exclusive and multi-sectoral sessions bring together multinational companies, governments and SMEs. The aim is to unite key decision makers to address, debate, exchange knowledge, raise awareness and deep dive around current pressing issues in the region's IT executives community.
Details