Mature Waterloo entrepreneurs defy tech industry age stereotyping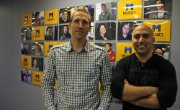 One of the most revered values in Silicon Valley is the notion that anyone with a great idea can become a success story. But it appears the work culture there is not as sunny as a typical California forecast.
Reuters reported in a feature series last November of age discrimination in the Bay Area's tech community. Several older workers shared their struggles of losing out on opportunities to younger applicants and being perceived as incapable of keeping up with new technology.
In Ontario's Waterloo Region, one of North America's fastest growing startup clusters, stories like these can be worrisome for older entrants to the startup world.
However in the Waterloo tech cluster, a number of mature entrepreneurs have created successful new careers in tech, defying the industry's ageist attitudes in the process.
(By Matthew Kang, CBC News)