Magnet Forensics on Branham300 List of Canada's Top Tech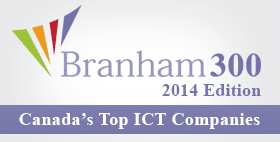 Waterloo, ON., April 22, 2014—Branham300 today ranked Magnet Forensics Inc. to its 21st annual list of the Top 250 Canadian ICT Companies, as ranked by revenue. The Branham300 list illustrates the depth and breadth of innovative technologies developed in Canada, and is widely considered to be a leading source of intelligence on Canada's ICT industry.
Magnet Forensics, a global leader in the development of software solutions that recover Internet-related evidence from computer hard drives and mobile phones, was also named to the <strong>Top 20 Movers and Shakers.
"Magnet Forensics is thrilled once again to be named to the Branham300 list in two different categories", said CEO Adam Belsher. "We continue to execute on our mission by providing the best digital forensics tools, so our customers can accomplish their mission: Fighting crime. Protecting company assets. Guarding national security."
About Magnet Forensics Inc.
Magnet Forensics is a global leader in the development of software solutions for digital forensic professionals that assist them in building the best possible cases. Our flagship software, Internet Evidence Finder (IEF) was developed by a former police officer and forensic examiner who recognized the need for an easy to use, comprehensive tool to help perform digital investigations.
Since its creation, IEF has quickly become a trusted solution for thousands of digital forensics professionals in the world's top law enforcement, government, military and corporate organizations in over 90 countries, used to recover a broad range of Internet-related communications. Court-admissible evidence recovered by IEF from computers, smartphones and tablets can include webmail, browser history, social networking and cloud applications, P2P files and instant messaging communications; and has been used to support a wide-variety of investigations including cybercrimes, child exploitation, terrorism, human resource disputes, fraud, and intellectual property theft.
About Branham Group Inc.
Branham Group Inc. is a leading industry analyst and strategic marketing company servicing the global Information and Communication Technology (ICT) marketplace. Branham Group assists ICT Technology companies and related institutions in achieving market success through its custom consulting services (Planning, Marketing and Partnering), and through its multi-client research subscription programs (Digital Health, Green IT and Cloud). Branham also produces an annual listing of the top ICT companies in Canada (www.branham300.com) and monitors over 450 Digital Health vendors (www.branhamgroup.com/digitalhealth).