News Release: Magnet Forensics Internet Evidence Finder™ Now Integrated with EnCase®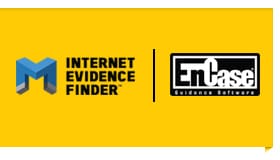 June 6th, 2013 – Magnet Forensics, the global leader in the development of forensic software for the recovery of Internet artifacts, recently collaborated with Guidance Software to develop an integration between Internet Evidence Finder™ (IEF) and EnCase® v7, the IEF to EnCase® Connector. This new connector enables investigators that use both EnCase® and IEF to initiate IEF searches from within EnCase® and easily import the resulting IEF artifacts into EnCase® for comparison with other relevant case data. The IEF to EnCase® Connector integration is now available for download free of charge on the Magnet Forensics website at www.magnetforensics.com.
The powerful search capabilities of Magnet Forensics' IEF software simplifies the recovery of social networking, online chat, web browsing history, and other Internet activity from computer hard drives and live memory captures, including deleted data. With support for over 220 Internet artifact types, IEF enables investigators to recover, analyze and report more evidence in less time.
Guidance Software is the leading provider of forensic investigations software and hardware solutions, and its EnCase software is used extensively by government, corporate and law-enforcement authorities worldwide for forensic investigations. The company recently launched the EnCase® App Central Developer Network, a new development community focused on fostering technology partnerships that enable digital investigators to find more evidence, faster using the EnCase platform.
"With the IEF to EnCase Connector integration, investigators can obtain the highest quality evidence with the minimum level of effort. Whereas most investigations require the use of multiple digital forensic tools, the IEF to EnCase Connector integration streamlines workflow for cases where both EnCase and IEF are required. Through the EnCase App Central Developer Network, Guidance Software has done an excellent job of providing digital forensic investigators with access to enhanced capabilities and technologies. Throughout the process, Guidance Software provided its expertise and support, making it possible for us to develop an integrated solution for the tens of thousands of EnCase users worldwide. We encourage other software vendors to offer their products via the EnCase App Central Developer Network," said Adam Belsher, CEO of Magnet Forensics.
"EnCase has been designed and delivered as an open platform from the very beginning, enabling users to enhance its functionality with their own custom add-on apps," said Alex Andrianopoulos, vice president, Marketing for Guidance Software. "With the EnCase App Central Developer Network, we extend the power of EnCase by leveraging the capabilities and features of market leading apps like Internet Evidence Finder by Magnet Forensics."
For more information on EnCase® App Central and the EnCase App Central Developer Network please visit: http://www.guidancesoftware.com/appcentral
For more information about Internet Evidence Finder and the IEF Integration for EnCase Click Here
About Guidance Software, Inc.
Guidance Software is recognized worldwide as the industry leader in digital investigative solutions. Its EnCase® Enterprise platform is used by numerous government agencies, more than 65 percent of the Fortune 100, and more than 40 percent of the Fortune 500, to conduct digital investigations of servers, laptops, desktops, and mobile devices. Built on the EnCase Enterprise platform are market-leading electronic discovery and cyber security solutions, EnCase® eDiscovery and EnCase® Cybersecurity, which enable organizations to respond to litigation discovery requests, proactively perform data discovery for compliance purposes, and conduct speedy and thorough security incident response. For more information about Guidance Software, visit www.guidancesoftware.com.
EnCase®, EnScript®, FastBloc®, EnCE®, EnCEP®, Guidance Software™ and Tableau™ are registered trademarks or trademarks owned by Guidance Software in the United States and other jurisdictions and may not be used without prior written permission. All other trademarks and copyrights referenced in this press release are the property of their respective owners.
About Magnet Forensics
Magnet Forensics is a global leader in the development of forensic software that recovers data from a broad range of Internet-related communications. Our flagship product, INTERNET EVIDENCE FINDER™ (IEF) was created by a former police officer and forensic examiner who recognized the need for an easy to use, comprehensive tool to help perform digital investigations. Since its creation, IEF has quickly become a trusted solution for thousands of the world's top law enforcement, government, military and corporate organizations – used to recover Internet evidence like social media communications, webmail, browser activity (and more) to support their most important investigations. For more information about Magnet Forensics visit www.magnetforensics.com.
Guidance Software, Inc.
Brigitte Engel, +1-626-229-9191
newsroom@guidancesoftware.com
Magnet Forensics
Scott Williams, +1-519-503-7967
scott.williams@magnetforensics.com