News Release: IEF Wins Computer Forensic Software Tool of the Year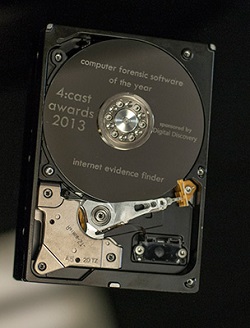 Sometimes when I reflect back to what IEF did back in its very early stages (and what it looked like! Long-time users will remember how ugly it was at the beginning, and I believe Matt Shannon of F-Response still has a screenshot of it in one of his blog posts from 2009 🙂 ), it's hard to believe where it's at today. 2012 was a pivotal year for us as we built an amazing team, both on the development and sales/marketing side. We transformed IEF and moved quickly, adding huge features like web page rebuilding, Dropbox decryption, web video recovery, cloud support, and many more.
Last week I was at the SANS DFIR Summit in Austin, Texas (home to some great food and great bars!). I was extremely proud, honored, and at the same time humbled to receive the Forensic 4cast award for "Computer Forensic Software Tool of the Year" for Internet Evidence Finder (IEF). The other two nominees (Volatility and 4n6time) are excellent software tools and it was an honor to be nominated in the same category as they were.
I accepted the award, but it really belongs to my team. Without them, IEF would not be where it is today, simple as that. They are a hard working, talented bunch who share my drive and passion to support law enforcement in their investigations as well as corporate investigators and incident responders in theirs.
Finally, I and our team really want to thank you, our customers and supporters. Thank you for nominating us and voting for us; this award means a lot to everyone on the team and without your nomination or vote, we couldn't have won. I'd also like to thank Lee Whitfield for his time and effort in putting the Forensic 4cast awards together, and providing some very cool awards (see picture above 🙂 ).
We will continue to work hard to improve, innovate, and add more features/artifact support to IEF this year, especially on the mobile side where we have some very cool developments on the way. As always, if there are specific areas or items you want us to focus on as we develop IEF, please don't hesitate to contact us or me directly.
Again, thank you for your support!
Jad and the Magnet team